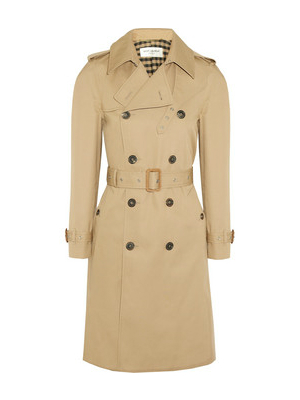 Choosing a flattering coat is important because this piece of clothing is designed to last for years. It is essential to make sure it fits well and looks good. When a coat is worn, it is the first thing other people see, which means a flattering coat can help make a good first impression. In order to find a flattering coat in retail shops or online on eBay, buyers should consider their body types, colours that work well with their skin tones, the quality of different coats, coat lengths, and other relevant style issues. It is always a good idea to invest in quality, classic items that look good with a lot of existing pieces in buyers' wardrobes. By learning more about how to choose a flattering coat, buyers can make sure they make informed choices every time.
Choosing a Coat According to One's Body Morphology
Most women who want to buy new coats are looking for items that lengthen their figures. Regardless of their height and weight, women should try a few styles in order to see which ones are the most flattering for their silhouettes. Even though fitting may require a lot of time, the final result is often worth it. The good news is that there are coats available for all body shapes and sizes.
Petite women should avoid long or mid-calf coats because these coats make them look shorter than they are. A knee-length coat is a better choice because it highlights the lower legs and lengthens the figure at the same time. Tall women should avoid long coats, as well, because they could make them appear even taller. For them, 3/4 length coats are a good choice. Curvy women should look for coats that follow the contours of their bodies. In their case, a belt might be a great choice to silhouette a nice figure and maybe hide a little belly.
The size and placement of the pockets is also important. Women with wider hips, for example, should avoid coats that feature big pockets on the hips. Women with larger busts should look for coats with lower openings, and those who do not have a defined waist should opt for styles without belts.
Choosing a Flattering Coat Colour
Most women have favourite colours that suit them better than others. The colour of a coat is important because one needs to coordinate it with other pieces of clothing and accessories that are already present in the wardrobe. The skin tone and the colour of the eyes are two of the factors one should take into account when choosing a coat in a flattering colour. In the majority of cases, women wear their coats with multiple skirts, dresses, trousers, and jumpers, which means neutral colours are generally the best bets.
Vivid colours, such as red or fuchsia, are indeed dynamic, but they may become tiresome at some point. Buyers should also consider the season when choosing the colours of their coats. For example, some of the best colours for autumn and winter are black, navy, burgundy, dark purple, and dark green. On the other hand, women shopping for light summer trench coats and jackets may opt for brighter colours, such as red, pale yellow, blue, or white.
How to Choose a High-Quality Fabric
When choosing the material of a coat, the question is whether one is looking for an everyday coat or one that is for occasional wear. For an everyday coat, long-lasting fabrics, such as alpaca, cashmere, wool, and synthetic materials mixed with wool are good choices. A touch of polyester or nylon is also welcome to improve the quality of certain natural fabrics.
Consumers should also consider the season when choosing the materials for coats. Wool is a good choice for autumn and winter, whereas lighter materials like cotton and polyester are more suitable for summer trench coats and jackets. The material and cut can influence the way a coat fits, so it is important to steer clear of rigid fabrics that do not offer a flattering look.
Pay Attention to the Sleeves
The cut of the sleeves can make or break a coat, and it may affect how comfortable one feels in a coat. Buyers can choose from coats with large armholes, batwing sleeves, straight sleeves, raglan sleeves, and many other sleeve types. They should take into account the freedom of movement provided by the sleeves. The length of the sleeve is important, and it is often overlooked by women shopping for coats online. The sleeves should not be too long or too short. Ideally, the length should be somewhere between the wrist and the knuckles.
How to Choose a Coat in a Flattering Size and Length
Buying a coat in the correct size is essential for it to be flattering. Buyers should pay specific attention to their bust, waist, and hip measurements, but they should also remember to consider the lengths of the coats they consider. The chart below illustrates the main sizes for women's coats and the typical corresponding measurements.
| | | | |
| --- | --- | --- | --- |
| Size | Bust (inches) | Waist (inches) | Hip (inches) |
| | 31.5 | 23 | 34 |
| 2 (XS) | 32.5 | 24 | 35 |
| 4 (S) | 33.5 | 25 | 36 |
| 6 (S) | 34.5 | 26 | 37 |
| 8 (M) | 35.5 | 27 | 38 |
| 10 (M) | 36.5 | 28 | 39 |
| 12 (L) | 38 | 29.5 | 40.5 |
| 14 (XL) | 39.5 | 31 | 42 |
As for the length of the coat, there are several options to choose from and choosing the right one should depend on one's body type. As a rule of thumb, shorter coats suit shorter women, while longer coats are a better option for taller women, but there are some limitations to that way of thinking. As noted above, very tall women should also avoid very long coats. Medium length coats work well with most silhouettes, and they provide more warmth for the legs. Average height women may also want to try coats that hit just above the knee.
How to Buy a Flattering Coat on eBay
If you are looking to buy a new or used women's coat online, eBay is one of the best places to search. You can browse great deals on women's clothing, including coats and jackets, and find your favourite styles with just a few clicks. In order to start the search for a flattering coat, just type the words 'women's coat' into the search bar on any eBay page. If you know exactly which style you want, you can add some extra terms to your search to focus the results.
Make sure you pay attention to the product descriptions and the sizing information. When in doubt, you can ask the seller for extra details prior to making the purchase. Coats can be expensive, and then buyers have to add shipping fees on top of that. You can save on the additional fees by choosing to buy from a vendor who offers free delivery or by searching for sellers in your local area.
Conclusion
Buyers who want to purchase new coats need to take several factors into consideration in order to make sure the styles they choose are flattering for their silhouettes. Whether a buyer is looking for a short, mid-length, or long coat, he or she should consider the material, cut, colour, sleeves, accessories, and other factors related to the appeal of the garment.
Buyers can choose to buy women's coats in department and clothing stores, or they can take advantage of the wider selection available on the Internet and shop for new coats on sites like eBay. They can literally browse through hundreds of styles to find the most flattering looks for their body types, and they can do it from the comfort of home.
Women's Coat|Winter Coat|Trench Coat|Knee-length Coat|Wool Coat