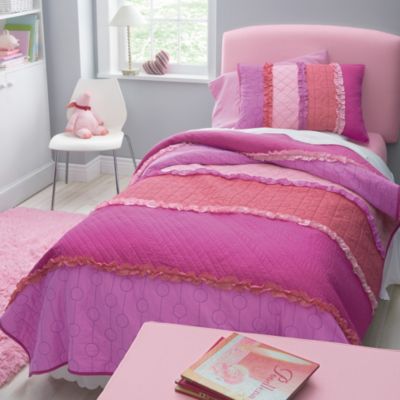 A quilt cover is a large pillowcase-like covering that encloses a doona on a bed. People often choose quilt covers as an inexpensive way to redecorate a room. A quilt cover also protects a doona. Quilt covers are much easier to clean than doonas. One can simply throw a quilt cover in a washing machine, whereas with a doona, one has to take it to a laundry. A single quilt cover is a simple and inexpensive way to decorate a girl's bedroom without having to invest in an expensive bedding set. To choose the right girls' single quilt cover, a shopper needs to find the right size, select a suitable fabric, and choose a design that reflects a child's personality and complements the room's decor.
Find the Right Quilt Cover Size
The single and Euro single quilt sizes have slightly different dimensions, so it is important to know how these differ when determining the correct quilt size for a bed. The table below lists the bed dimensions and quilt cover dimensions for each bed size.
| | | |
| --- | --- | --- |
| Bed Size | Bed Dimensions | Quilt Cover Dimensions |
| | 90 cm by 190 cm | 135 cm by 200 cm |
| Euro Single | 90 cm by 200 cm | 150 cm by 200 cm |
| Double | 135 cm by 190 cm | 200 cm by 200 cm |
| Euro Double | 140 cm by 200 cm | 200 cm by 200 cm |
Though parents usually choose a single bed for a girl's room, a double or Euro double quilt provides more coverage on the bed. Parents who want the quilt to hang lower on the sides should choose either of the larger sizes. In either case, the quilt cover must have the same dimensions as the doona it is meant to enclose.
Choose a Fabric for the Quilt Cover
Bedding needs to be comfortable to ensure a restful night's sleep. The first factor that a shopper should consider when shopping for a quilt cover is the fabric. Manufacturers use several types of material to make quilt covers. These different types of fabric provide varying degrees of warmth and softness. Providing a soft and comfortable place for the child to sleep makes it easier for the child to transition from a cot bed, or junior bed, to a larger single bed.
Warmth
The temperature and the season dictate which fabric is best for a quilt cover. For winter months when the temperatures are cooler,flannel, wool, and thick cotton fabrics provide the necessary insulation to keep a child warm at night. Smooth satin fabrics work well in warmer months. Such quilt covers prevent the child from overheating on summer nights.
Softness
A soft fabric makes the bed a cosy place to sleep at night. Egyptian cotton with a high thread count has a soft and luxurious feel. The higher the thread count, the softer the quilt cover. A 200-thread count quilt cover is softer than a 400-thread count quilt cover. Cotton blends and synthetic fabrics, like fleece, are also soft and comfortable.
Washability
Children are messy, so a parent needs to consider how often he or she may need to put the quilt cover the washing machine. When examining a quilt cover for a girl's bed, a shopper should read the care instructions carefully. Many cotton fabrics are durable enough to go through a regular wash cycle, but others require special care. A parent should avoid any quilt covers that require dry cleaning. Being able to toss the quilt cover in the washing machine makes care much easier, especially if the parent expects to clean the quilt cover often.
Choose the Quilt Cover Design
Once a shopper chooses the size and the fabric for the quilt cover, she can choose a design to go along with the girl's room. Quilt covers come in a variety of themes, colours, and patterns, including Disney Princesses theme, animal themes, colourful patterns, and floral prints. Because quilt covers are less expensive and easier to clean than the doonas themselves, a parent can change the cover to match the changing tastes of a growing girl.
Closures
Quilt covers have two different types of closures: the zipper closure and the button closure. With a zipper closure, there are no gaps where corners of a doona can poke through. The drawback is that a metal zipper is cold to the touch and can easily snag pyjamas or the skin. Zipper closures are also difficult to repair. Button closures consist of large buttons that close to secure the doona within the quilt cover. However, these button closures leave gaps. Nevertheless, button are easy to repair and do not snag on clothing or skin.
Find Other Bedding Accessories
A shopper should look for other bedding accessories to go along with the new quilt cover. Throw pillows, blankets, and stuffed animals make nice additions to the bed. These accessories tie into the design of the quilt cover as well as the decor of the room. Additionally, a shopper should consider a new single sheet set and dust ruffle to match the colour of the quilt cover. A single quilt cover set often comes with many of these accessories included, making decorating the bed and the room easy.
How to Buy a Quilt Cover on eBay
You can find great deals on quilt covers for a single bed on eBay. Perform a keyword search to get started. Select options such as fabric, colour, pattern, size, and brand to narrow down the selections. Specify a price range and sort the listings by price to find the quilt cover that works with your budget. To find the best deals, look for sellers that offer used quilt covers or free shipping. Be sure to read the item description carefully and look at the pictures to ensure that the quilt is what you are looking for. Evaluate the seller's feedback rating before doing business with a particular seller. No matter what a girl's taste, eBay has listing for a slew of decorative bedding options.