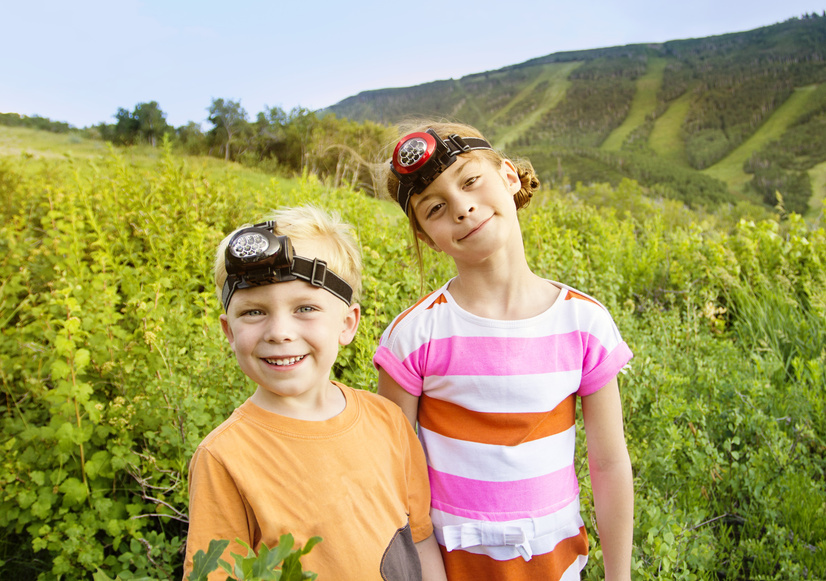 When camping, the darkness can seem all encompassing. Even a light breeze can make candles and lanterns difficult. Holding a flashlight in one hand can make every task twice as hard. The perfect solution to this problem is to have a head flashlight. It frees up both hands to set up a tent, or cook over the campfire, provides hours of light and will always shine in the direction ahead.
Features of Head Flashlights to Consider Before Purchasing
It is important to know what type of head flashlights are available on the market before starting a search for one. Knowing what purposes different types of head flashlights serve will help a buyer decide what is necessary.
Light Source
The type of bulb used in the head flashlight dictates how bright the light will be, how long the power will last and the quality of light that will shine.
Tungsten
Tungsten bulbs were the original bulbs used in head flashlights. They provide a weak light and drain the battery power quickly, so they are no longer an ideal choice for those looking for longevity and functionality.
Halogen
Halogen bulbs will give the brightest light but will also eat up the battery much more quickly than other options. If an extremely bright light is necessary for the planned camping trip, this type of bulb is worth considering but be sure to bring spare batteries.
Xenon & Krypton
These bulbs are halogen hybrids that were created to maintain a bright light while reducing the amount of battery power used. Both are common in all purpose head flashlights.
LED
These bulbs last up to 20 times longer than other varieties due to the strength of the LED bulbs and the minimal battery power required to run them. They are not as bright as some of the other types, but for general camping, they normally meet all needs.
The type of bulb doesn't tell the entire story. How focused the light source is and how many bulbs are in the flashlight will also make the light stronger, weaker, wider or more narrow. When looking at head flashlights, check listed beam length or range for a gauge of how far the flashlight will shine. Also look at the number of settings available. Many head flashlights have options for wide/floodlight beam, long narrow beam and battery saving settings. Some also have an option for red lighting which may help to save vision at night.
Power Source
Head flashlights are powered by batteries and the type of battery that the head flashlight requires, along with the type of bulb, will dictate how long the beam will burn. Choose a head flashlight with a battery source that meets personal requirements.
Alkaline (AA or AAA)
These batteries are easy to purchase and replace making them ideal for general use.
Lithium
Lithium batteries perform well in colder climates and can be a long lasting power source. Replacement can be more expensive than alkaline.
Rechargeable battery packs
Having a rechargeable battery pack can be a good option for outdoor enthusiasts, though it can only be recharged with an electrical source. Battery packs sometimes sit at the back of the head making the entire contraption fairly heavy. Other times, the pack is attached to the light through a thin cable allowing the pack to be anchored to another area.
Other Features
Light and power sources aren't the only things that are important to look out for when purchasing a head flashlight. A few other factors can draw the line between a great head flashlight and a horrible one.
Strap Options
Straps can make the head flashlight more or less secure. For general use, the single strap around the head is normally all that is needed providing it can be tightened as necessary. For hiking, the extra strap across the top of the head may help to hold the light in place.
Weight
Weight can vary greatly between different flashlights. The light to mid weight options are normally best for camping to avoid neck strain. Heavier options normally have stronger light beams that aren't strictly necessary for camping activities.
Ease of Use
This factor is dependent on the individual using it. Buttons and switches can be fiddly, and it helps to know personal preferences before purchasing to ensure satisfaction with the chosen head flashlight.
Water Resistance
Water resistance is a crucial factor to assess if the user is looking to use the flashlight in a moisture-filled setting. Even a light drizzle can ruin some of the options that aren't water tight, so be sure to purchase a flashlight that says it is water resistant or waterproof.
Buy a Head Flashlight on eBay
In order to purchase the best head flashlight for camping, be sure to look at a variety of options, carefully weighing the amount of light, battery life and other features of each one. Using the search bar on eBay will bring up a host of options with many well known brands and great reviews. Be sure to read the return policy and add any shipping costs to the total cost of the purchase. Camping will be a much more enjoyable activity with an appropriate head flashlight to help with activities after dusk.