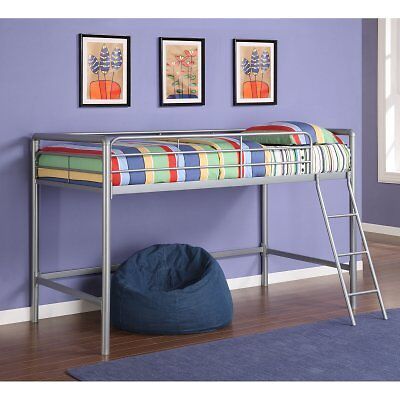 As children grow, so must their bedroom furniture. When a baby outgrows his junior bed. These junior beds serve as an intermediate step between a cot and an adult-sized bed. Junior beds are low to the ground and have guard rails that ensure the safety of the child while he or sleeping. When is comes to matching a junior bed to the decor and theme of the child's room, a parent finds that he has several styles and designs to choose from. When a child graduates from a cot to a junior bed, a shopper needs to consider the child's safety when looking at the frame, design, and the mattress.
Consider the Safety Features
When choosing a junior bed, the first step is to consider all of the available safety features. Though a toddler is too large for a cot, she still needs a bed with guard rails to keep her safe at night. The table below highlights what a shopper should consider when shopping for a junior bed.
| | |
| --- | --- |
| Features | What to Look For |
| | Low to the ground; easy for child to climb in and out of; low enough that child suffers no injuries should he roll out of the bed |
| Guardrails | Rails attached to the frame; rounded corners to minimise injuries; slats narrow enough to prevent limbs getting caught |
| Mattress Size | Cot size mattress; no gaps evident between the mattress and the bed frame |
| Paint | Non-volatile organic compounds (VOCs); no lead paint; a natural finish is ideal |
Safety is the most important factor to consider when shopping for a junior bed. A small child may fall out of a bed, or her head or a limb may become stuck between the slats. The child may also chew on the frame, exposing the child to toxic chemicals in the paint and wood splinters. For this reason, parents must choose a bed that minimises the risk of injuries. Most contemporary junior beds meet stringent safety guidelines. Therefore, a shopper must exercise caution when shopping for used, vintage, or handmade furniture as these junior beds may not meet these stringent guidelines.
Choose the Correct Type of Junior Bed
Choosing the right junior bed means considering the frame type, mattress type, and the bed's design. Shoppers should evaluate their selections based on durability, longevity, comfort, and appearance. Fortunately, there are hundreds of styles and designs that a shopper can choose from.
Frame Type
Typically, manufacturers use wood, plastic, or metal when manufacturing bed frames. When selecting a frame, a shopper should inspect its sturdiness. The frame does not have to support the weight of an adult, but it should support a child jumping up and down on the bed. Additionally, a shopper should inspect the weight limits of the bed. If the child is already close to the weight limit, then a parent should consider another bed with a higher weight limit. Because a toddler grows so quickly, buying a bed with a higher weight limit saves a parent having to purchase a new bed in the near term
Combo Beds
Combo beds grow with the child. Two-in-one and three-in-one beds transform from a cot to a junior bed. While a combo bed is more expensive up front, parents only have to purchase one piece of furniture at birth and then they modify the bed as the child grows into toddlerhood. Some three-in-one combo beds convert to full-size beds.
Bed Design
Junior beds come in many styles and designs. Some parents choose natural wood frames or frames with solid colours. Others opt for colours or decorative accents that match the decor of the child's room. Junior beds often include motifs like cartoon characters, animals, sports themes, and more. Shoppers should avoid beds sporting small decorative features that can break off. These could become choking hazards. Additionally, shoppers should be sure that the designs meet the safety guidelines and that all paints and finishes are non-toxic.
Mattress Type
Fortunately, a junior bed uses the same mattress as a cot. Most people do not need to purchase a new mattress unless the old cot mattress is in poor condition. However, parents who want a new mattress to go with the new bed have several options to choose from. Junior mattresses contain springs,cotton,memory foam, or wool. As with adult size mattresses, junior mattresses can vary in terms of firmnesses.
New vs. Used Junior Beds
Shoppers who want to save money can search for used junior beds. However, shoppers need to take extra precautions when shopping for used beds. Shoppers should inspect each bed thoroughly before making a purchase. Used beds should have no missing screws, loose boards, broken ornamentation, or splinters. Parents should never purchase used mattresses. This is because used mattresses are often soiled and difficult to clean.
How to Buy a Junior Bed on eBay
eBay provides great deals on junior beds in new and used condition. Start your search for a new bed by entering keywords into the search bar located on any eBay page. Be specific with your search. A search for 'white junior bed' yields more relevant results than a simple search for ' junior bed'. However, you can also select categories and options from the refinement menu to assist in targeting the appropriate listings. Read product descriptions and look at the photos provided by the seller. Whether you need a junior bed, combo bed, or mattress, eBay has several great deals for you to choose from.