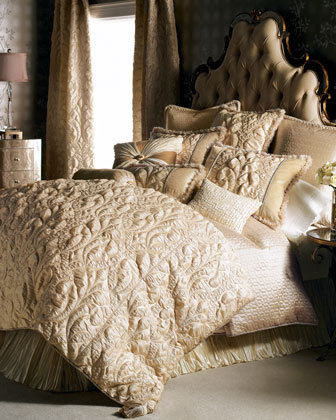 Quilt covers make it easier for owners to change the look of a bedroom, because rather than changing an entire quilt, also called a doona or duvet, only the cover requires replacement. The cover protects the quilt from damage and is more economical to wash on a regular basis. Choosing a king quilt cover requires shoppers to take into account several factors. Among them are the materials used, the thread count, the patterns, and whether the quilt cover is part of a set. Getting the correct size is also an important consideration that ensures the bedding sits comfortably on the bed. Apart from department stores and home furnishing shops, eBay helps consumers find a great selection of king quilt covers.
Consider the Materials Used
One of the biggest concerns when buying any quilt cover is the material. The feel of the cover, its softness, and even its breathability, are all results of the material. Bedding options to choose from include cotton, silk, synthetics, as well as eco-friendly choices, such as bamboo.
Cotton
Cotton is one of the most common choices of quilts. Durable and easy to care for, cotton also has the benefits of being soft and breathable. However, it is also prone to wrinkling. Egyptian cotton is among the most prized varieties of cotton, offering a luxurious softness. Cotton takes dye easily, making the colour options virtually limitless.
Silk
Silk is synonymous with luxury. Another natural fibre, it is soft and breathable. Some silk quilt covers are even machine washable. However, silk breaks down when exposed to too much sunlight or extreme heat, such as from an iron. Like cotton, it also takes dye very well, which produces brilliant hues.
Synthetics
Synthetics include polyester and rayon-based fabrics. The options range from plushfaux suede and velvet to smooth satin. Synthetic fabrics are not as breathable as their natural counterparts, but they are easy to care for, as they resist wrinkles and are usually machine washable. Sometimes, cotton blends with polyester to create a polycotton blend, which offers the best of both worlds.
Bamboo
Bamboo is a natural fibre and an ecofriendly, sustainable solution. Bamboo has a soft texture and is breathable. More notably, bamboo is hypoallergenic, antibacterial, and antimicrobial, all of which make bamboo quilt covers a great option for people with allergies and sensitivities. Bamboo may also blend with cotton.
Choose a Weave
Apart from the material, the weave of the threads plays a big part in the look and feel of the cover. There are several styles from which to choose. Percale is a basic weave that requires a minimum thread count of 180. It produces a matte finish. Satin and sateen, on the other hand, produce a lustrous sheen. Satin is in fabrics, such as silk and Nylon; sateen is in materials, such as cotton. Two other weaves frequently used in quilts include jacquard and damask. Jacquard produces raised, multi-coloured patterns. Damask is often only a single colour, and it creates an alternating pattern of matte and shimmering finishes.
Look at Thread Count
A final factor that affects the feel of material in a cover is thread count (TC), which is the number of threads contained in a single square inch of fabric. Both doonas and sheets use thread count as a key determinant. Most bedding starts at a thread count of 180, the minimum for a percale weave, but some products exceed 1,000 thread count. The higher the thread count, the thinner the threads used, and the softer the final product.
Browse Patterns for King Quilt Covers
King quilt covers come in a wide array of patterns and styles to suit anyone's tastes. Keep in mind personal style and the decor of a room, such as wall colour. Simple, single-colour covers are ideal when the room is full of artwork or the headboard is the focal point of the room. If the room in relatively sparse, a colourful, patterned cover is just the item to liven up the space and bring in some personality. Also consider the seasons: bright or pastel quilt covers in colours such as yellow, blue, orange, or green are better suited to warm weather, while bold colours, such as violet, emerald green, or red are better suited to colder days. Likewise, consider a light and breezy cotton for warm weather but a heavier microsuede for cool weather.
Consider Quilt Cover Sets
Buyers simplify the process of coordinating bedding by buying quilt covers as part of a quilt cover set that also includes pillowcases. Other sets may include coordinating sheets or accent cushions.
Sizing a King Quilt Cover
A final consideration is the sizing for a king quilt cover. King mattresses measure 183 cm wide by 203 cm long. However, quilts and quilt covers vary in their sizing; one may measure 234 cm by 264 cm and another may measure 210 cm by 245 cm. As such, buyers should check the actual size of a quilt to ensure the cover is a proper size for a bed. If the mattress is extra deep, remember that the quilt may appear shorter than on a thinner mattress, so an oversized quilt and cover may be a better choice.
How to Buy a King Quilt Cover on eBay
eBay is a great place to find quilt covers. When you visit the site, head over to the Deals page to locate special offers on all sorts of products, including bedding. Perform a keyword search to locate doona covers and sets and all of the accessories, both new and used. Perform an advanced search to expedite the process and even locate local sellers. Check a seller's history before you buy, and be on the lookout for offers from top-rated sellers. If you have questions about a product, reach out to a seller through eBay's Ask a Question feature. You can find a great new quilt cover for your king size bed on eBay.