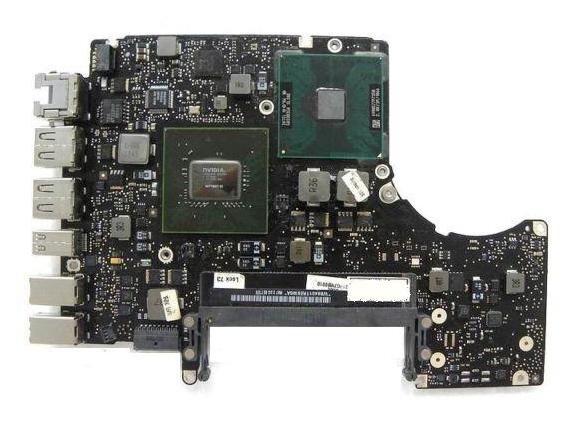 Motherboards are essential components for all computers, especially desktops. There are thousands of different options and components from which the average consumer can select when upgrading their existing computer or building a brand new custom model. The motherboard can easily be considered as being the brains and central nervous system of the desktop computer. There are several points that a consumer should keep in mind whenever he or she needs to select one for purchase.
Standard Sizes
Motherboards for desktop computers come in a wide variety of shapes and sizes. However, there are several standards that have been put in place in order to make it easy for manufacturers to pair motherboards with compatible desktop cases and towers. Following these standards is an essential part of the process when building a custom desktop PC since none of the other parts or components can be installed within the case if the motherboard does not fit properly.
The most popular motherboard size that is used today is Intel's ATX (otherwise known as the Advanced Technology Extended) along with its various derivatives. Here is a list of several of the most purchased ATX motherboard sizes that are currently available from smallest to largest:
· EmbeddedATX (MicroATX)
· Mini ATX
· Standard ATX
· EATX (Extended ATX)
· WATX (Workstation ATX)
The vast majorities of standard motherboards have common shapes and sizes, but have also set the standard for the average layout pattern that is used for most models. That is why the Input-Output ports, RAM and CPU are generally located in the same areas on all motherboards; this general layout is designed by the board standard. As mentioned earlier, this is the only way in which the manufacturers of computer cases and power supplies can stay on the same page when it comes to developing these compatible parts.
Processor Sockets
The type of processor sockets used on a motherboard determines the type of central processing unit (CPU) that will fit within it. Keep in mind that if the CPU does fit within the processor socket, it cannot be used regardless of how much money the consumer paid for it.
1) It is highly recommended to select the desired processor first
2) Decide which socket will be needed for the motherboard based on that decision
3) After these two selections have been made, the actual motherboard can be selected.
Pay attention to the names that are being used to refer to these sockets. For example, LGA 1156 represents a Land Grid Array socket that has a confirmed count of 1156 pins. Motherboards and CPUs are constantly being changed, modified and redesigned with each passing year in order to become more efficient. Therefore, it is highly recommended to rely on the actual manufacturer when researching the information that will be needed to match the CPU with the perfect socket and motherboard combination.
Chipsets
All of the key components within the computer (including the CPU, video card , peripheral devices and RAM) communicate through the standard chipset that is used on the motherboard.
· The Northbridge handles expeditious communication between the video card, CPU and RAM
· The Southbridge provides consumers with everything that they need to support a wide variety of drivers and other components, including USB 3 , PCI-E and SATA.
Before selecting a motherboard, it is important to identify the specific needs and expectations that will need to be met by the finished computer system and then purchase the required components accordingly.
Analysing All Available Options
Focus on using the onboard features that are already available with the standard motherboard. Do not become overly concerned with advanced features and deluxe options, such as additional expansion slots and the overall reliability of the actual motherboard. Make sure that you revolve your purchasing decisions around definitive requirements and needs both now in the present as well as in the near future.
For example:
· A consumer might already know that their new motherboard is going to need to eventually have two separate network cards in the future. It would be wise for them to make sure that the motherboard that they are purchasing now will support that type of enhancement.
· Another consumer might be interested in upgrading the audio and video capabilities of their computer by eventually upgrading to HDMI technology. Investing in a motherboard that supports that now will make it much easier to complete that type of upgrade later.
How to Buy Motherboards for Desktop PCs on eBay
There are many different motherboards that are currently available on such Internet websites as eBay.
· To access a complete listing, go to the eBay homepage and use the Search field to identify specific keywords and phrasing that will lead you in the right direction. For example, searching for " desktop motherboards " or even just the general term " motherboards " will generate a list that you can narrow down and filter accordingly based on personal preferences and requirements.
· Consumers can also identify the specific brand that they are interested in purchasing by including that within the Search field as well, such as " Intel motherboards ."
· Purchase motherboards from top-rated sellers that have established a lengthy history of positive feedback and ratings from past customers.
· Search for deals that offer free shipping in order to save even more money, especially when bundling a collection of accessories and computer parts together within the same order.
Conclusion
Searching for a great deal on motherboards for a desktop computer is fairly easy when the consumer decides to conduct these searches on popular Internet websites, such as eBay. Regardless of whether they are building a custom PC or simply replacing the computer components that they already have, there are many great products that are competitively priced and ready to be purchased. Take the time to research all specifications and details before finalising any sales.