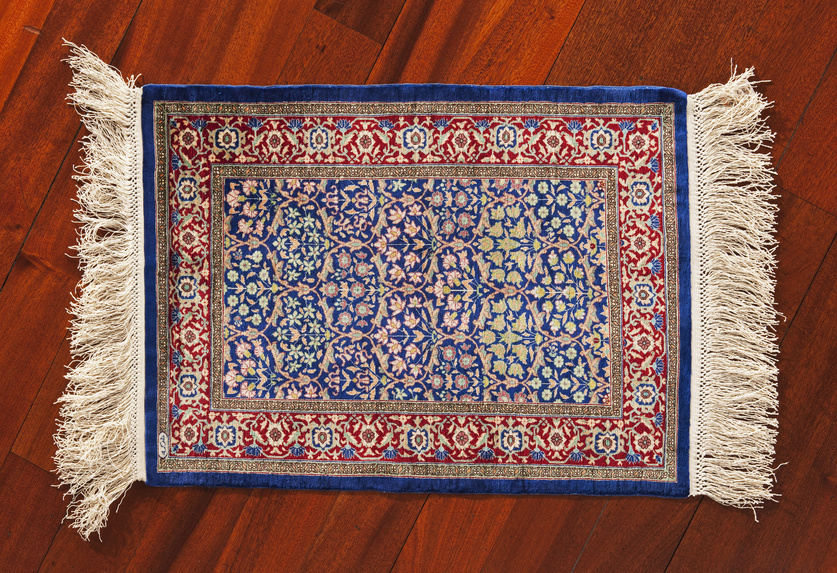 Some of the most sought-after rugs for home decoration purposes are Persian rugs. So named because of their Iranian origins, Persian rugs are highly regarded for their quality, durability and craftsmanship. They are also an important part of Persian art and culture. Because of this, Persian rugs can cost thousands or even millions of dollars. Before spending such a large amount of money, it is important that buyers know the different types of Persian rugs available on the market.
Persian Rug Materials
The most common material used for Persian rugs is wool, although cotton has become quite common as well. The wools used in Persian rugs are often camel hair wool, Kork wool and Manchester wool. Modern Persian rugs make use of less traditional materials such as mercerised cotton, silk blends and synthetic fibres.
Antique Persian rugs are made of silk, but they are less durable than their wool and cotton counterparts. They also tend to be much rarer and more expensive. It is due to these reasons that silk Persian rugs generally serve as collector items, wall hangings and displays, rather than simple floor rugs.
Persian Rug-weaving Techniques
In the past, all Persian rugs were hand-woven. But because of modernisation, machine-woven Persian rugs have emerged, although they have not yet attained the acclaim given to traditional hand-woven types.
Technique

Characteristics

Hand woven

High quality of craftsmanship and design

Can be hand-knotted, hand-tufted or flat-weaved

Uses vertical or horizontal looms

Takes hours to finish

More expensive

Machine woven

Lower quality of craftsmanship and design

Not considered as authentic

Seen as mere imitations

Less expensive
Even though machine-woven Persian rugs are not very popular amongst Persian rug enthusiasts, they still look very similar to hand-woven rugs, making them an ideal option for people who want to have a Persian rug at home but are not willing to pay the high price tag.
Persian Rug Designs and Patterns
While there are many Persian rug designs and patterns from which to choose, machine-woven rugs usually have the same designs. What makes hand-woven rugs valuable is their unique design. No two rugs are ever alike, even though one can classify their designs in broad categories based on similarities of layout.
Geometric Designs
Persian rugs with geometric designs have repeated linear elements of vertical, horizontal and diagonal lines, combined with traditional and cultural symbols of the tribe where the rug originated. Since they are hand-woven, they do not have full symmetry or colour consistency, hence giving them a primal quality that actually commands a higher price.
Curvilinear and Floral
Most Persian rugs make use of curvilinear and floral patterns, as these show their tribes' close affinity with nature. In fact, nature of some form is almost always present in Persian rugs. The most common motif in these designs is the central medallion, which stems from the spiritual nature of the weavers.
Pictorial
Pictorial designs are the rarest designs in Persian rugs, as this kind of pattern does not follow a standard outline, making it truly unique in its details. Weaving this kind of design is much more demanding and taxing on the part of the weaver because of the small elements present in pictorial designs.
How to Buy a Persian Rug on eBay
When you search for Persian rugs on eBay, you find that the larger the size is, the higher its price. Aside from the design, materials and weaving techniques, you also have to consider the size of the Persian rug you want to buy. Likewise, antique hand-woven Persian rugs command a steeper price because of their superior craftsmanship. You can find both antique and modern Persian rugs from sellers on eBay by using general search terms. If you have a specific Persian rug designer or type in mind, such as Jaipur or Haji Jalili, look for them to narrow your results.