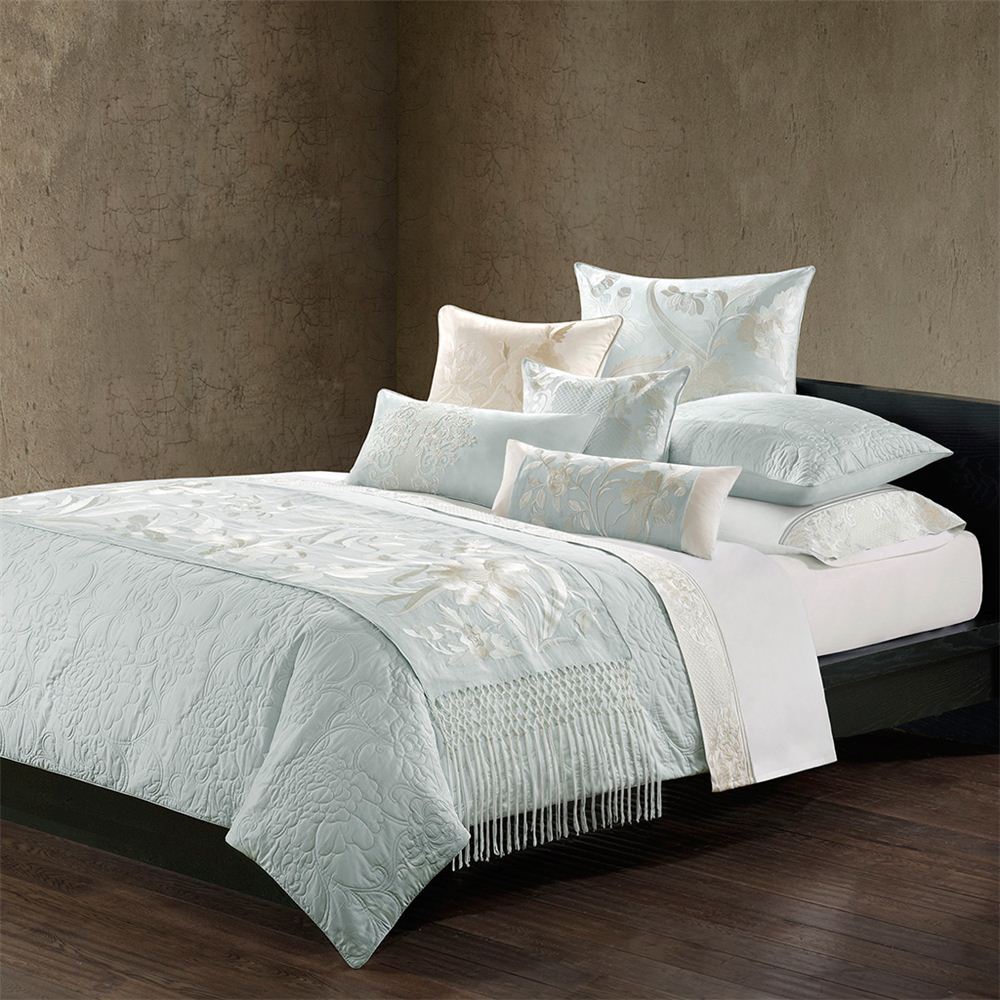 From dimensions to ease of maintenance, there are so many criteria involved in choosing a quilt cover. Very similar to duvet covers, quilt covers are an essential element for protecting a comforter or quilt against dust and mites. Besides protecting a comforter, a quilt cover is also responsible for giving character to a bedroom. Quilt covers are available in multiple sizes, with the queen quilt cover being one of the most popular choices. By learning more about how to choose a queen quilt cover according to material and style, buyers can make sure the bedding item they buy is suitable for their needs and good value for the money.
What to Look For When Shopping for a Queen Quilt Cover
Choosing a queen quilt cover is a delicate mission, as there are numerous things to take into account. Some of the most important are size, quality, price, and style. Buyers should focus on these aspects prior to making a final decision.
Quilt Cover Size
All queen quilt covers come in the same size, which is approximately 260 by 220 cm. Before purchasing a queen quilt cover, buyers should make sure their duvet is in the same size. Using a quilt cover that is too small or too large may ruin the aspect of the room and feel uncomfortable when sleeping. Whether buyers choose to shop for quilt covers online or in brick and mortar shops, they need to take exact measurements of their comforters to be able to choose quilt covers that fit. Different queen quilt covers available from various manufacturers have quite similar dimensions, but some of them may vary slightly, so buyers should make sure the cover they purchase can accommodate their duvet just fine.
Quilt Cover Style
Choosing a queen quilt cover in a particular style is ultimately a matter of personal choice. However, even though buyers cannot make a mistake, they should keep a couple of things in mind before making a purchase. It is always a good idea to look for sets including a queen quilt cover, because sometimes buyers can get good deals for them. Moreover, buying bedding sets is an easy way to make sure the quilt cover goes well with the rest of the bedding linen. Buyers should also consider the colour palette of the room. The quilt cover should complement the colours of the floor coverings, walls, and furniture pieces in the room. The good news is that quilt covers come in a wide range of colours, including solid colours and patterns, so it is easy to find a suitable one.
Budget
The price of queen quilt covers may differ greatly from one style to another. A silk quilt cover, for example, tends to be more expensive than a cover made from cotton. Buyers on a budget may want to have a look at queen quilt covers made from cotton or polyester. On the other hand, those who are looking for bedding that is more elegant may opt for satin or silk, but they should keep in mind that these options may be pricier. Setting a budget before starting shopping for a queen quilt cover and sticking to it may be a good idea for buyers who want to avoid overspending.
Tips for Choosing the Right Material for a Queen Quilt Cover
The material of the duvet or quilt is a criterion buyers should treat with care. The material is important not only for the look of the bedding, but for comfort as well. Quilt covers are available in different materials such as cotton, polyester, satin, and flannel. Each of these materials comes with various benefits. The chart below should make it easier to decide which material would be a good choice for a queen quilt cover.
Type of Material

Main Characteristics

very easy to wash and dry

long-lasting

warm

Polycotton

easy to wash and dry

needs little to no ironing

good resistance to wrinkles

hypoallergenic natural material

long-lasting

smooth to touch

requires special care for cleaning and drying

soft and warm fabric

ideal for winter

easy to maintain

very stylish

not a good choice for those looking for warm quilt covers

rather difficult to maintain
The choice of material influences the level of comfort of the quilt cover. A comfortable quilt cover is essential for falling asleep quickly and having a good night's sleep. From the materials listed above, cotton is one of the most popular choices, not just because it is rather affordable, but also because it is very comfortable and does not require special care when it comes to washing and drying.
How to Buy a Queen Quilt Cover on eBay
You can find a large selection of quilt covers all in one place if you shop for bedding on eBay. The best prices of the day are in the eBay Deals section; with a bit of luck, the right queen quilt cover might be there. Use eBay's search system to narrow down the duvet cover options according to your preferences. To find aqueen quilt cover on eBay, type these exact terms into the search bar you can find on every page of the website. Refine the results you get by colours, price, material, and more to speed up the search. Before buying an item, read the product description.