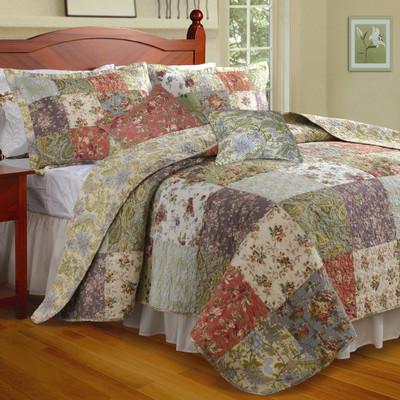 During the cold season, quilts are essential for people to conserve energy at night, and of course, stay warm and sleep comfortably. Since quilts can be difficult to wash, and sometimes require dry cleaning, it is important to protect them with quilt cover sets, which are cheaper than quilts and also easier to wash by machine. Buying a quilt cover set can be a bit trickier, as there are many styles, sizes, and closures that are confusing to most buyers. Usually choosing a quilt cover set involves checking the size of the bed, mattress, and pillows, and then settling on style, budget, and materials based on personal needs. Many sellers, like those on eBay, offer a range of different quilt cover sets.
Consider Quilt Cover Set Size
Quilt covers , or duvet covers, protect quilts from dirt and ensure that quilts last as long as possible. Buyers have to measure their quilt before purchasing a cover. Usually, a cover is the right size when it is up to five centimetres larger than the quilt it covers. However, a perfectly fitted quilt cover always looks better than a looser one. Buyers should simply measure the bed and the quilt with a measuring tape to get the exact size and then look for an appropriate sized quilt cover.
Choose the Quilt Cover Set Materials
The material is one of the most important aspects of choosing a quilt cover set. Different materials are more comfortable, more luxurious, or pose different care issues. Most buyers should look for materials that are durable and easy to care for.
Cotton
Cotton is perhaps the most popular material for quilt cover sets because it is durable, affordable, and soft. Most people think that Egyptian cotton is one of the most luxurious options for bedding sets. Buyers can wash, dry, and iron cotton without any issues because it is not a delicate material. Those looking for deals on quilt cover sets are likely to find them in cotton, as it is a relatively cheap, durable, and common material.
Wool
Wool is a great option for a winter quilt cover set because it is warm material that has good insulating properties. Many buyers find that wool can be itchy and somewhat difficult to care for, but the warmth wool provides makes caring for wool quilt cover sets well worth the effort. An issue with wool quilt covers is that wool requires washing by hand in cold water to prevent it from shrinking.
Linen
Linen quilt covers are usually for summer use but they can be good for winter as well. Thicker linen is very warm but can be quite rough to the touch, making it unsuitable for most people. However, linen does fit in perfectly with most rustic chic designs and is usually very affordable. Depending on the weave, linen may or may not be machine washable.
Synthetic Materials
There are many synthetic materials that manufacturers use for quilt covers. Polyester, microfibre, flannel, and fleece are some of the most popular. All synthetic materials have their pros and cons, but in general are affordable, easy to care for, and warm, although not very luxurious.
Quilt Cover Sets with or without Filling?
While most quilt cover sets come without any sort of filling, it is also possible to purchase cover sets with filling. Down, memory foam, cotton, poly fibre, and synthetic fibres are all available as fillers for quilt covers. Buyers can choose a filling that suits their budget and preference. Cotton stuffing is a common type of quilting, while polyester and synthetic fibres are very affordable, and down is the soft but expensive.
Consider Quilt Cover Set Style and Pattern
The style and pattern of the quilt or duvet cover is a personal consideration but is still important. Most people prefer to match the quilt cover to the bedroom's decor, but many also prefer to look for bedding in warm winter colours. Typical winter colours include black, blue, orange, burgundy, and other deep, rich colours. Patterns and designs on the fabric may also be available for some quilt cover sets.
Choose from Different Types of Quilt Cover Sets
Buyers who are looking for deals on bedding might be interested in looking at different types of quilt cover sets. A basic set usually includes a quilt cover, pillowcases, and sheets. Another type of set might include the quilt cover and duvet. In general, sets with more items cost less per sheet or pillowcase than sets with only a few items. For example, a set including pillowcases, sheets, and a quilt cover is likely to be cheaper than a set including only the duvet cover and sheets; however, the price of bedding sets varies with quality, brand, and more. To make an informed choice, buyers should compare the price of various quilt cover sets, taking into account what the set actually contains.
How to Buy a Quilt Cover Set on eBay
Before buying a quilt cover set on eBay, you might want to measure the bed and quilt. You can then compare measurements with those of the quilt cover sets you are considering to ensure that you choose a set that fits. Look for a quilt cover set using eBay's search bar, and refine the results you get by material, price, colour, and more. Those looking for a bargain can check theeBay Deals section for the best prices of the day on bedding, which may include quilt cover sets. Considering these aspects, buyers should be able to find a quilt cover that suits their needs and budget and keeps them warm when winter comes.