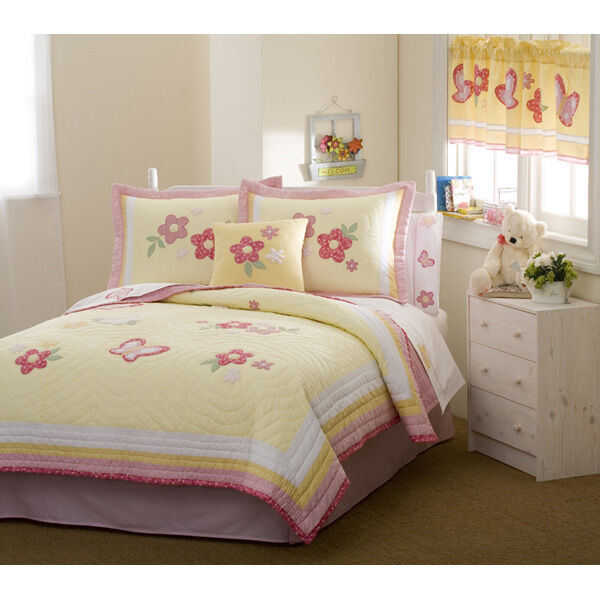 Few things are as cosy as a warm, fluffy quilt. But a quilt is not just a great way to stay warm in bed. It is also one of the most important elements in the look of a bedroom, since the colour and pattern of the quilt is the colour and pattern of the bed. To decorate and protect quilts, many people buy or make quilt covers. Quilt covers are the same as duvet covers or comforter covers. Basically, what a pillow case is to a pillow, a quilt cover is to a quilt. To select a good quilt cover, pay attention to size, colour and pattern, and fabric type and then enjoy.
Reversible Quilt Covers
Users can turn reversible quilt covers inside out and use them that way. Often the two sides are of different colours and patterns. Buying a reversible queen-sized quilt cover is similar to buying a single-sided cover of any other size, except that the buyer gets two covers in one. But knowing what size to shop for is critical since a cover of the wrong size is useless.
Why Use a Quilt Cover?
Quilt covers serve two closely related functions. First, they keep the quilt clean so it does not need cleaning very often. Washing quilts is difficult and, even worse, every washing slightly ages and damages the quilt. Fewer washings means a longer-lasting quilt. Second, quilt covers make it easy to change the colour and style of the quilt, and therefore of the whole bed. Good quilts are expensive and they take up a lot of room in storage, so it really makes sense to buy only one per bed. To give the room a new look, change the quilt cover instead of the quilt. A reversible quilt cover is even better, since one cover can have two different looks.
Choose a Quilt Cover Fabric
Since the whole point of a quilt cover is that its owner washes it instead of washing the quilt, get an easy-to-wash cover, for example a cotton cover. But the cover should be both attractive and enjoyable to touch. Look for fabric with a high thread count, as higher thread count translates to a smoother, softer fabric. Most people prefer something smooth for warm weather and something slightly fuzzy for cooler weather.
Choose a Colour and Pattern
The bed dominates the look of the bedroom and the covers on the bed dominate the look of the bed. For this reason, the colour and pattern of the quilt cover is among the most important design questions for the bedroom. Look for reversible covers where both sides match the rest of the room. For example, both sides could be blue and white, if these colours match the rest of the room, but with one side mostly white, for a light, expansive feeling, and the other side mostly blue, for a darker, cosier feeling. This way, it is easy to change the look of the room without doing anything except turning the quilt cover inside out.
Some people like to change their decorations seasonally, using warm, dark colours in winter and pale or bright colours in the summer. Another option is to choose patterns to honour nearby holidays. This could mean either choosing multiple reversible covers, so as to have two different versions of each seasonal style, or buy one cover with a winter side and a summer side. Make sure that all the different colours and patterns look good with the rest of the decorative scheme of the room, unless a person actually enjoys completely redecorating the bedroom now and then.
Get the Right Size
Some people assume that the best way to get a cover for a queen-size quilt is to buy a queen-sized quilt cover. This assumption is reasonable but sometimes wrong. The problem is that different manufacturers have slightly different versions of the standard sizes, so one company's queen-sized cover might be too small for another company's queen-sized quilt. The solution is to compare measurements directly. Lay out the quilt flat on the floor to measure it and get a cover that is slightly larger. Always err on the side of too large and remember that an unusually fluffy quilt might need a larger cover than a thin quilt.
Make a Reversible Queen Quilt Cover
One option is to make, rather than buy, a quilt cover. Quilt covers make simple sewing projects, and home-made covers are often less expensive than similar finished covers. Homemade covers can get very elaborate and creative, of course, but a simple way is to take two sheets of the desired colours and sew them together on three sides. Close the fourth side with ties, buttons, or a zipper, to keep the cover from shifting too much. Remember to use sheets that are much larger than the cover, both to allow for fabric consumed in the seams and so that the resulting cover is big enough to enclose the quilt. For a queen-size quilt, try California king sized sheets, since these are longer as well as wider than queen-sized sheets, or use more than one sheet per side.
How to Buy a Reversible Queen Quilt Cover on eBay
eBay has a good selection of quilt covers and good prices. To find them, either do a basic search forquilt covers and browse around or use the Advanced Search option to look for a particular brand and style. For the best prices of the day, try eBay Deals. eBay also has sewing supplies for homemade covers. A good buying experience depends on good communication between buyer and seller. Look up the seller's profile page to find a contact link as well as his or her feedback score and any policies, like a return policy or any special deals. A great cover puts a wonderful personal touch on a bedroom.