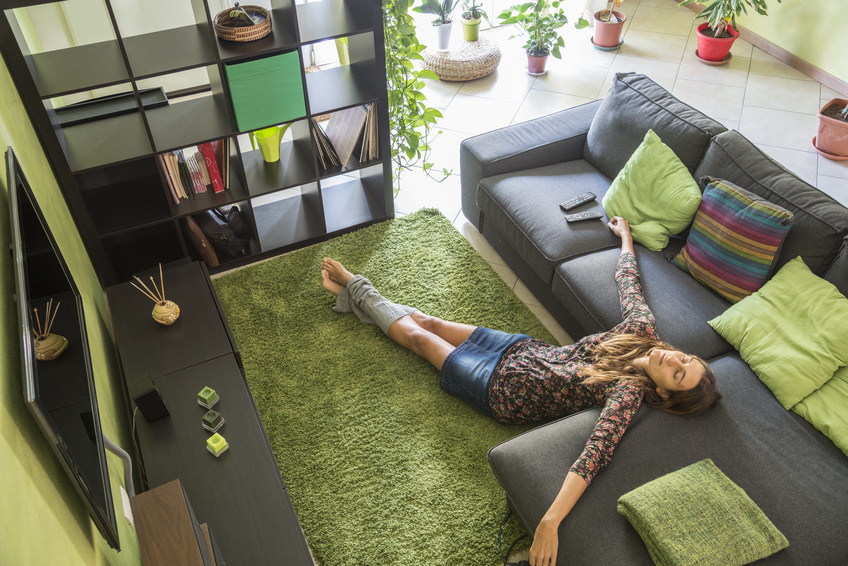 A throw rug is an inexpensive and quick way to spruce up a living room and is an easy project. Here's how to choose the ideal throw rug for your home and living room area.
Select the Shape
One of the advantages of a good throw rug is that the shape itself can enhance the features of a living room. An oval or circular rug is ideal for softening the features of a room. Rectangular rugs are helpful in defining a space around a hearth or living area. Alternatively two rugs can be used in a room to separate different living spaces such as a sofa to view a television and a more relaxed area.
Less is More
When thinking about the size of a throw rug for a room, it is vital to select one that is in proportion to the living space. If the rug is too large, the room will be overwhelmed, and the effect of a good rug lost. Ideally, a throw rug should be large enough for furniture in a living room to sit on it but not too large that the entire floor space is covered. If the rug is intended to lie in front of the couch then make sure it extends a little further under the furniture, which ensures that the rug creates a focal point.
Choose the rug first
Before thinking about cushions and other decorative items, make sure you select the rug first. This helps create the main feature in the living room along with complementary colours. Once you have a floor covering, the other decorative accessories can be selected to enhance the rug, and subsequently the room. This gives you the opportunity to experiment with contrasting colours and decorative items when putting the final touches to the living room.
Luxury versus Practicality
When selecting a throw rug for the living room area, do spend time thinking about who is using that space. For young children a hard wearing rug that will stand up to food and drink stains is important. Avoiding trips and slips is vital too, especially if there are older people in the home. Stay away from long tassels and ensure rugs do not have the potential to slide on polished floors. If one crave a little luxury in the home, a thicker pile rug makes a beautiful feature in a living room area. Luxurious rugs are great if the household has lots of house guests, as they create that cosy feeling. Designer rugs make a beautiful feature in a living room but should be avoided in front of an open fire or where there is a heavy footfall from children and pets. Low pile and flat weave carpets are excellent at hiding their level of wear and are easily cleaned, making them ideal for areas where they will get a lot of foot traffic. Sisal and jute rugs are good for creating a simple and organic appearance to a living space, and look and feel cooler in the summer months.
Patterned or Plain
Anyone shopping for a throw rug will be faced with hundreds of different designs. But which one will look good in that living room space? If there is a plain floor then a heavily patterned throw rug creates a feature in the room. Block colours work well in most living room spaces and geometric designs enhance a room with plain features. If there is already a patterned carpet or wallpaper in a living room then, a heavily patterned rug will look lost amongst all the designs. Choose a plain rug in this case.
Seasonality
When buying a living room rug, it's important to think about whether that rug will look good in high summer, or even next year. If you like to have a lighter room in summer pick out those cooler shades whilst a synthetic fur style rug adds warmth in winter. The great thing about rugs is that they are relatively inexpensive and can spruce up a room for the summer or the festive season without having to change the entire décor in the home. Choose wisely, and that throw rug will see you through the seasons and transform a room in minutes. High fashion items can look dated quickly. Classic designs are likely to last longer in the living room area.
Throw rugs can transform a living space and freshen up a tired-looking room. Take a look at some stylish designs for your living room area today.