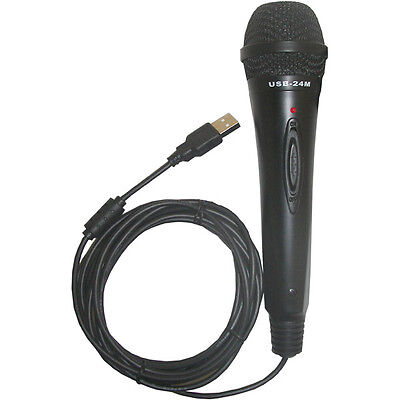 In the age of digital technology we are currently living through, there are countless electronic devices and accessories for our entertainment and convenience. Microphones are devices for recording sounds, particularly speech. Until recently, microphones were clunky, heavy and required technical expertise to use properly. With a USB microphone, though, audio recording is a surprisingly simple matter. This guide will explain the basics principles of USB microphone, as well as how to buy one on eBay.
USB Microphones
Microphones are devices that capture sound waves by transforming them into either digital or analogue signals, which can be stored and later played back and manipulated.
· Digital microphones can record sounds as digital information, allowing recordings to be captured and stored using a computer.
USB connections are small, simple sockets and plugs, which allow a wide variety of external sources of data to be connected to computers. They are universal, meaning that anything with a USB capability can be connected to a computer's USB port.
· Whereas expensive, professional-level microphones will often have specific connection types which preserve a supreme standard of quality. Recently USB microphones have emerged, which allow sound recording into a regular computer. These are absolutely perfect for amateurs or beginners, who need to record but do not have the funding, time or expertise to use traditional microphones.
What to Consider when Buying a USB Microphone
There are numerous specifications of a USB microphone that should be considered when buying one, in the context of the buyer's requirements of the device. These are listed below:
Sensitivity – the sensitivity of a microphone is an indication of just how much sound it can pick up; this manifests as the microphone's range, clarity of sound and background noise levels. Measuring sensitivity is extremely complex – it is advisable to research how it works and what that means for the microphone you are buying before making a purchase.
Frequency Response – frequency response measures the output of the microphone. A high frequency response will result in high audio fidelity, or clarity.
SNR – the signal-to-noise ratio of a microphone indicates what amount of the recorded sound is the intended subject, compared with how much is unwanted environmental feedback. It is usually expressed in decibels.
Working Voltage – working voltage indicates the strength of the current which flows through and powers the device. It is, naturally, measured in volts.
In addition, the following ought to be given some thought:
Additional Features – extra features such as flexible stems, noise cancellation and stands can be included with a USB microphone. Each has its own merits, and warrants a moment's thought.
Price – as with any purchase, price should be a factor. It is advisable to decide upon a budget before shopping, in order to limit the amount of wasted money.
Condition – condition has a direct impact on price. Used items are lower in quality and longevity, but tend to be more affordable. The need for each of these traits should be weighed carefully when making this decision.
Seller – the seller's history, ratings and feedback should all factor into your decision to purchase an item or not, as well as there location (and thus the difficulty of transitioning the item).
How to Buy a USB Microphone on eBay
On eBay, there are hundreds of different USB microphones available for perusal. Finding them is a simple matter; begin by typing the phrase "USB microphone" into the search bar and clicking "search". Items matching the description provided will now be listed in the centre of the page. Using the category links, the listed items can be sorted to match the buyer's requirements (follow the Computers,Headphones & Microphones and finally Microphones links). Further filtering is possible, using such criteria as price, condition and seller's location. Items can either be bought on-the-spot or bid on in the hopes of attaining a better price.
Every item sports an individual information page, on which advanced product descriptions, photos and seller's ratings can be found, all of which help with the shopping and decision making process.
Using the Deals area of the site is a really great way of getting the best bargain prices; it is updated regularly, so be sure to check every few days.
Conclusion
USB microphones empower their users by making sophisticated audio reception technology widely available and easy to use. Not only are they compatible with any computer in possession of a USB port, they are small, light and straightforward. They can be used for chats, recordings, gaming and any other activity which requires an audio input. There are many USB microphones available at great prices on eBay, making it the online shopping destination of choice.