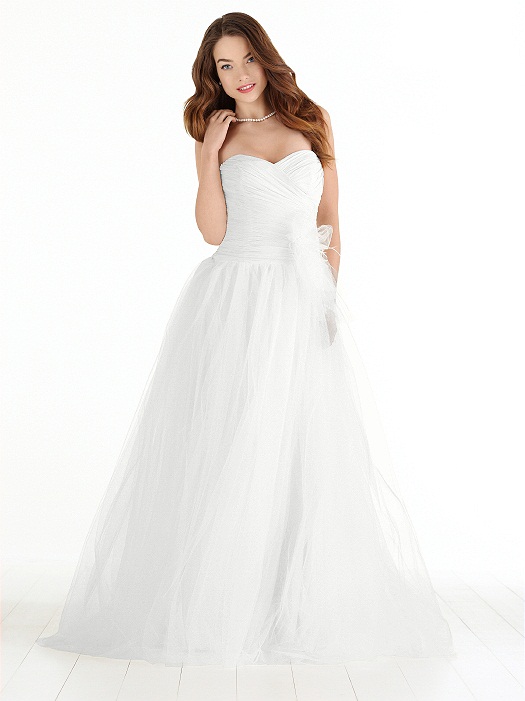 Weddings are exciting, joyous occasions that take quite a bit of preparation and planning to pull off. When planning a wedding, the first and most important concern for most brides is what the dress looks like. A wedding dress should match the bride's personal style, but it also needs to suit the tone of the wedding and flatter the bride's figure. The silhouette, neckline, and waistline of a dress work together to create a flattering fit and camouflage any problem areas on a bride. Brides come in all shapes and sizes, and what looks stunning on one bride may not suit another. Women with pear shaped figures need to find dress silhouettes that flatter their slim upper bodies without adding volume to their more shapely hip areas.
Characteristics of a Pear Shaped Figure
A pear shape figure looks like a teardrop and is the most common body shape for women. Women with this figure shape are smaller on the top and larger on the bottom. Their hips and bottom are wider than their torsos and bust. Typically, a pear shape figure has a hip measurement that is at least five per cent bigger than the shoulder measurement. The trick to a choosing a wedding dress that flatters a pear shape figure is finding a silhouette that brings balance to the bride's shape by de-emphasising the hips and drawing attention to the torso.
Wedding Dresses That Flatter Pear Shaped Figures
With the overwhelming number of choices a bride encounters in a dress shoppe, narrowing a search as much as possible before beginning the search is imperative. A bride who knows which dress styles best suit her figure has an easier time finding the right dress. The overall silhouette of the dress is the most important characteristic to consider, but a bride also needs to keep in mind the design of the waistline, bodice, and the neckline, as well as the fabric of the dress.
Choose the Right Dress Silhouette
Women with pear shape figures typically have slender arms and shoulders with flat tummies and narrow waistlines. They look best in dresses that showcase their slim upper bodies and float away from their hips and thighs. Skirts with minimal gathers, ruffles, and lace work generally do a better job of playing down wider hips.
Dresses with A-line skirts flatter all figures, but are especially attractive on women with pear shaped figures. Along with A-line dresses, there are a few other dress silhouettes that are flattering on pear shaped figures. Some examples are outlined in the chart below along with a brief description of the style and the benefits of that particular silhouette.
| | | |
| --- | --- | --- |
| Silhouette | Description | Benefits |
| A-line | Flares out from natural waist in an A-formation | Emphasises a narrow midsection while minimising hips and thighs |
| Empire | Fitted bodice with a high waistline that sits just below bust | Showcases the waistline and brings eyes up and away from hips |
| Ball Gown | Full skirt with a fitted bodice and natural waistline | Accentuates waist and torso and covers hips |
| Trapeze | Trapezoid-shaped with straight side seams that start narrow under the arms and widen at the hem | Generous cut covers and minimises heavy thighs and wide hips |
Brides with pear-shaped figures should consider
wedding dresses
with these silhouettes first, as they tend to be the most flattering. However, there are numerous other dress styles that may fit and flatter a pear-shaped bride, so the best advice is to try on several different styles before limiting choices to one or two specific silhouettes.
Find a Flattering Waistline
Softly fitted waistlines draw attention to curves and give the illusion of a classic hourglass shape. A defined waist creates a balanced silhouette.
Wedding dresses
with bodices fitted at the waist, or that feature and belts or ties around the waist effectively define and balance pear shaped figures.
Add Flair with the Bodice and Neckline
Brides with pear shaped figures look great in dresses that attract attention to their slim upper bodies. Strapless dresses or dresses with scoop necklines are particularly flattering, as they draw the eye upward and bring balance to the bride's shape. Pear-shaped brides can also wear off the shoulder gowns or cowl neck dresses to elongate the torso and emphasise the neck and shoulders. Brides who are not comfortable with completely bare shoulders can opt for a dress with spaghetti straps.
Fabric
The fabric of a dress plays an integral role in how well the dress fits and flatters a woman's figure. Pear shaped brides should look for sturdy fabrics that do not cling to curves. Duchesse satin and taffeta are great choices for formal ceremony, while raw silk shantung and eyelet lace are good options for casual weddings.
Silhouettes Pear Shaped Figures Should Avoid
Most brides with pear shaped figures stay away from dresses that cling to the hips and contour to the shape of the body. Sheaths and mermaid style dresses are generally not as flattering on a pear-shaped bride as a classic A-line dress. Dropped waists draw attention directly across the hips, the widest part of a pear-shaped figure. Slinky fabrics that cling without providing any structure highlight curves without flattering the figure.
Tips for Choosing a Wedding Dress
When shopping for a wedding dress, a bride needs to know what styles appeal to her, but at the same time she should keep an open mind. Silhouettes she likes may not be the most flattering dress styles for her figure or may not be well suited to the wedding venue and type of ceremony. Brides who focus on how well a dress fits are usually happier with their purchases than are those who focus on a specific designer or a particular gown.
Select a Wedding Dress that Fits the Venue
The place and time of the wedding set the tone for the event, and the dress should easily integrate into the setting. A ball gown with a long train looks out of place at a sunset beach ceremony, just as much as a short sheath is inappropriate for a wedding in a candlelit cathedral. Fabric is as important as style when it comes to fitting the setting and timing. Satin and taffeta are great choices any time of year. Velvet and brocade are best suited to winter weddings, while linen and organdy are more appropriate for warm weather ceremonies.
Fit is What Really Matters
Wedding dresses fit differently than other clothing items, and most run much smaller than everyday dresses. Brides do not need to pay attention to the size on the label. Instead, the focus needs to be on how well the dress fits. It is easier and much less expensive to take a dress in than it is to let a dress out, so go bigger if in doubt. A bride should be comfortable in her dress, too. This means being able to sit, dance, and lift her arms easily while wearing her dress. Check that the straps stay in place and no seams pucker and have the dress altered if necessary.
Allow Ample Time for Alterations
Nine months out is not too early to begin shopping for a wedding dress. Some designers require several months to make a dress, and alterations can take another two to four. The last fitting is usually just a few weeks before the event to allow time for any last minute adjustments. The bride should come to the fittings with the
shoes
, undergarments, and
accessories
to make sure the ensemble works together.
Find Wedding Dresses on eBay
Brides searching for the perfect
wedding dress
can find a large selection of figure-flattering gowns on
eBay
. To make shopping easier, eBay offers a number of search options and filters and has numerous features to ensure a pleasant, satisfying shopping experience. Women looking for dresses to flatter their pear-shaped figures can use a more detailed keyword search, such as "A-line strapless wedding dress" to narrow the search to a specific style they find most flattering. You can also find
deals
on dresses for bridesmaids. Filters provide a fast way to limit search results by size, price, colour, or condition. Brides can also find a great selection of
shoes
and
veils
, to make shopping for a bridal ensemble fast and stress-free.
Conclusion
What looks stunning on a model or on a hanger may not be flattering at all on the average woman. To look their best on their big day, pear-shaped brides need dresses that emphasise their slender torsos and balance their hips and bottoms. Dresses with fitted bodices with waistlines that hit at or above the natural waist and move away from the hip area are typically the most flattering on brides with pear-shaped brides. The keys to finding a fabulous wedding dress are how well it fits, how comfortable it is, and how flattering it is. Brides should shop with these tips in mind, but they should also consider their personal style and taste in order to find the perfect dress.