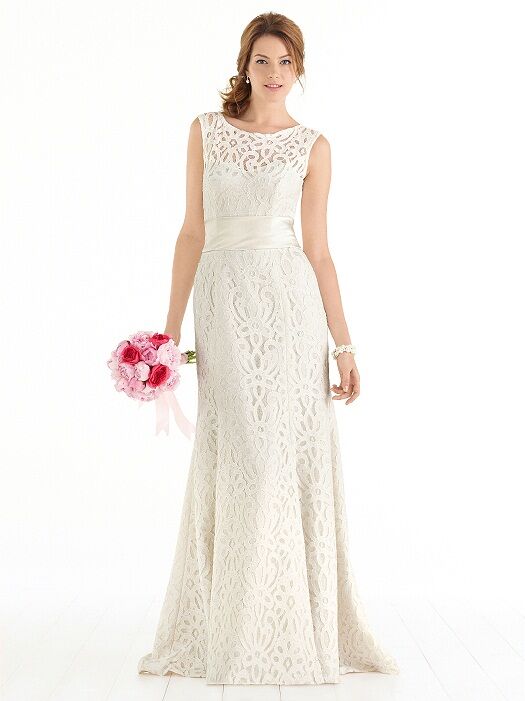 Every woman wants to find that perfect wedding dress for her special day. Some women dream about their dresses throughout their entire life, while others have no idea what style dress they prefer. For summer weddings, brides should consider styles that are lightweight or short, so they can be comfortable in hot weather. Brides should consider which styles of dresses are best for summer weddings, and choose a style that is flattering on their body type. One of the best ways for brides to determine which style looks best on them is by trying on different styles of gowns.
Wedding dresses are purchased from brick and mortar wedding dress stores, or online using websites like eBay. Although brides cannot physically try on multiple styles when shopping on eBay, they can try on gowns in a wedding dress store to determine the style they are looking for, and then find a similar gown on eBay for a much lower price. When choosing a summer wedding dress, brides should understand the best styles of wedding dresses for warm weather, as well as which styles are most flattering to their body type in order to find the perfect dress for their summer wedding.
Understand the Different Styles of Wedding Dresses
Choosing a style of wedding dress may seem overwhelming at times, but many brides decide to go with one of the seven most popular styles. When choosing a dress for a summer wedding, brides may want to go with a shorter or lightweight wedding dress since larger sized ball gowns tend to trap heat. Brides should always consider comfort as well as style when choosing a wedding gown.
A-Line Wedding Gowns
A-Line gowns, also known as princess gowns, are fitted at the bust and waist. This specific type of dress flares out at the waste in a capital 'A' shape. A-Line gowns are simple and traditional, and have a slimming effect on all body types. There are different variations of A-Line wedding gowns to be aware of when shopping. Some of these variations include gowns with long trains and modified A-line gowns. Modified A-Line gowns are more form-fitting than standard A-Line gowns, and do not begin to flare until the middle of the hip. A-Line gowns are made of many different types of fabric from satin to lace, and may be embellished with ribbons, lace, or jewels.
Empire Wedding Gowns
Empire gowns are high waisted gowns with a waistline directly located below the bust. Empire gowns may feature long, mid-length, or short sleeves. These gowns also feature a straight flowing, or fit to flare skirt. Empire gowns are most notably known for their classic, timeless, and feminine look, and are often made with soft, lightweight fabrics, such as chiffon, giving the dress somewhat of a romantic feel to it. Because of their lightweight material, empire gowns are a good choice for summer weddings since they are not overly bulky or heavy.
Ball Gowns
Ball gowns are the typical 'princess' dresses. They feature a fitted bodice with a full length skirt that flares at the waist. Ball gowns are much fuller than A-Line gowns, and usually feature detailed, elegant designs. For a 'fairy tale' look, ball gowns may be paired with tiaras, long gloves, or elegant trains. Ball gowns are made with many different types of material from chiffon to silk, and the bodice and skirt may be different materials. Some ball gowns even feature a two-piece bodice and skirt. Although ball gowns are a popular style of wedding dress, they are not often ideal for summer weddings since many ball gowns feature tulle skirts underneath the dress, which may get too hot for some people in the summer.
Mermaid Wedding Gowns
Mermaid gowns are fitted from the bodice to the hips, and begin to flare at the knee. Mermaid gowns are a more modern, sexy look, which tends to flatter the bride's natural curves. There are many different styles of mermaid dresses from long sleeves to strapless, and the gowns are made of different fabrics from lace to satin. Some mermaid gowns feature a ribbon or jewelled belt which draws attention to the waistline.
Trumpet Wedding Gowns
Like mermaid gowns, trumpet wedding gowns are fitted from the bodice to the hips and begin to flare mid-thigh. Trumpet gowns also feature many different tops from halter to sleeveless and are made with different fabrics. Different styles of trumpet gowns may be more traditional, while others may feature whimsical details such as a feathered skirt for a modern look.
Sheath Wedding Gowns
Sheath wedding gowns are lightweight, straight wedding gowns that flow straight down from the shoulders to the floor. Also known as a column gown, sheath gowns flow freely down the body to hug the bride's curves. Sheath gowns are simple and elegant. Since they are made of lightweight fabric such as satin, and have a romantic, flowing look, sheath gowns are often ideal for summer weddings.
Tea-Length Wedding Gowns
Another style of dress that is ideal for summer are tea-length gowns. Tea-length gowns have a playful feel, and usually feature a tight bodice and a skirt that flares at the waist and ends between the knee and ankle. Mini wedding dresses are a bit shorter than tea-length gowns and end above the knee. Tea-length gowns are made with different fabrics from chiffon to lace, and many feature a full skirt. Because tea-length dresses feature a shorter skirt, they are more comfortable for the wearer in warmer weather.
Consider Body Shape
Many brides have a specific style in mind when they begin to shop for a wedding dress. However, the style they choose may not be flattering for their body type. Different styles of dresses are made to flatter different shapes, so brides should always consider which styles flatter their body type before choosing a dress.
| | | |
| --- | --- | --- |
| Body Type | Body Type Description | Recommended Wedding Dress Styles |
| Hourglass | Shoulders/bust and hips are close in width with a smaller waist | A-Line gowns, trumpet gowns, mermaid gowns, ball gowns, tea-length gowns |
| Busty | Shoulders/bust wider than hips | A-Line gowns, trumpet gowns, empire gowns |
| Pear Shape | Hips wider than shoulders/bust | A-Line gowns, empire gowns, ball gowns, tea-length gowns |
| Straight | Straight/athletic figure with little curves | A-Line gowns, trumpet gowns, sheath gowns, mermaid gowns, tea length gowns |
| Full | Curvy, full figure | A-line gowns, ball gowns |
Although wedding dresses fit differently according to body type, they also fit differently based on height as well. Wedding dresses with large skirts, such as ball gowns, may overwhelm petite brides regardless of their body type. The best way to find the best style for a specific bride's body type is by trying on different styles to determine which style is the most flattering.
How to Purchase a Summer Wedding Dress on eBay
After determining which style is best for the weather and your specific body type, you can begin your search for a perfect summer wedding dress on eBay. eBay offers a large selection of wedding dresses in many different styles and designs, oftentimes for competitive prices that cannot be found in local stores. To begin your search for a wedding dress on eBay, you can use the keyword search bar located on any one of eBay's website.
If you already know the style or material of dress you are looking for, you can search a specific term such as 'taffeta wedding gown'. To browse different styles or materials, you can use a broader search term such as 'wedding dress'. You can then narrow results by size or other factors such as sleeve length or price. For an even better deal when shopping for a wedding dress on eBay, buyers can search wedding dresses on eBay's deal site for the lowest prices on wedding gowns.
Conclusion
With the many different styles of wedding dresses, every bride can find a gown that expresses her unique personality and style. Whether the bride is looking for a traditional wedding dress, or something more modern, there are many affordable options to choose from on eBay. In addition to low prices, eBay may have previous seasons of dresses that are no longer available in stores.
eBay is also a great place to find low prices on other articles for a summer wedding, such as heels or bridesmaid dresses. Although buyers cannot try on dresses when shopping on eBay, they can easily have the dress altered after they make a purchase for a perfect fit. Not only does eBay make finding things for a wedding more affordable, eBay makes it easy to find everything a buyer needs in one place.