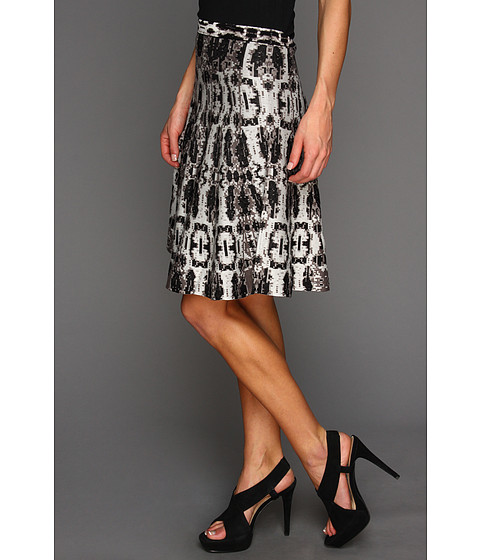 Shaped like the letter A, an A-line skirt is narrow at the top and wider at the bottom. It is a versatile wardrobe piece as it can be any length and flatters most body shapes. Although most any woman can wear an A-line skirt, there are a few tips she should consider before purchasing. Determining body type is the first step in ensuring the purchase of the perfect skirt. Other options to consider include: hem length, sizing, colours, patterns, and material.
When shopping for an A-line skirt, check out local clothing stores and online retailers. Also consider using one of the world's largest online marketplaces, eBay. For daily deals on skirts, check out eBay Deals. eBay Deals offer new specials at discounted prices every day.
Determine Body Shape
A-line skirts look nicely on most body shapes and heights. Determining body shape is the first step in choosing the perfect A-line skirt.
| | |
| --- | --- |
| Body Shape | Characteristics |
| Apple | Round stomach and bottom |
| Pear | Small on the top, wider hips and bottom |
| Hourglass | Busty, defined waist, curvy hips and bottom |
| Column | Balanced waist and hips |
Although A-line skirts flatter many figures, they come in several different styles, so it is a good idea to keep a few other shopping hints in mind.
Apple
For those with apple shaped bodies, A-line skirts are ideal because they draw attention to the upper part of the body or towards shapely legs. A-lines effectively conceal fuller middles with a perfectly placed drape. When wearing an A-line skirt with an apple shape, be sure to avoid designs with embellishments around the middle so emphasis is not placed on the waist.
Pear
With a pear shaped body, the key is to accentuate smaller waists and create a balance between the upper and lower halves of the body. A-lines flare gently at the base, so they draw attention to the upper body, shoulders, and neck while disguising wider hips and thighs. A-line skirts with a loose, airy fit flatter those with a pear shape when paired with a more form-fitting top.
Hourglass
Considered to be the most ideal shape, the hourglass body type looks good in many styles of A-line skirts. When dressing an hourglass body shape, the goal is to proportionally dress the top and bottom of the body, while also accentuating a smaller waist. Wide waistbands are a great way to show off a small waist. Tighter-fitting A-line skirts are flattering on those who boast an hourglass shape.
Column
Those with a straight figure often wish to exaggerate minimal curves to avoid looking boyish. To do so, wearing an A-line skirt is the perfect solution. Since the A-line cut is naturally drawn in at the waist, it gives the appearance of a shapely waist. A-line skirts with pleats or ruffles are especially good for those who have slim, straight hips as these styles add some volume and shape.
Consider Hem Length
A-line skirts come in all lengths, so pay attention to this and choose one that is most flattering. Ideally, the hem should fall at the slimmest part of the legs, which is typically at mid-thigh, just above the knee, or just below the knee. For those who want to hide their legs, ankle-length A-line skirts are a good choice. Or, for very tall women, A-length skirts with side slits flatter long legs.
When trying skirts on, be sure the hems are straight and do not dip in the front or back. Dipping makes the skirt look sloppy. If the skirt fits perfectly everywhere and is just a little too long, consider having the hemline altered.
Find the Right Size
Unfortunately, there is not universal sizing for any type of clothing. What constitutes a size 10 varies by brand. And, many times, shoppers learn that they must try on each A-line skirt to guarantee they get one that is the proper size. If buying online, be sure to request measurements before buying.
Regardless of what body type a woman has, an A-line skirt only looks good it it fits correctly. If the skirt pulls across the stomach or hips, a larger size is needed. If there is extra fabric in the front that bulges out or the waist gaps, a smaller size is probably necessary. Depending on the skirt, some may require alterations. For instance, those with a pear shape may need to buy a larger skirt to accommodate fuller hips and thighs; however, the waist might have to be cinched in so it does not gap.
Choose a Colour or Pattern
A-line skirts are available in a wide range of colours and patterns, and some are more flattering on the different body shapes than others. Dark colours, such as black and navy, are slimming and well suited for those with apple or pear shaped bodies. Additionally, flat textures are also a good choice for these body types. Apple or pear-shapes should avoid large prints or wide, horizontal lines because these styles tend to make bottom-heavy figures look fuller. For those with an hourglass or column figure, plaid and pleated skirts are flattering since such styles accentuate and create curves. Oversized patterns and floral designs, whether bold or pastel shades, also look nicely on thin women.
Material
Another consideration when looking at A-lines skirts is the material from which they are made. Different fabrics hang differently and wash and wear differently. Some common skirt fabrics include cotton, polyester, linen, and silk.
Cotton
Cotton is soft and sturdy. Additionally, it is breathable and lightweight, making it an excellent choice for layering on a cool spring or summer evening. Cotton is seen in more casual skirts, but it can be dressed up with the right accessories.
Polyester
Polyester is an extremely strong, durable fabric. It is a popular choice for all kinds of apparel because it is stretch, mildew, abrasion, and shrink-resistant. Perfect for hot, humid days or cold, snowy days, polyester is resilient when wet. Furthermore, it washes easily, resists wrinkles, and maintains its shape.
Linen
Linen is used in skirts that are meant for warm weather wear because this fabric remains cool and fresh. It is lightweight, breathable, and moisture-wicking. By the very nature of the fabric, it is stronger when damp. With repeated washings, it gets softer and softer. On the down side, it wrinkles easily.
Silk
It is a rarity to find skirts that are pure silk. More commonly, silk is combined with other fabrics to create very soft and durable skirts. Silk adds some sophistication and sheen to skirts, which gives a more dressy appearance. It also retains heat well so it is used as an insulator. Additionally, silk is absorbent, making it a good choice to wear in warmer weather.
Buying an A-Line Skirt on eBay
A large selection of new and used A-line skirts are available from many sellers on eBay. Since eBay boasts competitive pricing and many opportunities for free shipping, the site is a wise option for buyers who want an extensive and convenient shopping experience. Best of all, setting up an eBay account is free and easy. Once the account is established, buyers are given limitless shopping possibilities from sellers worldwide.
The easiest way to locate A-line skirts on eBay is to enter "A-line skirt" into the search box on eBay's home page. Although a plethora of choices appear, you can easily narrow your options with the available refinements, such as size, brand, or material desired. If the product descriptions are too vague, contact the seller and request specifics before bidding.
Conclusion
A-line skirts make a wonderful addition to any woman's wardrobe. This skirt style is extremely versatile and flatters every body type. Although any woman can wear an A-line skirt, she does need to keep in mind a few other factors when shopping, such as hem length and size proportions. Additionally, choosing patterns and colours that are best suited for each body type are other considerations when choosing an A-line skirt. Picking the right material for the skirt is important, because the fabric impacts the comfort of the skirt. When ready to buy a new or used A-line skirt, be sure to check out eBay for a variety of brands at great prices. Also, browse eBay Deals to find even more apparel choices at exceptional costs.