Why kids need to play computer games that are educational
Everyone wants only the best for our children, and encouraging kids to learn while they play is the best way to ensure they are having fun, but gaining essential early learning skills at the same time. We as parents know how much screen time our kids are having, so why not make it worthwhile! Your child should be entertained, but thinking and building skills while doing it - not just brainlessly watching a screen.
We are bombarded with adverts for games that essentially have no other benefit than keeping your kids glued to a screen and occupied! So why not make the most of their screen time by playing a game that not only helps to prepare them for school but also builds fundamental early learning skills like memory and recall, logical thinking, sequencing, visual discrimination and more. Your child won't know the difference - he'll still be having the best time - but the resulting natural development of life skill sets will be a wonderful spin off.
Let's get rid of the myth right now
- Modern Educational games are NOT boring! Just because they focus on key learning areas for your children doesn't mean your child will think they are in routine lessons and not having a good time. In fact the opposite is true. Many games are written in collaboration with childcare experts who know exactly how to teach kids in a modern interactive world. These games use the best of multi-dimensional learning - listening, seeing, doing - which helps kids absorb and retain knowledge.
Games are based on the Australian school curriculum so you know your child is getting the best practice in relevant material. Alphabet, Phonics, Reading, Spelling, Vocabulary, Maths and General Knowledge are all topics covered in these games.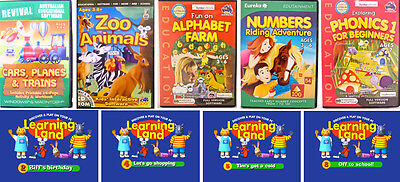 What to look for in a game
Step 1: Decide what it is that you'd like your child to be improving or learning. For young children, there are so many early learning skills they need to develop and reinforce, that it's quite easy to choose the topic or subject areas you want to target. For example every child needs to know their
alphabet
and
numbers.
Games that are written by child education experts provide the best opportunities for your child to be learning while they're playing. This encourages them to succeed and builds self image and confidence. You may think, when reading the word "
alphabet"
that there is only one way to learn the sequence of the letters. But in these interactive games, your child will be drawn to the ever changing images, usually with brightly coloured objects your child will be familiar with, and play different games, which all reinforce the same skills.
So if you are wanting to find something for a young child that reinforces the essential early learning skills they need for Preschool and Early Primary, why not get a game that includes Phonics, Alphabet and Early Letter Recognition. Early numeracy is another valuable area to encourage and games like the Learning Land series, as well as Reader Rabbit and Eureka Multimedia games all have titles that build on these skills.
http://stores.ebay.com.au/trendbuzzed/Education-Kids-Computer-Games-/_i.html?_fsub=8470069018&_sid=1157611048&_trksid=p4634.c0.m322
Step 2: In order to choose the game that's appropriate for your child it's best to first look at the age group recommended for the game. Many games have age ranges either from 4 to 6, or 5 to 8, some even cater for a very large age group from 4 to 15 years. These games have many levels of difficulty so your child can progress at their own pace and learn new and more complex information as they get older and utilise more of the program. Bear in mind though that each child develops at a different rate and you may find your child will cope with games above his age group in certain areas and equally, some may find the games more difficult and it is better then to let your child begin at a lower level so they can grow in confidence as they learn.
Look at the combination of age level as well as what's covered in the game. For example an early numeracy game can include numbers from 1 to 10, or 1 to 50 and 100 and counting skills. There can be a more difficult level where your child can be adding two numbers together, or adding two digit numbers. Subtraction can also be included for the older child.
For the older child Maths games are an excellent extension of skills learned in the classroom. These games can cover the basics of addition, subtraction and multiplication but can also include division, multiplication times tables as well as fractions, decimals and some algebra. The older child's games perhaps have more adventure and action making them more interesting for their older age group.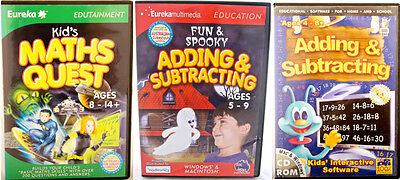 For the older child who is already able to read at a beginner level, there are games which focus on building skills like logical thinking and visual discrimination, memory and recall and concentration. These may include reading comprehension, questions and answers, spelling, grammar and more.
Cost
Some educational computer software can be expensive, so why not buy used software. Most computer games are used by kids but are very rarely damaged, so the lifespan of these items can be a long time. The cost of used software is possibly 50% less than the original, but of course delivers the same content. The only thing to watch out for here is the operating systems compatibilities.
Operating Systems
Most games these days are compatible with Windows and Mac systems. The Windows platform is also varied - there are systems from Windows 95, 98, ME, NT and 2000, as well as XP and Vista. The most recent Windows software is Windows 7 and now 8. Consider the operating system of your computer or laptop and buy accordingly. Many of the games available on the Windows platform can work across multiple platforms, for example, if software has been written for Windows 98 or 2000, it is possible that these programs still work on Windows XP, NT, Vista and even Windows 7. Some software written for the early Windows 3.1 works up to Windows XP, but doesn't work on Windows 7. So look out for the software operating system information when you buy.
Apple Mac software has also seen a shift - early computer games that were compatible in the old "Classic" system of Mac do not work on the latest operating Systems, like OS X Snow Leopard or Lion. It is best to check the details carefully here to make sure that what you are buying will in fact work in your computer.
Each eBay listing should have the compatible software clearly identified. If you are not sure, just send the seller an email and request that information.
Listings
Each listing should outline what skills your child will be learning with each program. There should also be a list of benefits your child will be gaining by playing the educational games. Sometimes we just want our children to learn essential computer skills which will help them in their interactive lives in the future, and these games all make excellent use of the interactive nature of working on computers. The brain is able to focus on many things at once, an essential multi-tasking skill for the future of your child.
http://www.ebay.com.au/sch/i.html?_trksid=p5468.m570.l1313.TR0.TRC0.Xalphabet+computer+game&_nkw=alphabet+computer+game&_sacat=0&_from=R40
Buy Now
Using eBay to find the best learning software for your child is easy! Just simply type into the search line what you are looking for, and you will find all the possible options to choose from. Pay attention to the seller details and purchase from sellers who have 100% feedback, they are regular sellers who have proved themselves in the eBay platform to be trustworthy and provide excellent customer service. And with eBay's Buyer Protection program, you are assured of a safe and secure platform for all your purchases.
Seller Information
For your peace of mind, you can view the Seller's details like their Store page
http://stores.ebay.com.au/trendbuzzed
, their About Me Page
http://members.ebay.com.au/ws/eBayISAPI.dll?ViewUserPage&userid=trendbuzzed
and previous feedback from other customers and view all their available products for sale. It's always a good thing to make sure the seller has a good reputation on eBay because you can then buy with confidence you will get the best customer service. If you have any questions you can also access their contact details and send an email.
Happy shopping! I'm sure you will find the best educational software for your children, they will grow in confidence and self esteem as they embark on their journey of learning!