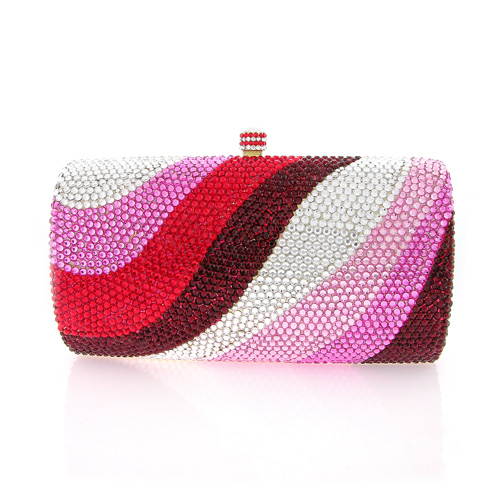 Evening bags are more formal than ordinary bags used for the daytime or other casual events. This generally means they are smaller as well, and that they come in mostly darker colours. Even so, it can be difficult to choose the right evening bag, especially since they are typically more expensive than other handbags. Considering that designer evening bags can cost a significant amount of money at times, making the correct choice depends on the way the bag is to be used, as well as the items that need to fit inside.
For example, someone who wants an evening bag for a date, or a night out with the girls, needs a different kind of bag than someone who needs an evening bag for a major formal event. Other factors that affect the decision are the designs of evening bags available, the materials, colours, and the brand. By considering all these factors carefully, anyone can choose the right evening bag for any occasion. Learning to shop for evening bags online at helpful websites like eBay is key to finding one quickly and easily.
Uses for Evening Bags
Evening bags differ in their level of formality. The use to which a bag is to be put makes a big difference in the way one should shop. The more formal the event, the more closely the bag should match or complement the outfit. When the bag is for many semi-formal occasions, it is more important for the bag to be as versatile and durable as possible. Consider carefully how often the bag may be used in its lifetime and plan accordingly.
Choose an Evening Bag Type
Evening bags come in various designs although in more recent times, the most popular evening bag type is the clutch. Due to the popularity of the clutch, similar styles with thin straps have emerged. Choose a design based on convenience and the number of things that need to fit inside.
Clutches
A clutch is simply a handbag that has no straps. Usually small and rectangular, a clutch is always a chic option, but it is not always the most convenient. Clutches are easy to forget or drop since they are so small and unobtrusive. Especially if one has a habit of slinging a handbag over the back of a chair, a clutch can easily be forgotten at critical moments.
Clutches also take some getting used to because they should be held in the left hand to leave the right hand free for shaking hands when necessary. They can make it awkward to do things that require two hands. Another issue with the clutch, as fashionable as it is, is that they usually have very little space for personal items. Those who consider a wallet, a cell phone, makeup, and various odds and ends necessities to carry in a handbag, may find themselves seriously restricted by a small clutch. The smallest clutches can only hold a few credit cards, cash, and a cell phone.
When buying a clutch, be sure to consider the clasping mechanism. Check the construction of any zippers to make sure they are sturdy. Also make sure that the clasp cannot accidentally open since clutches are often held with the opening facing downwards.
Baguettes
A baguette, in handbag terms, is a long rectangular purse. Unlike clutches, baguettes usually do have straps. These can be either a long shoulder strap or short hand straps, or both. A baguette is usually bigger than a clutch and can fit more items. However, the bigger they are, the less appropriate they are for formal occasions.
Other Evening Bags
Evening bags can take many other forms. What makes a handbag an evening bag is really a combination of size and style that makes it look either formal or informal. Some other evening bag styles include wristlets. Some designers also make 'mini' versions of other handbags that can be used as handbags. Many clutches are also being made with long thin straps often made of chain. These are an excellent option that combines the look of the clutch with the convenience of other evening bag types.
Choose a Material and Colour
Evening bags can be made from a huge variety of materials and colours. Choosing a material and colour that matches one's style is, of course, a big part of shopping for an evening bag. Considerations include the amount of care the material needs, its tendency to stain, and whether or not it is waterproof.
Leather Evening Bags
Leather is always an excellent choice because it never goes out of style. Natural leather colours are neutral and match a variety of clothing. Leather is also very durable and generally easy to take care of. There are many kinds of leather handbags, and some require more maintenance than others. In general, cleaning a leather bag and keeping the leather in good condition requires both a special leather cleaner and a leather conditioner.
The conditioner protects the natural oils in the leather and prevents it from getting brittle. If the bag does not see much use, a damp cloth should be more than enough to keep the bag clean for years on end. Bags in both black and brown are usually the most versatile, while black alone is often the most formal. It is important to note that leather is waterproof and does not stain easily.
Satin and Other Fabrics
Satin, silk, and other luxury fabrics are popular for evening bags and come in many colours. However, they usually require dry cleaning if they get dirty. These fabrics may also stain easily, and they are often not waterproof. The fact that they are so delicate means they are also a more sophisticated choice. Another benefit is that silk and satin come in a variety of colours but still look formal. With the number of synthetic fabrics on the market today, real satin or silk bags are hard to find and are likely to cost more than other bags.
Synthetic Materials
Synthetic materials like rayon and various types of polyester, as well as faux leather materials, are popular because they give the look of more expensive materials at a much lower price. However, they usually do not last as long. Synthetic fibres like sayon get fuzzy or worn with time and faux leather can even crack. Of course, this is not a big issue with trendy evening bags that are soon going to be out of style, but it is something to consider if one wants the bag to last for a few years. Synthetic bags are often water-resistant or waterproof.
By determining a few key factors prior to purchase, a buyer can rest assured that he or she did their due diligence. The table below gives the pros and cons of different materials that are used for evening bags.
| | | |
| --- | --- | --- |
| Materials | Pros | Cons |
| Leather | Waterproof, durable, neutral colours | Can be expensive, limited choice of colours |
| Satin and Silk | Variety of colours, luxurious formal look, high quality | Easily stained, dry cleaning only, expensive, not waterproof |
| Synthetic Materials | Affordable, often waterproof, variety of colours | Not as durable, often lower quality |
As the table shows, the most affordable evening bags are usually made of synthetic materials. Leather bags are easily found in the mid-range of prices, and high-quality natural fibres like silk are common in the high range. Although they are not in the table, exotic animal skins like ostrich, alligator, and snake skins are also available and usually cost more than all other bag materials.
Designer Evening Bags
Designer evening bags are highly desirable, not because of the colour or material, but rather because they have a distinctive mark of a famous designer. These designers usually become famous because they produce items that are on the cutting edge of fashion. As such, they cost many times what other evening bags cost. For those attending formal events with other fashionistas, the price is well worth it to own an original designer evening bag. Some well-known designer names in Australia include Oroton, Olga Berg, Dolce & Gabbana, and Christian Dior.
How to Buy an Evening Bag on eBay
Shopping for an evening bag on eBay is an easy and enjoyable way to find the bag you need from the comfort of your home. eBay's huge selection makes it easy to find beautiful unique handbags for less than you would normally pay elsewhere. To find an evening bag on eBay, just enter the term 'evening bag' in the search box on any eBay page. Then you can browse through the listings on the page of search results, or refine the search further. To use all the available search filters, first click on the appropriate subcategory. Then use the search filters provided, including price, type, brand, colour, and material. eBay deals on bags make it easy to find a bag that matches your needs.
Once you find a bag you like, check out the seller's feedback score. A high score means the seller has a history of providing fast, professional service. eBay's 'Top-rated sellers' are those with high scores and a long history of quality transactions, and they are marked with award icons next to their names. Also be sure to check the return policy.
Conclusion
Evening bags are a necessity for every woman, whether she attends just a few formal occasions a year, or several every month. In order to make a wise purchase, one should know how to choose an evening bag. There are several types of evening bags with different benefits and drawbacks to each one. For example, clutch purses are stylish but can be inconvenient because they don't have straps. These drawbacks have to be considered carefully before purchase.
The bag material and colour also have to be chosen with care. For the most formal occasions, the purse should complement or match the outfit as closely as possible. For semi-formal events, a more versatile bag is usually more useful. Designer evening bags are the most expensive kind of evening bag but typically the most fashionable. Evening bags of all brands, colours, and types can be found on eBay, the world's leading online marketplace.