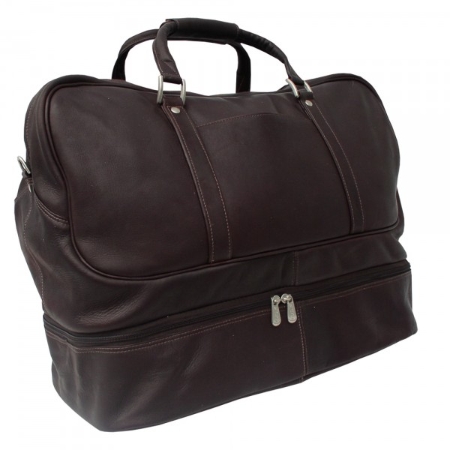 Faux leather is not only a compassionate solution for those shopping for fashionable bags, but also an affordable and attractive one. Faux leather has gone a long way since the first imitation leather products came out in the early 20th century. Today there are several kinds of faux leather used for handbags of all types. Choosing a faux leather bag involves deciding on the right kind of bag and evaluating the quality of faux leather. One should then consider and learn about the maintenance involved prior to purchasing anything.
While basic maintenance can be done with just a damp cloth, learning about the products that can extend the life of faux leather is a smart step, especially when paying quite a bit for a high-quality bag. High-quality faux leather is almost indistinguishable from real leather. By becoming knowledgeable about faux leather, one can choose and buy a faux leather bag online, at popular websites like eBay, from the comfort of one's home.
Understanding Faux Leather
The term 'faux leather' applies to a number of different leather imitation products. At one end of the range are textured rubber or plastic-based materials, which are bonded to a softer fabric to create the look (but not really the feel) of real leather. More realistic faux leather fabrics are created by using split leather and bonding it to a polyurethane material.
Split leather is the layer of leather left after the valuable top layers have been removed. This may be called bicast, or more frequently, PU leather. There is also a material called Ultrasuede, a kind of microfibre that closely imitates the properties of suede while being much easier to clean and wash. Many more faux leather materials can be found on the market and have been patented for use in furniture, shoes, and accessories.
Faux Leather Quality
With a little practise, anyone can learn to judge the quality of faux leather. The quality is based simply on how easy it is to distinguish between the faux leather and real leather. One major characteristic of most synthetic leather fabrics is the backing material. Early synthetic materials had a plastic-based surface material bonded with a cotton or polyester backing.
Even today, the most budget-friendly type of faux leather is little more than a textured rubber or plastic fabric bonded to a softer and thicker backing. As soon as the plastic cracks, the fabric underneath becomes visible. Higher quality faux leathers have the suppleness and texture of real leather. The bond between the materials that compose the fabric is much stronger. When the surface material has some stretch and suppleness, it is less likely to crack. Higher quality faux leather is breathable but waterproof, just like real leather. Price is also a good indication of quality generally speaking.
Choosing a Faux Leather Bag
Besides being able to evaluate the quality of faux leather, one key step before shopping for a bag is to decide which kind of bag is appropriate. There are eight basic bag styles, from backpacks to tote bags. Factors to consider when choosing a style include size, utility, and style, just to name a few.
Backpack
Most often associated with students, backpacks are gaining popularity for many purposes other than toting books around. Backpacks make great bags for travelling, or even nappy bags because of all the different compartments and pockets. Backpacks are the best bag type when utility is more important than style and organisation is key. These are possibly the least common type of faux leather bag available on the market today.
Baguette
A baguette is a purse with a long rectangular shape. These are stylish and distinctive, and have long straps that are usually thin. The number of pockets and styling vary considerably.
Clutch
A clutch is a type of purse without any straps at all. These are highly fashionable, and are even used for formal occasions as well. They have space for just the essentials, and this should be taken into account. Also, convenience is secondary with this type of bag as it always occupies one hand.
Evening Bag
Evening bags are bags that are appropriate for slightly formal or semi-formal occasions. This usually means that they are smaller than day bags. Evening bags also generally have more sombre tones and colours.
Hobo Bag
Hobo bags have a very simple and casual construction in which the wide strap is made of the same material as the bag. The bag itself is a rounded sack and is large enough to carry many different things in the main compartment.
Messenger
Messenger bags are made to be worn across the body, and are popular with both men and women. Unlike other cross-body bags, messenger bags are designed to stay to the back so that they do not flap against the body or swing to the front, especially when walking or biking. The bag is usually rectangular and made for carrying notebooks and laptops. Messenger bags often have many compartments for cell phones, pens, and other accessories, and make a stylish alternative to the traditional backpack.
Satchel
A satchel is similar to a messenger bag but is generally more bulky. Made to hold all kinds of things, a satchel is usually distinguished by the flap that covers the top and buckles down. Satchels also have many compartments, both on the outside as well as the inside, and a shoulder strap.
Tote
Tote-style bags have two straps to make carrying the bag by hand easy. Totes can also be swung over one shoulder. Totes usually have one large rectangular compartment and may or may not have a closure at the top.
The table below summarises the best uses for each bag type. One can use this information to decide on the most useful type of bag for one's purposes.
| | | |
| --- | --- | --- |
| Bag Type | Ideal For | Drawbacks |
| Backpack | Utility, organisation | Style |
| Baguette | Style, casual day bag | Limited space |
| Clutch | Style, nighttime | Inconvenient (no straps) |
| Evening Bag | Style, nighttime, formal | Limited uses |
| Hobo Bag | Versatile, comfortable | Casual only |
| Messenger Bag | Organised, convenient | Limited uses |
| Satchel | Versatile, comfortable | Can be bulky |
| Tote | Utility, space | Style, organisation |
As the table shows, different bag types have very different uses. Buying a bag that is not suited for a task one has in mind is ultimately frustrating, and often times a waste of money. The type of bag should be the first and most important criterion when choosing a faux leather bag.
Faux Leather Maintenance
When investing money in a high-quality faux leather bag, it is necessary to know how to care for it to extend its life and overall appearance. In general, faux leather has a third of the lifetime of real leather, but one can make the most of this time by treating it properly. For the most part, a damp cloth should be enough to remove any dust and grime. Avoid using harsh cleaners since these can affect the composition of the material and make it stiff. Also avoid leaving the bag for extended periods in harsh sunlight because the biggest problem with faux leather is cracking. Sunlight can make the material brittle over time. The speed at which this happens is directly related to the quality of the faux leather.
Leather cleaners and conditioners can also be used for faux leather. These products often work well with faux leather because they avoid stripping the fabric of the elements that keep it supple. Rubbing alcohol may be used to remove tough stains, but be sure to use a leather conditioner to protect the material. Test any cleaner on a hidden spot of the bag first to make sure it does not change the colour of the fabric.
How to Buy Faux Leather Bags on eBay
Finding great deals on a faux leather bag can be difficult because there is usually a limited selection of faux leather products in any one place. Usually there is no guarantee that you can find the kind of bag you are looking for. eBay, on the other hand, provides you with search refinement options so you can look specifically for faux leather bags. This makes it easy to find what you need while letting you take advantage of a huge selection of bags found online.
To find faux leather bags on eBay, start by entering the search term such as 'faux leather bags' into the search box that is located on any eBay web page. You can also use related terms like 'PU leather bags'. Click on the appropriate subcategory, and then use the search criteria provided to refine the search further. For example, you can specify the maximum price you are willing to pay, as well as the type of bag and even the colour.
Once you have found an item that you like, check the seller's feedback score and the return policy. Click on the seller's feedback score to see feedback from previous buyers. This is an excellent indication of the quality of service you are likely to receive and is a powerful incentive for sellers to provide high quality products and service.
Conclusion
Faux leather has all the attraction of real leather but without the hefty price tag. It is also easier to clean in many cases compared to real leather. There are eight basic styles of handbags for women and each one has a specific use to which it is best suited. There are many types of faux leather, and these types vary considerably in quality. The best indicators of quality are the closeness in appearance and feel to real leather, and the price. Those who already have faux leather bags need to know how to care for them.
While a clean cloth and a little water are usually enough, owners of faux leather bags should have leather cleaners and conditioners on hand to prevent premature cracking of leather imitation fabrics. Rubbing alcohol in small amounts can also be used to remove tough stains, but a conditioner should always be used afterwards to avoid drying out the material. Faux leather bags are practical, attractive, and affordable. A huge selection of faux leather bags are available for sale on eBay, the world's leading online marketplace.