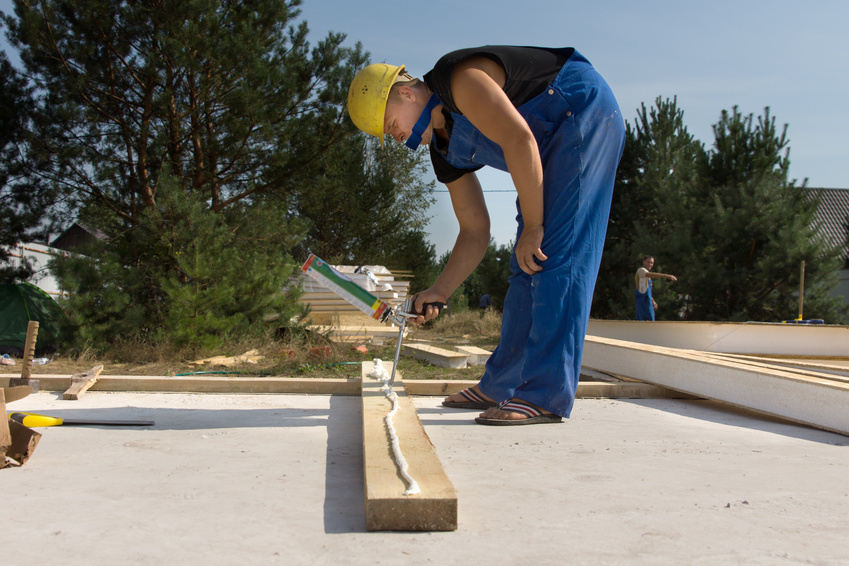 Selecting the right wood adhesive is essential to the success of a woodworking project. Glues that work best in certain scenarios can vary based on the time frame of a project, the materials involved, and even the humidity. For those considering a woodworking project, getting to know the top adhesives along with their respective advantages and applications can help clarify an important choice that brings a good deal of value to a collection of woodworking tools.
Types of woodworking adhesives
There are a number of adhesives in woodworking to choose from, each with their own advantages and applications. A good starting point for selecting the right wood glue is having a thorough understanding of each of these adhesive categories.
Yellow wood glue
This workshop standard is a typical go-to for many carpenters, and shows up in a wide array of projects. Yellow wood glue's main advantages include an extra-strong bond and a translucent look once it dries.
White wood glue
White and yellow carpenter's glue is often conflated, but they have distinct characteristics. White wood glue, also known as PVA glue, offers a longer open time for getting joint positions just right, as well as a longer shelf life than other types of glue.
Epoxy adhesive
Epoxy glue is translucent when dry, but can work with fillers to deliver a specific colour tone as needed. Its bond is strong and waterproof, but drying times and minimum clamping times vary widely depending on the formula.
Cyanoacrylate glue
More commonly known as super glue, cyanoacrylate glue is an instant-dry option. This wood adhesive can dry in as few as 15 seconds, making it a go-to option for fast fixes.
Polyurethane wood glue
Polyurethane wood glue offers a major advantage when it comes to how well it can penetrate cracks. It is generally slow to dry, but provides a waterproof bond once set.
Things to consider when selecting a wood adhesive
There are several considerations woodworkers need to keep in mind when selecting a wood adhesive. The most important include how complex a joint is, the material involved, and whether a woodworking piece is an interior or exterior item.
Project nature and complexity
The main concern when working with complex joints is the "open time" of a glue, or how long it takes to begin setting. Glues with longer open times, such as polyurethane glue, can serve these types of complex projects best. On the other hand, projects in the quick fix category or smaller, less complex projects can do just fine with fast-drying options such as yellow glue, some epoxies, and super glue. Loose joints that are not completely apart typically require epoxy or polyurethane glue that can effectively penetrate the joint.
Materials
Adhesive options, such as cyanoacrylate glue, work best on solid and seamless wood surfaces. Some woods, such as teak, have a good deal of oil in their surface and work best with epoxy adhesives that cut through the oils. Very dry woods, on the other hand, need to be slightly damp before they can work well with polyurethane glue.
Interior vs. exterior projects
The main consideration with interior vs. exterior projects is whether an adhesive is waterproof or not. Clearly, finished projects that spend the majority of their time outdoors require an adhesive that is impervious to the elements.
It is important to consider that some interior projects may require waterproof glue. Certain wood items, such as humidors, are moisture-rich even in dry climates and need a waterproof adhesive such as polyurethane or epoxy glue.
Adhesive strength
Certain glues offer a stronger bond than other options once dry. When working on small wood detailing or models, creating a strong bond is not always necessary. With weight-bearing items such as chairs, however, it can be essential. Considering the strength of glue, typically indicated with a psi rating, can help determine the success of a project in the long term.
How to buy wood adhesives on eBay
Carpenters and anyone interested in a DIY project can find a wide variety of wood adhesives on eBay. Start out with the search bar, which is available on every page on the site. You can use this interface to run a keyword search for an item, using a glue type or even a brand name to include in your search. Working with wood adhesives is easy with the right information. By exploring the different types of wood glues and understanding their features, anyone can approach this area of carpentry with confidence.