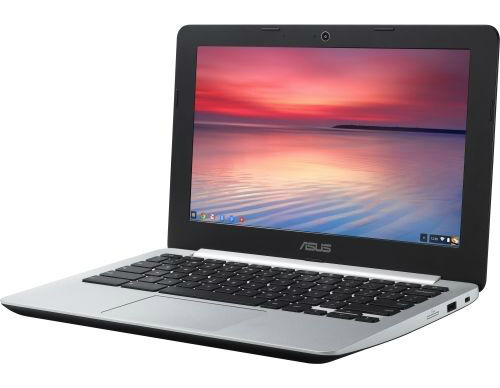 Some call it the best Linux laptop computer to ever be created, but regardless of whether it lives up to these standards, the Chromebook is still an exceptional piece of technology. Most applications and programs the computer uses are stored in the Cloud, and this allows for a competitive price. Since all Chromebooks aren't created equally, though, it's important to consider a few things before a purchase.
For Those on the Go
Since nearly everywhere now has charging stations, it's not nearly as important to have a machine with an amazing battery life. There are still individuals, though, such as those who travel for work, who need their Chromebook to go for long periods of time without needing to recharge.
For people whose electronics' needs include extended battery life, the ASUS Chromebook C200 and C300 are both great options. They each provide 10 hours of battery life, and while the HP Chromebook 14 is nearly as good with 9.5 hours between charges, few others can even come close.
What's It Being Used For?
It's also important to consider what the Chromebook will be used for before opting to purchase a specific model. After all, a business professional and a college student will have greatly varying needs when it comes to computing.
Even the computing demands of different college students can be vastly different. A student who only plans on using their laptop for basic things, such as searching the Internet and writing term papers, could opt for basic models with only 2GB of RAM. These include the HP Chromebook 11 and ASUS Chromebook C200.
Gamers, however, might be better off with models with a full 4GB of RAM. These include the Chromebook Pixel and Samsung Chromebook 2. And for those who need more than the basic Cloud storage, the Chromebook Pixel is a great option because it provides either 32 or 64 GB of storage, whereas most other models only offer 16GB. For those with demanding needs, the Acer C710-2605 has 320GB of hard drive space.
Ease of Use
Simplicity is another huge factor to consider when deciding which Chromebook is right for a specific person. Those who like the idea of a touchscreen can opt for the Chromebook 14 or Google Pixel. The Acer Chromebook 13 is also a great option whereas models such as the Toshiba Chromebook 2 don't have this option.
Some individuals also find that larger displays make their lives easier. Many Chromebooks are right around 11.6 inches, but the Chromebook Pixel's display is nearly 13 inches. For those who want even more, the Samsung Chromebook 2 and ASUS Chromebook C200 both come in at 13.3 inches, and the HP Chromebook 14 has a 14 inch display. Hence the name.
Many also feel that the weight of a computer is a prime factor in ease of use. For those who like to travel light, the Chromebook Pavilion should be avoided since it's a full 4 lbs. Conversely, the Samsung Series 5 C21 and C22 are both right around 3.3 pounds, and the Samsung C12 comes in at a meager 2.4 lbs.
Durability
Many people don't even consider a computer's build since Chromebook laptop cases are readily available, but those who want sturdier computers are still in luck. Even though most Chromebooks have a plastic build, the Chromebook Pixel actually has an aluminium body. For those who travel a lot or know their laptops take a beating, this is likely the best option.
Price
Of course, price is often a driving factor for many people when it comes to electronics, and this is no different for the Chromebook. For those on a tight budget, the Acer C720 starts right under the $200 mark. The ASUS Chromebook C200 and C300, on the other hand, both start out right around $250.
Individuals who have noticed all of the great features of the Chromebook Pixel won't be surprised that this laptop is a bit more on the expensive side. With an MSRP that ranges over $1,300, those with basic computing needs may need to overlook this model. Considering the fact that the Pixel comes with 1TB of free Google Drive storage for 3 years, though, it may be well worth the investment.
There's no denying that Chromebooks, regardless of the specific model, are high-tech machines that have made life easier for those who use them. This doesn't mean, however, that a person should purchase the first one they come across. With just a little forethought and research, it's possible to find the Chromebook that fits an individual's life perfectly.