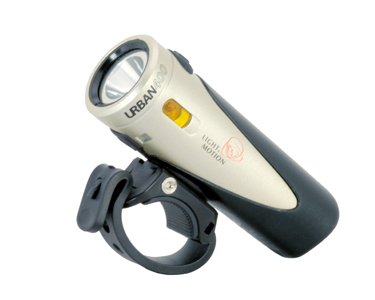 Cycling is a favourite pastime for many, whereas some people even rely on their bicycles to go to work, school, or just around town. If you use a road bike and frequently ride in the early morning or in the evening, you definitely need a good bicycle light to see where you are going. Riding a bicycle at night or early dawn can be very relaxing not to mention it is also a good way to stay fit.
You need a good bike light to not only make you visible to the other road users, but also so you can clearly see any obstacles on your path. You can find a large variety of lights for your road bike, but to choose the best lights, there are a few main factors to consider. To shop for bike lights, you can visit local bicycle shops or online sites such as eBay.
Choosing the Right Lights for Your Road Bike
If you own a road bike, then you probably do not ride it off-road. This detail is important because buying lights for trail cycling is different than buying lights for road cycling. When choosing the best lights for your road bike, you should consider how often you are going to use the bike and when. You should also know the kinds of lights you must have whenever you go out at night.
When riding on the road, you usually go through fairly well lit areas. However, to be truly safe on your road bike, you should at least have a front light, a rear light, and some reflectors. Unless you only ride in well lit areas, your front light must be able to emit a steady light bright enough to illuminate the way in front of you. After all, even when riding on paved roads, there can be potholes and other obstacles, so having a good front light is important. If you ride in a well lit area, you may use a low powered light or a flashing light so others can see you on the road.
No matter where you ride your road bike, a rear light is always necessary. The light can either emit a constant or flashing red light, and is often attached to the seat post of your road bike. Next, you also need reflectors. Most bikes come with reflectors on their pedals, so you may not need to get new ones. However, it is always a good idea to make yourself more visible when cycling at night.
Consider the Purpose of the Lights
Before selecting a light for your road bike, you should consider what you want to use it for. If you rarely ride at night, or only go short distances, you may not need to worry much about the light's battery power and reliability. You must also think of where you are going to ride the bike. If you sometimes travel through unlit areas, your bike should have bright lights. For riding in town where there might be many obstacles and other road users, you can get a front light with a wide light spread.
Also, you should consider how the light can be mounted on your bike. If you swap bikes a lot, then make sure you can easily remove and mount your lights on any bike. Some cyclists, especially professionals, like to train with their road bikes when it is dark since there is less traffic, and if you do this too, it is important to use high powered lights. You should also consider the kind of route you take. When cycling on a long, high speed route, your light should have a long and narrow beam. However, on a route with a lot of turns, your bike light should have a wide beam.
Look at the Construction of the Lights
Your road bike lights should be able to withstand various weather conditions and temperatures. If you ride every day, both during the day and night, your lights are definitely going to be exposed to spray from your tyres and rain. Furthermore, the lights are subject to vibrations from bumps and holes on the road. To ensure your lights last a long time, check that they are well constructed and they have strong seals. Generally, the more expensive the light is, the stronger it is. However, it is not necessary to burn a hole in your pocket to get a good bike light. Just remember, no matter what kind of light you buy, you should still examine its construction before buying it.
Know How Much You Will Use the Lights
Your bike lights should last as long as you need them to. If you ride for an hour or more at a time, you should make sure your lights have good battery capacities. Also, if you need lights daily, then getting ones with their own chargers is a good idea. Be sure to consider how often you need to recharge your lights, and how long recharging takes. Since road bikes are meant for speed and some long distance travelling, you might go far on your bike yourself. If this is the case, it is even more important to make sure your lights can last long. You can also get lights with removable batteries so you can just replace them whenever you need to.
Types of Bicycle Lights
LEDs or light emitting diodes are what most bike lights use these days. They are not only cheap, tiny, and bright, but they can also last for many years. LEDs have come a long way, and now you can find a large selection of them with varying sizes, brightness, and price points.
| | |
| --- | --- |
| Type of Light | Description |
| | Small lights that flash; emit white or red light; often use batteries; long-lasting |
| | Tiny pocket-sized single LEDs; for emergency use only |
| | Can be rechargeable or non-rechargeable; good for lighting up the road in front; can clip on the handlebar or helmet |
| | Bigger than regular torches; often last longer and are more expensive than regular torches; suitable for when training in the dark |
To decide on the right light, it is important to know your budget and also what kind of riding you are going to do. Besides buying LED bike lights, you can also look at high-intensity discharge (HID) lights. HID torches are brighter than LEDs, but can also cost more.
Buying the Best Lights for Your Road Bike on eBay
eBay has a wide array of bicycle lights for you to choose from. To find the right light for your road bike, you can just type in the suitable search terms into the search bar on eBay's home page. You can search for 'USB bike lights' or any other relevant terms. When looking at the list of lights for your road bike, make sure you read the title description, price, and postage fee closely so you can choose the best value for money. You can also look at the eBay deals page to find excellent offers for road bike lights and other accessories.
After selecting a light for your road bike, go through all the details again including the product description, specification, payment method, and return policy. You should always read all the information on the product closely to make sure that your chosen light is the right one. For any enquiries about the bike light, just contact the seller with your question. Otherwise, you can proceed to purchase it.
Conclusion
A road bike is a great bicycle to ride as it not only gets you to where you want to go, but is also a lot of fun to ride. When riding your road bike at night, it is important to always have working lights so you can see where you are going and also so you are visible to other road users. Before shopping for bike lights, you should consider a few factors including how you plan to use your lights and how often you plan to use them. If the journey on your road bike usually takes a long time, you should choose lights with a good battery life. You should also make sure that your lights can withstand any weather condition and shocks from riding over road bumps and holes. With so many kinds of lights available in the market, you can surely find the perfect lights for your road bike.