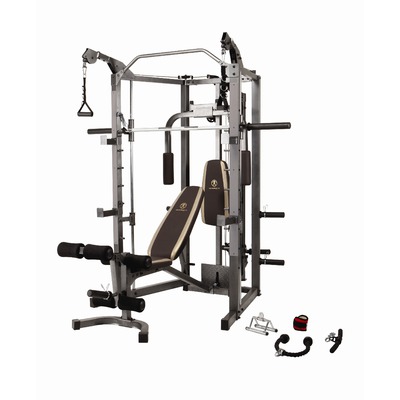 Multistation gyms are single machines that contain a variety of equipment for a full workout. Many men and women invest in a multistation gym to save money on gym membership and expensive single pieces of home gym equipment. With so many different multistation gym types and brands to choose from, it can be difficult to find the best option for your needs. But by considering the available budget, desired results and a few other factors, choosing a multistation gym should be easy.
When shopping on websites such as eBay it is easy to find multistation gyms at very affordable prices compared to buying from a fitness store. eBay has a wide range of gyms available in both used and new condition, so there is something to suit all budgets.
What are Your Workout Goals?
When choosing a multistation gym, the buyer needs to have a clear idea of their workout and fitness goals. For those who have already attended a gym, or currently attend on a regular basis, this will be easy. For those who are new to the world of fitness, it is important to think about what areas of their physique the individual would like to work on. Here are some of the most popular areas people focus their workout on:
| | |
| --- | --- |
| Area | Desired Results |
| Chest (pecs) | Toning and adding definition |
| | Strengthening and toning |
| Arms | Toning and building muscle |
| | Toning and stretching |
| Bottom | Toning and reducing fat and cellulite |
| Tummy | Flattening and toning |
| Hips | Reducing 'love handles' and toning the waist |
It is essential to think about fitness goals before shopping for a multi-gym, as this will give the buyer an idea of the type of equipment they will need, such as a bench for crunches.
What Type of Equipment do You Need?
Multistation gyms come with various types of equipment, and whether purchasing a compact gym or a full size one, each will have different pieces of equipment available to use. After working out what they would like to achieve from the use of their multi-gym, it should be easy for buyers to search for a multistation gym that has the necessary equipment to allow them to reach their goals. Here are some of the more commonly found pieces of equipment included in a multistation gym:
Dumbbells of various weights
Pulley/Cable system
Pec exerciser
Multi-press equipment
Leg extension and leg curl equipment
The type of equipment required will depend entirely upon the individual and the type of exercises they wish to carry out using the machine.
Is Brand Important?
The buyer should think about whether brand is important when choosing a multistation gym. Whilst it is easy to find many of the leading brands such as Powertec on eBay, there are also ranges available from lesser-known brands, and these can offer better value for money in some cases.
For those buyers looking for a specific brand or model of multistation gym then most can be found on eBay. Some of the most popular brands available to choose from include:
If brand is not important then buyers can search for a multistation gym that contains all the equipment necessary for their workout. Whilst some of the leading brands may spend more on their products, it is possible to find lesser-known brands which offer similar quality.
How Much Space do you Have for a Multistation Gym?
Although a multistation gym is infinitely more compact than purchasing several pieces of fitness equipment, it still takes up a lot of space. It is best to keep the multistation gym in a spare room or a corner where it will not need to be moved, as these machines are often very heavy and bulky.
Those in small apartments may struggle to find space for a full-size multistation gym, but it is easy to find more compact models or vertical multistation gyms for sale on websites such as eBay. Always measure the available space at home and check the dimensions of the machine being purchased before buying.
What is Your Available Budget?
Budget is one of the major deciding factors when shopping for a multistation gym. If shopping on eBay, it is best to sort the results by price, so that the buyer is not browsing through machines that are out of their price range. It is possible to find multistation gyms from some of the leading brands such as York and Kettler at reduced prices on eBay, where used multistation gyms can also be found for an affordable price.
The buyer should spend as much as they can afford on a high quality multistation gym. Whilst it might be tempting to go for the lowest priced example, a multistation gym will last for many years to come and can be used daily to work out. So it is worth investing a decent sum of money in a quality machine, whether it is used or new.
Should you Buy a New or Used Multistation Gym?
Whether to buy a used or new multistation gym is a personal decision, which will depend on a number of factors including budget and the type of gym desired. Buying a new multistation gym is ideal if budget is not an issue. It should be easy to find the latest models of gym from leading manufacturers and these will include the latest technology and pieces of equipment.
For those on a tight budget or buying their first piece of gym equipment for use at home, it might be best to purchase a used multistation gym. By shopping for a used multi-gym, it is possible to find equipment from leading brands at reduced prices online, compared to buying new. It is also environmentally friendly to purchase used items that could otherwise end up in the rubbish.
How Buy the Best Multistation Gym on eBay
If looking for the best multistation gym, just head for eBay, where a wide selection of multi-gyms can be found at affordable prices. Click on the drop-down menu 'Shop by Category' at the top left of the main home page. Click on Sports & Recreation to bring up a list of all the available categories. Then, scroll down to Sporting Goods and click on 'more'. From here select Fitness. From the left-hand menu, click on Multistation Gym Machines, and all the available machines will be displayed.
If looking for a specific brand or model, it is easy to narrow a search using a specific term. Just type the words related to the search, such as 'Crossover Home Gym' into the search bar, and a list of available items will appear.
Conclusion
Multistation gyms have always been popular with those looking for a great way to work out and tone up at home without the need for gym membership or separate pieces of fitness equipment. Multistation gyms are available with different equipment depending on the needs of the user, and many leading brands can be found for a great price online.
eBay has a huge range of multistation gyms to choose from, whether looking for a leading brand such as York, or a lesser-known brand in used condition. By shopping on eBay, it has never been easier to find a great deal on fitness equipment and multistation gyms.