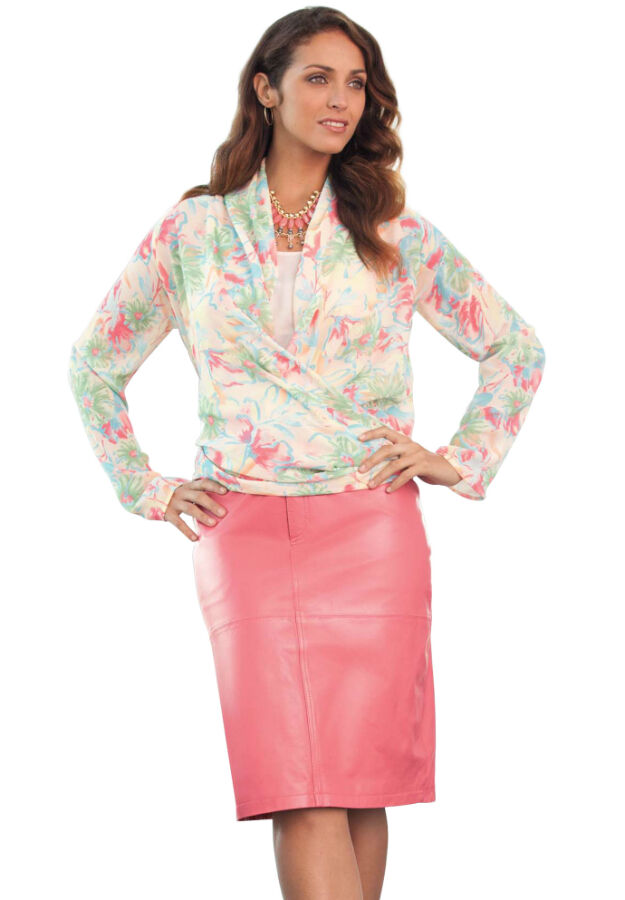 Skirts are a popular article of clothing for women because they are so versatile. They can be dressed up or down using various tops or shoes, depending on the occasion. Skirts come in a number of styles, shapes, lengths, and sizes to accommodate any woman's figure. However, not all skirts work for all women. Different skirts work best with different body types, and some skirts can emphasise features on women that they would rather downplay instead. Thus, it is important to take the time to consider the different types of skirts and how they match up with different body types. Whether a woman is trying to draw attention away from her waist or make herself look taller, there are a number of different skirt styles available to highlight and hide various features. Because skirts can be worn for just about any occasion, women often like to have more than one skirt in their wardrobes. To find a large selection and great deals on skirts, women should shop on eBay.
Identify the Different Types of Skirts
Women have a number of different types of skirts to choose from. Learning about the different styles can help a woman decide which one works best with her figure. Skirts are cut in a variety of different lengths, ranging from the thigh all the way down to the floor. Additionally, skirts can be cut in different styles, varying from straight lines to more form fitting silhouettes. The most popular types of skirts are listed and described in the table below.
| | |
| --- | --- |
| Skirt Type | Description |
| | Short skirt that is often tight-fitting; cut to be mid-thigh length |
| | Basic skirt with a slight flare; sits at the waist and tapers out |
| | Straight skirt that hugs the body; cut to be knee length; usually has a slit in the back to improve mobility |
| | Also known as a sarong; large piece of fabric that wraps around the body and fastens at the waist |
| | Starts at the hips rather than the waist; similar to an A-line skirt but with a bigger flare; adds curves to a figure |
| | Long, flowing skirt; is either floor or ankle length |
| | Longer version of the pencil skirt; cut to be calf length |
Skirts come in a variety of different shapes and sizes, just like women. Because of this, not all skirts work well with all figures or body types. Once you identify the different features and appearances of these skirts, you can then tell how a particular skirt is likely to sits on your body. Choosing the right type of skirt can highlight your best features while hiding aspects of your body shape that you may not be so proud of.
Choose a Skirt for Your Figure
Women have all different body types, and they need skirts to accommodate their figures. Women who have features they do not like should look for skirts that downplay those features. Likewise, choosing the wrong skirt can draw unwanted attention to those features and make women feel self-conscious about their bodies. Thus, it is important for you to take the time to consider your body type and choose the skirt that best complements your figure. Not all skirts work on all body types. Women with straight figures cannot wear the same designs that women with curvy figures can wear. It is necessary that you consider your own body rather than just noting the styles that are most popular at the moment.
Boyish Figure
A women with a boyish figure has a slim and straight build. With this type of figure, a woman can wear just about any style. Some women with this figure may find that their legs are too skinny. Wearing a long skirt can help to hide this. Additionally, a wide belt can be worn with the skirt to draw attention to the waist, taking attention away from the legs.
Long Legs
Many women who have long legs also have short waists. This can make their figures seem out of proportion. Fortunately, the choice of skirt can help to balance out the figure. A woman with this type of figure should choose a skirt that has a low waistband. Flared skirts are cut at the hips and are a good choice. This style helps to lengthen the torso to balance it out with the legs. A woman should avoid high waistbands and wide belts, since these make the legs appear longer.
Short Figure
Women who are short often look for skirts that can make their legs appear longer. The wrong skirt can make the woman appear shorter. The best choice is an A-line skirt or other straight skirt that is cut around the knee. When paired with high heels, the right skirt can make the legs look even longer. Vertical decorations also help to create the illusion of length. However, embellishments, such as hem detail and patch pockets, as well as skirts that are calf length should be avoided.
Bottom Heavy
Many women find that a bottom-heavy figure is hard to shop for. However, there are a number of skirt styles available that flatter the bottom-heavy figure and balance the shape. Women should avoid tight-fitting skirts, as these tend to emphasise the size difference between the legs and the rear. Instead, a woman should opt for a draped skirt that tapers out. Waistbands and large belts should be avoided as this only further emphasises the rear. When choosing a colour, black and other dark colours are the best choices as they tend to be slimming.
Curvy
Women with curvy figures should wear skirts that emphasise these curves. They should avoid skirts with straight lines as this style clashes with her natural figure. Instead, a woman should choose wraparound skirts, flowing maxi skirts, or flared skirts. Curvy women should avoid boxy skirt styles, pleats, and stiff fabrics. Women who are trying to downplay their curves cannot do this with straight lines. Instead, they should choose shorter skirts that draw attention to the legs rather than their curves.
Larger Midsections
Women who have larger midsection need skirts that draw attention away from the area. The most important thing to consider is the waistband. These should be avoided, especially if they have decorations or embellishments. A waistband that is too tight could cause the unsightly muffin top effect. Additionally, stretchy fabrics and tight-fitting skirts should be avoided. Pencil and A-line skirts are the best option for women who have larger midsections.
How to Buy Skirts on eBay
If you are looking for good deals on skirts, then you should look no further than eBay. You can find a large selection of new and used skirts of all sizes. Start by performing a basic search. Type keywords to describe the skirt you want in the search bar. Avoid using a general keyword like 'skirt' and instead perform a more specific search for 'black pencil skirt'. This ensures a more targeted search.
Once the initial results are returned, select different categories and preferences to further narrow down the list to sort through. Specify the colour, size, brand, and more. Compare prices and the condition of the skirts to find the skirts that you want. Be sure to carefully read the listing description, view the photos supplied, and compare sellers' feedback ratings before making a decision.
Conclusion
Not all women are shaped the same, so it is only natural that there exist a variety of types of skirts to suit all shapes and sizes. Skirts are available in a variety of styles and lengths to complement different figures. Finding the right skirt for a woman's figure does not have to be a difficult process. Before shopping, women should take the time to learn about the different styles, what they have to offer, and how they look when worn. From there, a shopper should consider her own body type before choosing one that highlights her best features while downplaying features she is not so proud of. No matter what kind of skirt a woman is looking for, she is sure to find one that complements her figure on eBay.