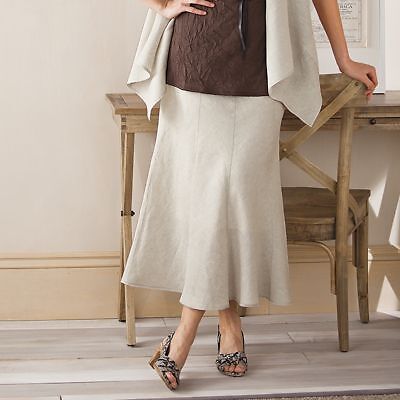 Since all women are shaped differently, some body shape classifications were defined to help ladies figure out what kinds of clothing styles would look best on their figure. Women with an apple shaped body have a fuller midsection and sometimes a wide upper torso. Their buttocks tend to be flatter and sometimes their hips are narrow. In general, if a woman has legs and hips that are thinner than their upper half, then they fall into the apple category. The other classifications include pear, hourglass and ruler. The hourglass figure is very curvy with a midsection that is slimmer than both the chest and hips. Pear shaped women have small upper torsos with wide hips, and those in the ruler category have few curves, if any.
Figuring out which category they fall into is the first step in selecting stylish and flattering outfits for a woman's particular body. There is no such thing as a piece of apparel that is universally attractive on everyone. The goal in selecting skirts and other clothing items is to choose those that accentuate a person's best features. Women that are shaped like an apple can focus on showing off their legs and chest in ways that draw attention away from body blemishes.
Tips on Choosing the Best Skirt for an Apple Figure
Women with apple figures have a lot of options when it comes to selecting a flattering skirt. Their wardrobe choices tend to be similar to the women with ruler shaped bodies because the key is to trim and define the waist on both figures. However, if ladies carry some extra weight in their stomach region, then the goal is to just skim over that area rather than define it. The following sections offer advice on how to select the most flattering skirts.
Wearing Patterns
It is a common misconception that those who do not have stick-skinny figures should avoid patterns. It is actually quite possible to get skirts with patterns for apple figures. Remember that the skirt should draw attention to itself in order to make the torso less noticeable. Patterns naturally draw eyes to it. When choosing a pattern, try to avoid the skirts with large, bright shapes on them. If the pattern is subtle or smaller, it can be attractive, but if it is too bold, the skirt ends up having the opposite effect and adds the appearance of weight.
Show off the Legs
Many apple shaped women are blessed with lovely legs. Do not be afraid to show them off with shorter, knee length skirts. Match the skirt with knee-high boots or high heels to make the legs look longer and balance out the figure.
Try an A-Line Skirt
A-line skirts are wonderful for apple figures. The skirts have a fitted waist and then flare out and have a wide hemline. They give the appearance of a smaller waist and fuller hips. Basically, A-line skirts create balance and make all areas of the body look proportionate.
Flared Hemlines are Flattering
A flared hemline helps the legs stand out more. These skirts are shaped wider in the hips area and then flare out at the bottom. Since the skirt has a curvy shape on its own, it can transfer that look to the body. However, these can be hard to wear on women who have a small buttock that does not fill out the skirt.
Choose the Best Colours
Colours make a huge impact on the overall look of the outfit. They have the power to add the appearance of weight or take it away. Dark shades are slimming, so it works best to select dark coloured tops and wear lighter skirts with them. For example, wear an A-line khaki skirt with a white top and a dark cardigan.
What to Avoid
Try to stay away from skirts that are tight from top to bottom. These just make the hips, buttocks, and thighs look smaller than the upper body. Also avoid skirts with an abundance of ruffles or layered tiers as this can add too much volume to an apple shaped body. Lastly, do not wear huge belts or buckles and stay away from skirts with large belt loops. Styles like this draw attention to the midsection.
What to Wear With the Skirts
Even the best skirts can lose their lustre when paired with the wrong kinds of clothing. The entire outfit should be geared towards making the mid-torso appear narrower. The skirt cannot do the job on its own. Fashion experts say that the right outfit can visually take 10 pounds off of a figure.
Jackets
Choose longer jackets that hang down past the waistline. They should reach the hips at minimum because they create a long, vertical line that makes the torso look lean. The jacket can be closed or unbuttoned, but stay away from ones with shoulder pads or other kinds of embellishments that make it appear bigger. If partially buttoning the jacket, only close it below the chest line so that the chest area looks larger than the torso.
Tops
Pick tops with low cut necklines to show off the chest and elongate the neck. Emphasising the chest and shoulders distracts attention from the stomach. It is also recommended that women wear longer shirts unless they have a long jacket over it. Again, the long lines make the torso appear taller and thinner.
Certain styles can be particularly flattering on an apple shaped figure. For example, the empire shirts have a high waistline that is just under the chest. Underneath that, the top is full and fans out over the stomach, keeping it hidden and appearing small.
Stay away from ruffles, thick sweaters, or anything else that adds bulk. If the shirt is woven and has a pattern, opt for vertical lines rather than horizontal ones.
Slimmers
Body slimmers are worn underneath clothing. They squeeze certain areas of the body to help define their shape better. Avoid the ones with bone or wires in them because they can be uncomfortable and even unhealthy.
How to Shop for the Best Skirts for an Apple Figure on eBay
Women with particular body shapes often have a harder time finding clothing. This is because shops do not take this into consideration. Many places stock apparel that is supposed to be universally flattering, but really only looks great on those with an hourglass figure. Instead of spending hours in a shop trying on countless skirts, try shopping on eBay. It is much easier to find what you need when you have thousands of options. To make things even easier, you can search for specific styles. For example, just type "A-line skirt" into the eBay search bar and you are able to look at them right away. This is much easier than wandering around a shop trying to find them. eBay even has a special deals page where women can find skirts on sale just like they would at a shop.
Conclusion
Shopping for a specific body type can be frustrating, especially when all women see are the advertisements for cute apparel that is being worn by a supermodel. After awhile of being constantly disappointed in the dressing room, it is easy to feel annoyed. The reality is that hardly any women are actually shaped liked that. Models work constantly to maintain their bodies by eating small portions and exercising constantly. Not many people have the time or energy to do that. It is important to understand that there are attractive ways to dress for every single kind of figure. Rather than giving up and wearing baggy clothing for the rest of their lives, women can find flattering styles and feel beautiful again if they just take the time to learn which styles look the best on them.