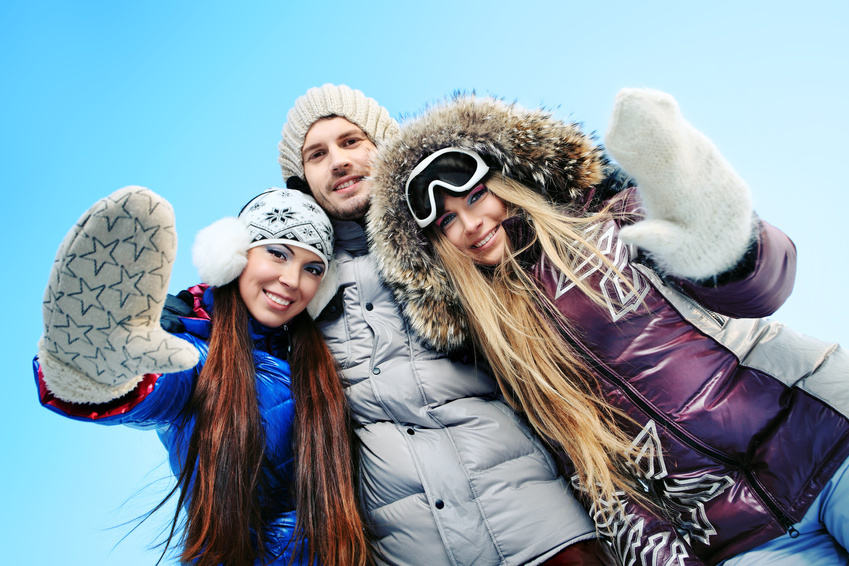 Every year the amount of women taking up winter sports rises, but they aren't activities that should be done half-heartedly. When choosing to engage in winter sports, one should expect to come back battered, bruised and beaming from every outing. There is no way around this, but wearing the right sportswear can decrease the affect it has. Women should always be wearing clothing that combats the winter chill, and offers more durability than typical sports clothing.
This guide looks at the best sportswear for use during the rugged winter months. When looking to buy winter sportswear, eBay has made a point of offering great deals on all types of women's clothing.
Base Layer
The cold chill of the winter months is far from a fun feeling, but at times it can be more than just a feeling, it can actually be detrimental to the body. Women need to make sure that their body holds in warmth. This means building up layers and wearing a suitable amount of thermal clothing. The following are the types of thermal clothing that women are likely to find on eBay.
· Thermal Leggings
· Thermal Socks
· Long Sleeve Thermal Tops
· Short Sleeve Thermal Tops
· Thermal Camisoles
· Thermal Tights
· Thermal Body Leotards
· Thermal Sleeveless Tops
· Thermal Underwear
In days gone by thermal clothing used to mean wearing a pair of long johns, but thankfully for women this is no longer the case. Modern thermal wear hugs the body, containing warmth and increasing blood flow. They are an absolute must during the winter months, no matter whether someone is jogging or ski jumping. Remember, thermals are the base that all winter sportswear is built upon.
Mid Layer
When placing clothing on top of thermals, shoppers will need to be careful. Throwing on any old t-shirt or tank top won't cut it; women need to put on a shirtthat ticks some or all of the following boxes:
· Highly breathable.
· Allows for ease of movement.
· Handles moisture transportation effectively.
· Encapsulates warmth.
· Easy to take on and off.
The mid layer is similar to the thermal layer in the sense that it doesn't need to be the most fashion forward.
Outer Layer
After putting on base and mid layers, it will be time to top it off with an appropriate outer layer. It is important to have an outer layer that protects women against various elements. This includes snow, rain, sleet, ice and high amounts of UV light. An outer layer will usually come in the form of a jacket or fleece and should have a variety of features, including the following:
· Durable lining and added insulation that will not only add comfort, but also help retain the body's natural heat.
· Opt for a level of insulation that suits the activity, but doesn't overheat the body.
· Jackets sometimes need packing, especially when travelling, so try to find one that is easily storable.
· If shoppers have their eye on an all-in-one jacket, look at the three-in-one types that are available.
· These consist of an outer jacket, and two removable insulation layers. They can be more expensive, but have added features that can make it an economical purchase.
· For activities that are aerobic, women shouldn't weigh themselves down and opt for a soft-shell garment.
· Lightweight jackets don't hold up to the elements all that well, but do provide maximum airflow and perspiration wicking.
The standard sports coat isn't suitable for winter sports. The top companies in garment development now produce jackets that are built specifically for women who undertake winter sports. This means that finding an item of clothing that has one or all of the things mentioned above, will guarantee comfort and versatility.
Accessories
Having all the correct layers is crucial, but it pays to have the right accessories on hand to complete an outfit. Much like any other fashion market, there is no shortage of winter accessories. When it comes down to it, women should look to pick up the following pieces to partner up with their winter sportswear:
| | |
| --- | --- |
| Accessory | Features |
| Sunglasses | Wearing sunglasses during the winter months may seem odd, but they're actually an excellent accessory to use. When out on the slopes people will need a pair that provides high levels of UV protection. |
| Hat | Not glamorous, but a great piece of clothing that helps keep the head warm. Look for one that is a woollen blend. |
| Gloves | When wearing gloves during the winter months don't look for flexibility. Women should want gloves with as much insulation as possible. |
| Scarf | An added accessory that helps to keep the neck warm in brisk conditions. A snood is another option for this. |
| Shoe Grips | The fashion conscious female may not want to sacrifice their trainers when out on the ice. If this is the case they'll want to pick up a suitable pair of shoe grips. |
Winter Sportswear Sizing
Due to the large degree of brands selling products classed as winter sportswear, the sizing system can become clouded and confusing. Expect to find the meaning of large, medium and small to change from range to range. An example of this is that Italian brands, such as Elder and Degre Seven, tailor their products towards women who have a petite figure. However, brands such as Columbia and Schoffel gear their products towards those who have larger frames.
It is advised that women work off their exact measurements to get a better grasp on a brand's sizing system. This will ensure that shoppers end up with the right fitting winter sportswear more often than not.
Caring for Winter Sportswear
Winter sportswear can be an expensive investment, and women will want to get years of use out of such attire. Always keep garments clean and free from dirt. If the pores of a fabric get blocked it allows water to seep into the garment, while also restricting airflow. Look to take care of winter garments, remember that keeping them clean ensures they're ready for use winter after winter.
How to Buy Winter Sportswear on eBay
Sport during the winter months can be the true test of any athlete, whether it's hitting the slopes or hitting the streets, it is no easy feat. It means that women need to stock up with the right clothing and eBay is the best place to get every type required. Log on and head into the clothing, shoes, accessories category. Narrow down the auction listings by heading into the women's clothing and sportswear sub-categories. It is there where shoppers can select garments by size, brand, style, design and colour.
The last thing anyone wants to do is buy a piece of women's winter sportswear, only to have it arrive not as it was described. If this happens eBay does its utmost to ensure that shoppers aren't left out of pocket. Paying for it through PayPal also gives shoppers that extra security, as it would come under their buyer protection program.
Conclusion
Winter sports are demanding and test the endurance of even the most seasoned athletes. Braving the elements isn't easy, so women need to make sure that they are appropriately covered up in order to operate efficiently. Thermals, jackets, gloves are all amongst what is needed to maintain warmth. This guide has looked at what women should be choosing when shopping for such garments.
eBay isn't just a leader in women's fashion, it is also a leader in women's sportswear. They're sure to have all the items mentioned in this guide (and then some) at budget friendly prices.