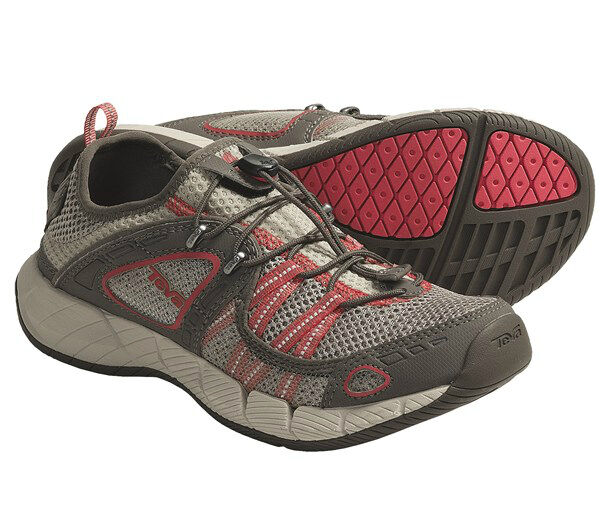 When it comes to footwear, comfort has always been a subjective term. The comfort factor couldn't be more important than in a pair of athletic shoes, due to the impact that feet receive during sporting activities. An appropriate pair of athletic shoes will keep a woman's feet comfortable, even when under stressful conditions.
Wearing comfortable athletic shoes can lead to improved performance, and help prevent injury. It is important to make sure that women purchase a shoe that support the feet, ankles, knees, hips and lower back. This guide will look at all the options women have available, and how to take advantage of the great deals found on eBay.
Types of Women's Athletic Shoes
Athletic shoes are regularly released by sports brands, and upon release a shoe will be placed into a specific category. There are four types of athletic shoe to choose from; in order to obtain the best comfort women should select the right shoes for the right situation.
General Athletic Shoes
· Perfect for women who have a hectic and active lifestyle.
· Suitable for moderate activity, such as walking or aerobics.
· The rubber soles are long lasting.
· Do not come with an excessive amount of grip.
· They are not tailored towards any particular activity.
· Places versatility above comfort in terms of priorities.
· Walking shoes, cross-trainers and aerobic shoes all fall under the general athletic shoes category.
· The best investment for women who engage in a variety of sporting activities, but do not have the budget for multiple pairs of athletic shoes.
· If someone partakes in a large variety of different sporting activities, it may be best that they avoid owning an all-purpose pair of shoes.
Running
· Built for those who do running, as either a sporting or fitness activity.
· Has added cushion and shock affording absorbent padding.
· The soles are hardwearing and built for longevity.
· Constructed out of light materials to ensure ease of use.
· Can have added extras, such as traction control and air cushioning.
· Will improve a runner's speed and endurance during training.
· Off-road, performance, racing and sprinting are all variations of the running shoe.
Court
· Considered specialist in many regards.
· Court shoes should only be used on designated surfaces.
· When used on inappropriate surfaces the comfort factor is reduced.
· Padded for impact absorption.
· Features specially designed lightweight soles, which have increased durability at the expense of style.
· They do not scuff courts unlike other forms of women's athletics shoe.
· Some sports centres and gyms recommend using a pair of court specific shoes.
· Sporting governing bodies (like the LTA) have made court shoes a mandatory requirement in order to compete in competitions.
· Court shoes come in basketball, badminton, racquetball, tennis and multi-purpose form.
Determining Comfort
The big issue that comes with selecting a suitable athletic shoe is determining how comfortable it will be. Various elements make up a comfortable shoe and it is important to consider them all prior to purchase. Always remember that collectively these factors should work together to support the feet, and help prevent avoidable injury.
| | |
| --- | --- |
| Fit | Women's feet are extremely delicate, so wearing the correct size is very important. Shoes that are too big will feel loose and cause excess rubbing. The biggest issue comes when wearing athletic shoes that are too small, as they can crush the feet and cause swelling. |
| Support | If a pair of shoes does not provide comfort and support, they are not going to hold up very well during strenuous activity. Extra ankle and arch support prevent the foot and ankle from leaning in and rolling. Cushioned toes are also a good feature for aiding comfort in the balls of the feet. |
| Orthotics | Athletics shoes that have orthotic elements are designed to aid people with foot ailments. They have removable insoles that correct foot issues, including foot positioning. |
Buying Used
The women's athletic clothing market is booming and constantly evolving. This means a market for used athletic shoes has grown into something worth looking at. It is a great way to get top of the line shoes at a fraction of the recommended retail price. It is also a great way to unearth classic athletic shoes, which may have been discontinued or produced in limited numbers.
Choosing to buy used requires due care and attention from the shopper; this is in order to make sure that the item is actually what's being described.
It pays dividends to question the seller about the item in order to get a better grasp on its condition. It's wise to ask questions like:
· How old are the shoes?
· What are the exact measurements of the shoes (including size)?
· How often have the shoes been worn?
· Have they suffered any cosmetic damage?
· What is the condition of the shoe's sole?
· Have the shoes been subjected to any repairs?
· Were the shoes purchased from new?
· Do you offer a returns policy?
How to Buy Athletic Shoes on eBay
When it comes to shoes, no pair is more common than the athletic variation. Many people have misconstrued this, thinking that there is only one type of pair available, and from a female's standpoint, that really is not the case. There are actually a variety of types to pick from, and it is important to get the right one to ensure comfort. In the world of women's athletic clothing, eBay is the premiere retailer and a priceless resource to women not just in Australia, but also around the world.
There is a wealth of athletic shoes available on eBay; to start looking at what has been listed for sale select clothing, shoes, accessories, while on eBay's home page. From there, click on women's shoes and athletic to bring up all live auctions.
Shoppers will often want a specific style, brand or type of athletic shoe. The easiest way to go about locating this is to use the keyword search and advanced search options.
Completing a Transaction
Finding the elusive pair of perfect fitting athletic shoes is never easy. When a shopper has found a pair, they'll want to get them as soon as possible.
Don't let the perfect pair of shoes slip away, act fast by doing one of the following on an auction listing:
· Place a Bid
· Make a Best Offer
· Buy it Now
After the auction has concluded, the winning bidder will need to pay for the item in order to confirm the purchase. When it comes to paying for an item eBay strongly recommends using PayPal.
The reason for this is due to how they go about sending money, and protecting the shopper from any untoward happenings with the order.
Conclusion
Fitness is a big deal in today's Australia, but it is not as simple as getting out and hitting the gym. Women have to be fully equipped for the rigors that exercise presents. Figuring out what shoes are correct was once a tough job; however, this guide has made finding the right pair simple.
Athletics of any kind, whether it is fitness or professional, is going to be tough on the feet. eBay is the worldwide leader in women's footwear and is the perfect place to find a pair of athletic shoes at an affordable price.