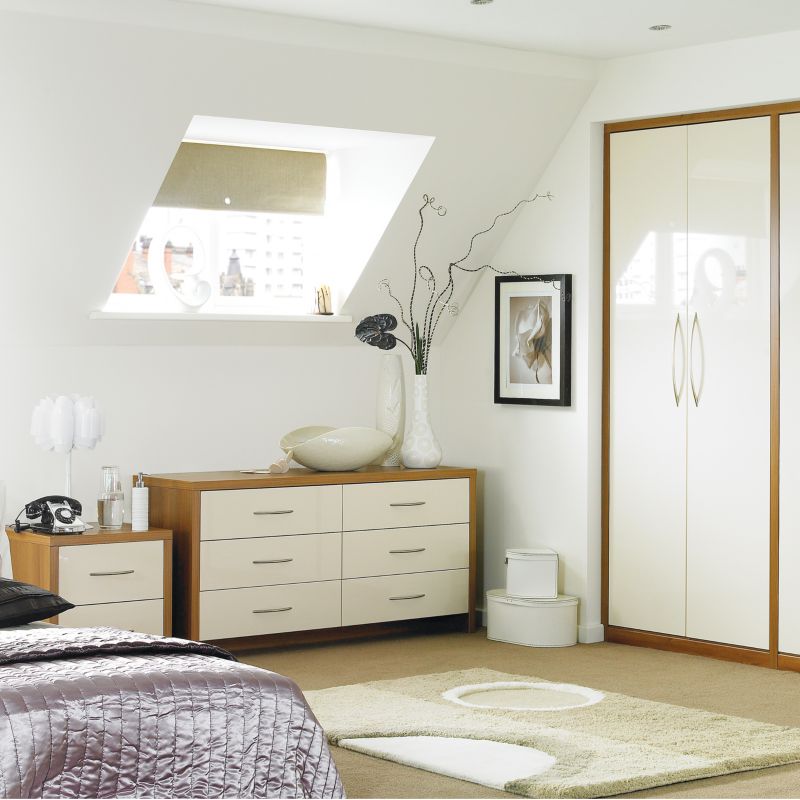 For many people, the bedroom is the most important room of the house. Buying a bedroom set is an excellent way of getting all the basic requirements of a bedroom in one go. Buying a bedroom set can transform an empty room into a haven in a moment, but knowing what to look for in a bedroom set can be difficult.
This guide will provide the reader with advice on and information about the process of buying a bedroom set, with the intention of enabling a well-informed and reasoned purchase. The online auctioning platform eBay will also be looked at, and the various features it possesses which make it the ideal place to buy bedroom sets will be explained.
Bedroom Sets
This section of the guide will describe each of the three basic components of a bedroom set.
Beds
The bed is, naturally, the most important part of a bedroom set. There are three main components of a bed:
Frame – the frame is the heavy structural support which holds the bed up. The frame is extremely important, as it comprises a large part of the overall aesthetic of the room, as well as performing a vital function. Frames can be made of either metal or wood; price varies depending upon which, as well as the quality of the craftsmanship.
Mattress – the mattress is the soft, cushioned part of the bed upon which the sleeper rests. Not all bedroom sets will include a mattress.
Duvet & Sheets – the duvet and sheets of a bed are extremely important for the appearance of the room as a whole, as they comprise a large block of colour. Not all bedroom sets will include a duvet or sheets.
Bedside Tables
Bedside tables are small units that sit beside the bed, usually positioned within reach of the sleeper. They provide a useful platform for objects, such as lamps, books, reading glasses, or glasses of water. They often also contain drawers, which can be used to store either clothing or assorted personal objects.
Tallboys
Tallboys are cabinets consisting of numerous drawers, so-called because they are usually very tall (allowing more drawers to be stacked in a space-efficient manner). They are used to store clothing that does not hang in wardrobes, such as t-shirts, underwear, and socks
What to Look for in a Bedroom Set
This section of the guide will cover the key considerations for anyone seeking to purchase a bedroom set. Four considerations have been identified, and each is examined in detail below.
Size
Naturally, size is an absolutely imperative consideration. The size of the room for which the bedroom set is being bought must be measured accurately and taken into account, as well as the size of the items themselves. Bedside tables and tallboys will either be measured in either centimetres or inches. Below is a table of Australian bed sizes.
Size

Measurements

Single

36 in x 74 in

91 cm x 190 cm

Double

54 in x 74 in

140 cm x 190 cm

Queen

60 in x 80 in

150 cm x 200 cm

King

72 in x 80 in

180 cm x 200 cm
Condition
One way of saving money on any purchase is to buy used, second-hand goods. The longer an item is owned, the lower its value becomes; this relationship between price and condition allows those willing to purchase used goods to get a better price. However, there is often a marked decrease in aesthetic value, longevity and functionality in used items which is rarely found in brand new products. The buyer must weigh their available funding against the need for a new item (and all that entails).
Aesthetic
One of the crucial aspects that should be considered when buying a bedroom set is its appearance. Personal taste factors heavily into this element of the decision making process, but there are a few basic rules which can serve a buyer well when selecting a bedroom set. These are listed below:
Buy a matching set – the vast majority of bedroom sets sold will be 'matching', meaning that each unit which comprises the set will be made from the same or similar materials, and will act as a coherent part of a unified aesthetic.
Consider the colour of the room – it is a good idea to factor the colour of the room into the decision; if the colour of the bedroom set clashes with the colour of the walls, the visual effect will be extremely unerring.
Consider style – if the other rooms in the house have a visual theme, it is a good idea to try to match the bedroom set to this theme. This does not mean copying; an effective contrast can be more powerful than a mere continuation.
Price
As should be the case with any purchase of any kind of item, price should factor into the decision making process when buying a bedroom set. It is advisable to set a budget before looking, based upon how much of one's capital can be spared, and to refrain from exceeding that budget. That should allow the buyer to get the best product that they can realistically afford.
How to Buy a Bedroom Set on eBay
There are multiple reasons to choose eBay as a means of buying a bedroom set. Its large pool of sellers ensures a broad and diverse selection of products, and its intelligent yet simple design enables users to achieve their consumer goals quickly and efficiently. This section of the guide will cover how to buy a bedroom set on eBay.
The website can be traversed using the many hyperlinks, which take the user to category and sub-category pages. To use this method, begin from the eBay homepage. On this page is a list of links to the broadest product categories, which, when activated, relocate the user to that category's page. From there, further links to sub-categories can be followed (and so on). Bedroom sets can be found in numerous locations. Under Home & Garden, the Furniture, Bedding, and Home Décor sections can be accessed, all of which contain bedroom sets.
Alternatively, the search bar can be used, which allows highly targeted and extremely fast navigation of the many available items. Simply type 'bedroom set' into the search bar and either press enter or click 'search'.
The product information is displayed in the form of the item listings. The item listings show all the products that match the user's needs (as indicated by the categories or search). Each item is represented in the listings by a thumbnail image and a brief text description. The items displayed can be organised according to the user's requirements using various 'filtering options'. These allow the user to impose certain parameters upon the listings, so that only items which meet their requirements will be displayed. These options include price, condition, and seller's location. Further, the 'auction' option lets users view only items which are up for auction, and the 'buy it now' function facilitates instantaneous transactions for a fixed price.
Clicking on any given item's thumbnail image or text description will take the user to said item's individual information page. This page is dedicated solely to that item. It features details and specifications, as well as user feedback and ratings, which allow the user to make a very well-informed choice of item.
There are many incredible special offers available under the Deals section of the website. These offers cover all kinds of products, and are updated frequently. As such, it is a good idea to check the deals section regularly, in order to get the best prices.
Conclusion
A person's bedroom is often the room which sees the most day to day use. Buying a bedroom set is a great way to ensure that all the basics are in place. This guide set out to give the reader detailed information about bedroom sets. In addition to the basic information, four main consumer considerations were highlighted:
Size
Condition
Aesthetic
Price
This guide concludes that eBay, the popular online bidding platform, is the perfect place to shop for a bedroom set, thanks to its huge array of items and its helpful, intuitive interface.