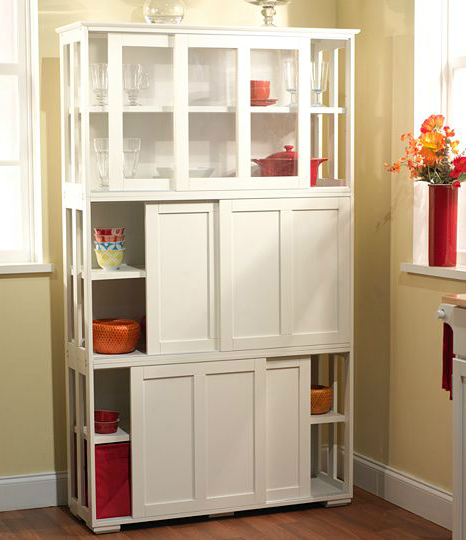 Choosing kitchen cabinets for a home can be an exciting process. A wide selection of cabinets is available, and products can be found to match the preferences and budget of any buyer. There are several elements that buyers should keep in mind to help them obtain the best results possible. The price of the cabinets and their overall quality should be considered first, followed by the materials used for the core and any laminates or veneers. A high number of designs are available for buyers to choose from, as well.
Cabinets can be purchased from home improvement shops, online retailers, and contractor services. Take the time to shop to compare prices and find the best products for the needs of the buyer. With a bit of patience, great cabinets can be found to improve home decor and provide convenient storage options.
Cost and Quality
The easiest way to begin finding suitable cabinets for a home is to choose a price range. High-end cabinets can be quite costly, especially once the price of installation is added. However, there are several inexpensive options that can still be attractive and durable. Cabinets can generally be separated into three categories including: stock, semi-custom, and custom. Consider each type of cabinet to get started.
Stock
Stock cabinets are pre-made items that are inexpensive to purchase. They are also readily available and can be obtained within a few days of ordering, which makes them the most convenient and accessible option. Stock cabinets are typically made from particleboard or other inexpensive materials, though they are produced in a wide range of styles to match a buyer's kitchen.
Semi-Stock
Semi-stock cabinets offer a greater range of options than stock products, including more expensive design and style options. They can be made from plywood or other materials, like medium density fibreboard. Because they are not pre-made like stock items, they require more time to prepare. Semi-custom cabinets are usually available within several weeks after ordering.
Custom
Custom cabinets are built to the specifications of the buyer and can fit perfectly into the kitchen space where they are installed. These cabinets are produced with the highest-quality materials and finishes. This means that they are normally built from solid wood that is stained or finished to match the colours in a kitchen. Custom cabinets are an especially desirable option for buyers who have an unusual kitchen space that does not accommodate stock products.
Materials
Construction styles vary between products, and the materials used can affect cabinets' appearance and cost. There are also several types of laminates used to protect the wood and alter a product's appearance. Buyers can learn more about each option to choose the best cabinets for their needs.
Solid Wood
Though traditionally the most common material used in cabinets, wood is now just one of several types of materials used. Solid wood cabinets can be made from several different species of trees, including maple, oak, hickory, and birch.
Plywood
Solid wood is expensive, and if it is not properly prepared, it can expand and contract as a result of changes in temperature and humidity. As a result, it is common to find cabinets made from plywood. Plywood uses layers of wood stacked at opposing angles to resist warping. Plywood is usually preferable to particleboard and medium density fibreboard.
Particleboard
Particleboard is created from wood chips and shavings. These are pressed together with resin to form solid sheets. This affordable material is most commonly used in stock cabinets as an alternative to wood. Its natural appearance is relatively plain, however, so it is commonly covered with a plastic laminate or wood veneer to enhance its visual appeal.
Medium Density Fibreboard
Similar to particleboard, medium density fibreboard (MDF) is constructed from small pieces of wood glued together and pressed into sheets. It is a highly durable material that is suitable as the base material for laminates and veneers. Medium density fibreboard is commonly found in stock and semi-stock items.
Veneers and Laminates
Particleboard, MDF, and plywood cabinets can be covered with other materials to enhance their visual appearance. There are four basic materials used for this process including: veneer, laminate, melamine, and thermofoil. The following table offers a brief description of each.
Material

Description

Wood veneer

Created from thin sheets of wood

Creates a natural wood appearance over plywood and particleboard

Inexpensive

Laminate

Plastic coatings applied to the cabinet with heat and pressure

Available in a wide variety of colours, patterns, and textures

Thermofoil

Vinyl-like material that is resistant to chipping and wear

Susceptible to damage from heat produced by toasters, coffee makers, and other appliances

Melamine

Similar to laminate, but even more durable
A handful of other materials may be encountered while shopping. For example, some manufacturers offer cabinets with enameled metals on their exterior.
Doors
The doors on cabinets are responsible for much of the product's appearance. They can be created with either standard or full overlays, which affects how much of the cabinet box is revealed. There are also several different designs available. Consider each door style to find the most attractive cabinets for a home.
Standard and Full Overlays
The overlay of a cabinet refers to how far the door extends beyond the cabinet opening when it is closed. A standard overlay leaves some of the cabinet box face visible around the edges of the cabinet doors. Standard overlays are sometimes called "reveals".
Full overlays completely cover the cabinet box. This means that the edges of adjacent doors are nearly flush with one another when they are closed. A larger amount of material is used in full overlays, so they are typically more expensive than reveals.
Design Types
There are dozens of designs used on the face of cabinet doors. Ultimately, the choice between them is a matter of personal taste, though a handful of designs are more popular than others. The following table includes six of the most common designs used along with a description of each.
Design

Description

Recessed panel

Minimal style with a flat centre panel and a frame at the edges

Raised panel

Similar to recessed panel, but centre area is raised to same level as frame

Slab

A simple, straightforward design with a flat panel

No frame or decorations

Shaker

Same as recessed panel, but frame is flat and even throughout

Arch

Raised panel design with an arch for added elegance

Common arch styles include "eyebrow" and "cathedral"

Cape Cod

Flat frame around the edges

Vertical lines break up the centre panel
Several variations of these common door designs are available. Explore the full range available from a retailer or contractor to find which are suited to a buyer's particular needs.
How to Buy Kitchen Cabinets on eBay
A high number of cabinets can be purchased from the sellers on eBay. These items can be found by entering keywords into the search field on any page. For example, type "raised panel cabinets" into the field to see all items tagged with those terms. If a search does not turn up the desired results, try using a different combination of terms to broaden or refine the listings. You can also search through eBay Deals to find even more discounted items.
Click on the name or primary image of an item to see its full listing. Check the price of the item along with any applicable delivery charges. You can also review sellers on eBay by clicking on their names in item listings. Look for eBay users with a high positive feedback rating and many completed transactions to ensure a positive buying experience.
Conclusion
Kitchen cabinets can have a large effect on the appearance of a home. Buyers looking to renovate their kitchen or enhance their home decor have a wide selection of cabinets from which to choose. These can vary greatly in terms of price, so buyers may wish to begin shopping by selecting between stock, semi-stock, and custom cabinets. Stock cabinets are affordable, but are made from lower-quality materials. Custom cabinets can be made to fit the specific contours of a kitchen and are made from quality materials like solid wood.
Once the basic price range has been established, buyers can choose from an array of design and style types. It is also useful to be familiar with the different core materials used, as well as any laminates or veneers. The high number of cabinets available provides buyers with the opportunity to obtain attractive products to match any home and budget.
Cabinets|Kitchen|Home Decor|Style|Cabinet Door