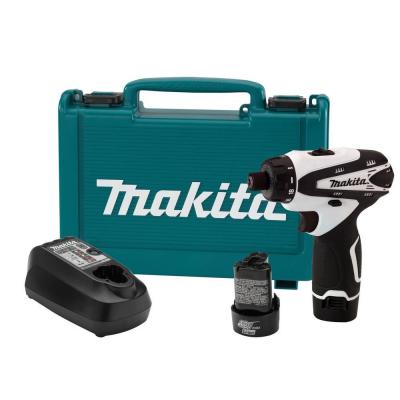 Drills are one of the most useful tools to have for a home or business. They are created in a wide array of styles and power levels, and although this gives buyers plenty of options, it can also make it difficult to choose the right drill. One of the biggest decisions is choosing between corded and cordless drills. Buyers should also consider standard units, screwdrivers, hammer drills, and impact drills. Several additional features and design options can be selected, as well, such as lights and a second handle for improved stability.
Drills can be purchased from home improvement and hardware shops, department stores, and online sellers. Some sites specialise in the sale of power tools, while marketplaces like eBay have a section devoted to tools alongside the many other products available. Shop around to find the full selection of drills available, and select the best product for the next job.
Corded vs. Cordless
The first thing buyers should decide while shopping is whether they need a corded or cordless drill. Each type of drill has its benefits and drawbacks. Corded drills are more powerful and have a steady power supply. They allow users to work for hours on end without any worries about the drill's performance. These items also tend to be less expensive than cordless units. However, corded drills can create a tripping hazard in large work areas. They also require proximity to an outlet and cannot be used in wet areas.
Cordless drills are more versatile, as they do not require an outlet and can be used safely in wet conditions. However, they can become weak as their battery runs low, and owners must keep a reserve battery charged at all times to ensure continued use.
Drill Types
Drills are designed in several different styles to handle varying work conditions and materials. Although a standard drill is likely sufficient for most people, buyers should consider hammer drills and impact drills. It may also be useful to purchase a screwdriver for use on light duty projects instead of using a full power drill.
Standard Drill
Standard drills are the most common product on the market. They are also less expensive than most specialised units like hammer drills. They are suitable for everyday use and light construction work.
Hammer Drill
Hammer drills are designed to pound at a working surface while the bit is rotated. The chuck in a hammer drill is moved rapidly back and forth, allowing it to break through surfaces like masonry, bricks, and concrete. Hammer drills are notably heavier than standard units and require specialised bits when working on hard surfaces.
Impact Drill
Impact drills are designed to prevent a bit from slipping during use. The drill detects changes in the density of the surface being drilled and its resistance to the bit and increases or decreases torque, as needed. Impact drills are especially useful for woodworking projects such as cabinetry, decks, and sheds.
Screwdriver
Drills and screwdrivers use the same basic mechanics, although drills are significantly more powerful. Although most drills can be used as an electric screwdriver, their high power can increase the risk of damaging a drilling surface. Look for drills that have a low power setting that allows them to be used comfortably as screwdrivers. Otherwise, it is useful to have a dedicated electric screwdriver on hand for light projects. Like other drills, they can be either corded or cordless.
Drill Sets
Buyers can save money by purchasing a set. Drill sets include multiple drill types in a single case along with several types of bits. For example, a basic set may include a standard drill and a hammer drill. Larger sets can be purchased that include other tool types, such as saws.
Features and Accessories
Once the basic drill type has been chosen, buyers can refine options by considering some of the many features and accessories available. The following table includes some of the most popular options.
Feature

Description

LED Light

Casts light onto a project for visibility in low light settings

Can be purchased separately and attached to a drill although some drills have a light built in

Additional Handle

Offers a stable grip for heavy duty work

1/2-inch Chuck

Drill can use both a standard 3/8-inch chuck and a large 1/2-inch chuck

Large chuck provides increased drilling power

Suitable for heavy duty use

Reversible Drill

Allows a drill to be used as a screwdriver

Lithium Ion Batteries

Some cordless drills use lithium ion battery packs

Reduce the product's weight
Several other features and accessories can be found on drills. Inspect packaging or product listings for information about the abilities of a specific product.
Condition
Buyers looking to save money on a new drill can consider pre-owned items or ones that have been removed from their packaging. Compare these with new items while shopping to find the best drill at an affordable price.
New
Drills sold in new condition are sealed in their original packaging. They have never been used and can be expected to perform well over the course of many years. New items are the most expensive drills on the market.
Like New
Drills listed as like new have received little or no use but are not sealed in their original packaging. They may have been used as floor models or for a demonstration. These items may have slight cosmetic defects but can be expected to perform as well as a new item. Take the time to read individual item descriptions for details about a product's history.
Used
Used drills have been previously owned and used. They may have any amount of wear or damage. Although these items do not have the expected lifespan of a new drill, they can be obtained for significantly less money.
Refurbished
Some used items have been refurbished using factory new parts. This work can be performed by a previous owner or by the manufacturer. In general, manufacturer refurbished drills are more reliable and can be nearly as good as a factory new product.
How to Buy Drills on eBay
A high number of corded and cordless drills are available for purchase on eBay. These items can be located on the site by typing keywords into the search field on any page. For example, enter "cordless hammer drill" to see all items tagged with those terms. You may refine listings by introducing new keywords or using relevant category links in search results pages. eBay also has a large number of items listed at lower prices in its Deals section.
Take the time to review item listings and seller profiles before committing to a purchase. Be clear on the price of the drill and associated delivery costs. Sellers are given a feedback rating that reflects the satisfaction of buyers within the past 12 months. Look for sellers with a high positive feedback rating and many completed transactions to ensure a positive buying experience.
Conclusion
Drills are a valuable addition to any toolbox. Begin shopping by choosing between corded and cordless drills. Corded drills are more powerful and can be used for longer periods of time, although they can pose a tripping hazard. Cordless drills can be taken anywhere and used in wet conditions, making them a more versatile product. Decide between hammer drills, impact drills, or a standard drill. It can also be useful to purchase an electric screwdriver as an alternative to using a high powered drill.
Marketplaces like eBay have a high number of listings for both new and used drills, making them an ideal place to browse a wide selection of items. The high number of drills on the market makes it easy for buyers to choose the best one for their needs.
Drill|Corded Drill|Cordless Drill|Power Drill|Power Tools