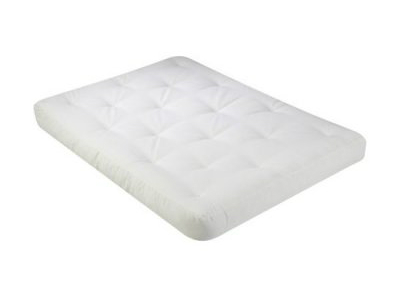 Futon mattresses are a versatile piece of home furniture. They can be used as a couch and a bed, which allows owners to make the most use of space in a room. There are several elements that buyers should keep in mind while shopping to find the best futon options. Begin by choosing between bi-fold and tri-fold mattresses. The materials used to construct a mattress can also vary. Buyers should also consider the design of the futon frame in order to get the most enjoyment from their mattress.
Futons can be purchased from furniture shops, department stores, and online retailers like eBay. Shop around to see the full selection of products, and begin choosing a suitable futon for a home.
Futon Fold Style
The first choice to make while shopping for futons is the fold style. There are two styles, including bi-fold and tri-fold. Both styles have their advantages and drawbacks, so it is important for buyers to be familiar with each type to choose the best mattress for their needs.
Bi-Fold
Bi-fold mattresses are the most common mattresses on the market. They are split evenly by a single fold through the middle. Most frames for bi-fold mattresses also have a slider mechanism that allows them to quickly shift from a sitting position, like a couch, to a sleeping bed position. This is the simplest design for futons, and they tend to come with full size mattresses.
Tri-Fold
Tri-fold futon mattresses function similarly to bi-folds, but have the additional option of a reclining position. Frames for these mattresses have a leg rest that can be extended or tucked beneath the sitting area of the futon when not needed. The frame can also be lied flat into a sleeping position.
Size
Futon mattresses typically follow industry standards for bed mattress sizes. Most bi-fold futons are full size, though it is also possible to purchase queen size mattresses. Tri-fold futons can be listed as either full loveseat, twin loveseat, or chair. The following table includes common measurements for each futon size.
| | |
| --- | --- |
| Futon Size | Measurement (cm) |
| | 137 by 190 |
| | 152 by 203 |
| Full loveseat | 137 by 137 |
| Twin loveseat | 99 by 137 |
| | 71 by 137 |
Some tri-fold mattresses are designed as two separate pieces. The larger of the two mattresses covers only a portion of the frame, allowing users to keep the leg rest tucked in to save room.
Mattresses
Just like standard bed mattresses, futon mattresses are built from a variety of materials. They can be firm with strong back support, or softer and receptive to individual body shapes. There are three primary materials and designs used for futon mattresses, including a cotton blend, innerspring, and memory foam. Buyers should consider each of these options to obtain the best mattress available.
Cotton, Polyester, and Foam
Most futon mattresses are built with a blend of cotton, polyester, and foam. These can be layered in varying ways to improve the comfort and support of the mattress. Although these mattresses can be comfortable for sitting, most are thin and only suitable for occasional sleeping. Cotton and polyester blends are the least expensive option for futon mattress materials.
Innerspring
Innerspring mattresses are designed in the same way as bed mattresses. They offer increased support and comfort, making them ideal for long periods of sitting or regular sleeping. Innerspring mattresses also breathe well, allowing them to stay cool. Due to the increased thickness of the mattress, innersprings are most commonly found in bi-fold futons.
Memory Foam
Memory foam consists of a polystyrene foam or latex. It is able to reshape itself to the user's body shape and movement, and provide the most natural support possible. However, due to the thickness of the material, memory foam can become warm to sleep on in hot or humid climates.
Frames
Frames for futon mattresses are commonly made from wood and metal. Though most frames use only one, some use a combination of both. Buyers should familiarise themselves with each type to choose the best products available.
Wood
Wood is the most commonly used material in futon frames. Wooden frames can be simple with wide armrests, or they may contain accessories, like magazine racks or cup holders. Wooden frames can vary widely in terms of price, depending on the species of wood that is used. Hardwoods are typically more desirable, though they are also more expensive than softwoods. The following table lists common wood types used in futon frames along with a description of each.
Type of Wood

Description

Oak

Very hard and durable

Red oak is especially popular and has a pink tint

Can be stained in alternate colours

Mahogany

A medium to hard wood

Has a reddish tint

One of the more expensive woods

Maple

Medium to hard wood

Very durable

Can be stained easily in different colours

Beech

Medium hardness

Less expensive than other woods

Not as durable as other hardwoods

Pine

Softwood

Has a natural light yellow colour

Less expensive than other woods
Buyers are likely to encounter other types of wood while shopping for futon frames. Check product reviews before buying an item to learn about its craftsmanship and the quality of its materials.
Metal
Metal frames are less common than those made from wood, though they are also inexpensive by comparison. Crafted with round bars, metal futon frames can be less comfortable than a well-constructed wooden frame. They have narrow armrests and few, or no, additional accessories. Some metal frames use wooden arms for increased comfort and the potential for improved visual appearance.
Covers
The cover for a futon mattress is important for two reasons: it protects the mattress from dirt, spills, and wear, and it also adds to the decor of the room. Covers can be easily removed and washed, and it is possible to have multiple covers for a single mattress. Covers are designed in a wide range of colours, patterns, and designs, so look for one that matches the interests and personality of the buyer and home. Also, check the size of the cover to ensure it properly fits the mattress being used.
How to Buy Futon Mattresses on eBay
A wide selection of futon mattresses can be purchased from the sellers on eBay. These items are listed by private and commercial sellers and can be purchased in new and used condition. The easiest way to initiate a search for futons is to type keywords into the search field on any page. For example, enter "futon cover" into the search field to see all items tagged with those terms. You may refine listings by adding other terms or clicking on relevant category links on search results screens. eBay also has special offers on futons and other home furniture in its Deals section.
Review product listings by clicking on the name or primary image of a mattress. Check the positive feedback rating of sellers on the site to ensure a positive transaction. Leave your own feedback at the end of the transaction to inform future buyers about your experience.
Conclusion
Futon mattresses are popular pieces of home furniture that can be used in several areas of a home. They can be used as couches as well as beds, making them an excellent space-saving alternative to standard beds. Buyers have several options available when shopping for futon mattresses. Buyers should first decide between bi-fold and tri-fold units. It is also worth considering the materials used in the mattress and its size. Mattresses filled with cotton, polyester, and foam are the most popular, though innerspring and memory foam mattresses are also available. Frames and covers for futon mattresses can increase comfort and alter the appearance of the product. Choose items that match a home decor and fit within a budget to get the full enjoyment from a futon.
Futon Mattress|Futon Frame|Bi-Fold|Tri-Fold|Home Furniture