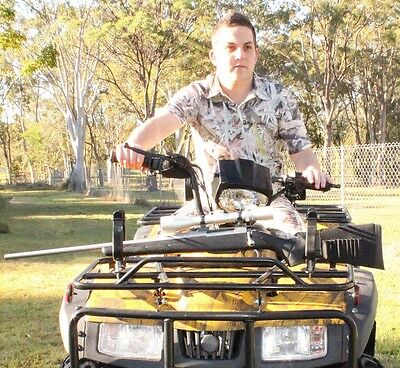 There is no dearth of options when it comes to selecting a gun rack. You can get one for your car or your ATV and even one that you can fix on a wall in your home. The key is to find the right gun rack so that you can keep your guns safe when not using them or while travelling. The most important factor in this regard is the size of the gun rack you select.
Obviously, you have to consider the number of guns you own. If you only have one gun, you can go for a rack that is sturdy but you don't necessarily have to buy the fanciest one on the market. On the other hand, if you a number of guns at home that you want to stash away safely, you will have to purchase a bigger rack.
For your vehicle, a two-gun adjustable rack is a great choice. First off, you wouldn't need more than a couple of guns on a hunting or camping trip. Secondly, you can easily adjust the rack according to the space available.
You will definitely have more space in your home for a gun rack than on your vehicle. There, you have the option to get the biggest possible gun rack. However, the best course of action is to select one that accommodates the number of guns you have and the accessories and detachable components.
You can easily find affordable racks so you don't need to worry about the budget. Get the dimensions right and you are good to go.
CLICK HERE
to see the Gun Racks available in our Store