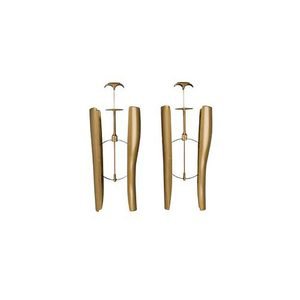 Boots are not easy to wear on an a daily basis. The right insole, or insert, can do wonders, and there are many reasons why one should consider upgrading footwear with a pair of insoles. Inserts can remove a great deal of everyday aches caused by the improper stance of one's feet. A custom insole can improve blood circulation in the feet, which is highly important for several medical conditions. One can even choose to upgrade the insoles simply for added comfort.
No matter what the reason for a purchase, selecting a pair of insoles can prove to be a complicated task. A buyer needs to become acquainted with the benefits of each type of insoles and find the one that answer all his needs. This knowledge, combined with the skill of selecting the right size, can come in very handy while shopping for inserts.
Orthotic Arch Supports and Arch Cushions
Orthotic arch supports are amongst the more popular insoles on the market. These inserts are built to properly align the foot and aid the load distribution over its surface. An orthotic arch support is intended to be used for walking and all kinds of sports activities.
Orthotic arch supports are quite rigid and take some getting used to. They keep the foot arch from over-collapsing under the weight of the body, and their resistive nature does cause some discomfort at first. However, after a few weeks of use, they become more comfortable than any other insole.
Arch cushions are a softer version of the same concept. They are also designed to support the arch of the foot but are more suited for those with less severe arch problems. If you have trouble getting accustomed to the orthotic arch supports, try the arch cushions first. Their foam padding is less rigid and easier to get used to.
Sports Inserts
Sports inserts focus more on the technical aspect. Many winter sports require boots, and all of them have specific inserts. These specialised inserts can give the athlete a slight advantage that can mean a lot in competitive sports. Skiers and snowboarders are not the only ones who can benefit from these inserts. Hockey players, figure skaters and ice skaters wear boot-like skates, which can be improved with the right insole. There are sport insoles even for non competitive sports like hiking, which involves long periods of time spent in boots. Here, a specialised insole can provide great relief.
Cushion Inserts
Cushion insoles are primarily designed for comfort. These types of inserts are essential for those who spend a lot of time on their feet. The inserts provide extra cushioning inside the boot and allow the feet to rest. With cowboy boots or work boots, these insoles can be of great help by providing extra padding on the heel and improving shock absorption.
Gel Inserts
Gel inserts can be viewed as a separate category altogether. The liquid-type cushioning provided by these insoles is different from any other offered on the market. Gel insoles have a specific softness and are very good at shock absorption. Their only weakness it that they tend to be more heavy than other types. This, added to the already considerable weight of a standard boot, can result in a pair of unnecessarily heavy footwear. There are models where the gel only covers the heel or a portion of the foot, and those can be a better choice for weight and comfort.
Heavy-Duty Insoles
Heavy-duty footwear also requires special insoles. Insoles made specifically for worker boots can provide just the right comfort, cushioning, and support for those who spend working hours on their feet. These inserts can reduce the appearance of blisters and manage foot odour by improving circulation and airflow.
Size
Selecting a size for your inserts is quite simple. The inserts follow the same sizing convention as footwear worldwide. This means that picking the right one is as simple as knowing your boot size. Look for details in the size conversion chart below.
| | |
| --- | --- |
| U.K. Size | Foot Length (cm) |
| | 21.8 |
| 3.5 | 22.2 |
| 4 | 22.6 |
| 4.5 | 23.0 |
| 5 | 23.5 |
| 5.5 | 23.9 |
| 6 | 24.3 |
| 6.5 | 24.7 |
| 7 | 25.2 |
| 7.5 | 25.6 |
| 8 | 26.0 |
| 8.5 | 26.4 |
| 9 | 26.9 |
| 9.5 | 27.3 |
| 10 | 27.7 |
| 10.5 | 28.1 |
| 11 | 28.6 |
| 11.5 | 29.0 |
| 12 | 29.4 |
| 12.5 | 29.8 |
| 13 | 30.3 |
Note that this is a measurement of the foot, and the insole itself can be slightly larger.
An easy way of measuring foot length is by placing it on a flat surface and creating an outline with a pencil. The distance between the back of the heel and the most distant toe is the one you should be going for. Remember that one foot might be slightly larger than the other. In this case, the measurements from the larger foot should be taken into consideration.
Trimming the Inserts
Inserts come in many shapes, sizes, colours, and materials, but it can still be a problem to find a perfect fit. Some insole brands do not produce half sizes, or they are difficult to obtain. In such cases, trimming the inserts is a viable option.
Although one can trim inserts, it is necessary to check the specifications first. Some insoles might have a filling that should not be disturbed. Buy a pair that is greater but close to your size, and consult the packaging for trimming instructions. The trimming needs to be done properly, as it can greatly influence how the feet interact with the insoles.
How to Buy Inserts for Your Boots on eBay
Finding boot inserts on eBay is not a difficult task. You can find a selection of inserts in the 'Men's Shoes' section. To reach this section, start from the main page, and go through the 'Clothing, Shoes and Accessories' category. There are several subsections, and the insoles are mixed in with the other shoe offers or in the 'Mixed Items' subcategory.
A quick way to see the desired results is also through the search bar on any eBay page. Using the words 'inserts' or 'insole' as a query returns a highly relevant set of offers. Select categories afterwards to eliminate the results on women's insoles and other items that carry the same name. You can use filters to select a desired size. Be sure to check for special deals as well. eBay can surprise from time to time with interesting deals on merchandise of this type.
Conclusion
Choosing boot inserts is quite easy when one is well acquainted with what is available. One can find a number of inserts, each designed to serve a specific purpose. Identify your main motivation for purchasing inserts, and direct your attention to the models that can fulfill all requirements.
Those who suffer from everyday aches can benefit from a pair of orthotic insoles, specialised inserts are great for sports enthusiasts. Sports inserts can improve the performance of an athlete by improving his foot grip and shock absorption. Choosing the right size of insert is fairly simple, as insoles carry the same size numbers as footwear. The buyer should measure the foot length accurately to find the right size of insole. If the insoles are slightly bigger, they can be trimmed to fit.
As with many product categories, eBay can prove to be a great resource even when it comes to purchasing inserts for boots.
Insert|Insole|Boot|Orthotic|Gel Insert