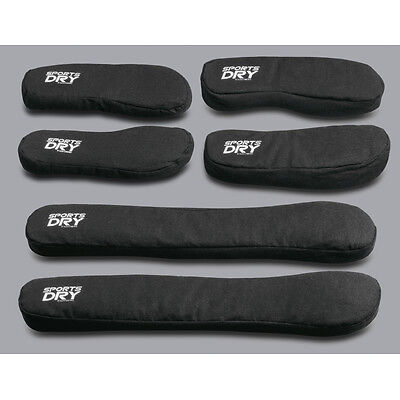 Whether they are for hiking, skiing, working, or fashion, boots are a versatile type of footwear that women love. However, everyone's feet are unique which means that boots, like all
women's shoes
, do not always fit the way they want them to, especially when they are worn all day. Because of this, many women like to use inserts to help make boots more comfortable and functional as well as to help solve basic fit problems.
However, choosing the right inserts for your boots is no easy task. The process involves first understanding the unique characteristics of boots and how they are supposed to fit your feet. There are also three types of inserts to consider, each of which meets different needs.
Understanding All About Boots
The term 'boot' is rather vague since the
types of boots
available on the market range from specialised
hiking boots
and skiing boots to high-fashion boots to niche options such as cowboy boots. However, what makes boots stand out from other shoe choices is their particular anatomy, which includes several key features. Once buyers understand the anatomy, understanding the way boots are supposed to fit helps determine what alterations need to be made through the use of inserts.
The Anatomy and Evolution of Boots
The real point that sets boots apart from other types of footwear is the extension of them covering up past the lower ankle onto the wearer's legs, sometimes reaching as high as the knees or beyond. Really, that feature is all that is needed to truly 'define' boots. However, in addition to this high top, most boots also have distinct heels which are separated visually from the soles.
Initially, the purpose of boots was to protect the wearer from the elements when working outside or participating in sporting events, such as horseback riding, skiing, or other sports that take place in rather wet or muddy conditions. As a result, boots typically contain specific elements designed to perform these functions, such as waterproof outsoles and ankle support. However, boots have become as much a fashion statement as functional footwear in today's culture, meaning that many boots these days are more for show than comfort. The popular
Uggs brand
of boots, for example, is notorious for their poor insole support, and thus requires many wearers to use inserts for comfort.
Finding the Proper Fit
While the different types of boots get pretty overwhelming once considered, discerning the proper fit of the boots is actually quite simple and universal. There are three factors that define how boots fit, each of which addresses one dimension of your feet. Determining this fit guides buyers toward the right inserts. These dimensions are defined in the table below.
Foot Dimension

How to Tell if Boots Fit

Can Inserts Help?

Length or depth
Toes should easily wiggle at the end of the boots
No
Width
Feet should be snug, but not tight.
There should be no sliding inside of the boots
Yes, but only if the boots are too wide
Volume
The 'bulk' of the feet should easily slide into the boots and not flop around once inside
Yes, but only if the boots have too much volume
Of all three fit dimensions, only boots that are too wide or too loose can be fixed with inserts. Simply put, no inserts fix boots that are too small in any of these dimensions and no inserts fix boots that are too long. The purpose that inserts are most likely to serve is an issue with volume since the addition of a layer under the feet helps the boots to fit more snugly. The volume of boots affects heel slippage, which causes blisters, and toe bang, which causes black toenails.
Additional support in terms of volume also helps relieve pain to other parts of the body related to the feet such as the ankles, hips, and lower back. The goal is to get boots that fit in such a way that it feels like large hands are holding the feet over their instep, which is where the laces are. You want to unite feet and boots in such a way as to make walking 'quiet'. Basically there should be minimal movement and therefore no noise being produced while walking.
Learning About Three Types of Inserts
Choosing the right inserts for your boots is as much about learning boot size as it is about learning about the inserts themselves. Knowing which fit problems inserts solve is a start, but it is not the end. In fact, there are three distinct types of insoles that buyers need to consider, each of which produces a different effect in terms of how the boots feel and the wearer's experience. This includes cushioned inserts, corrective inserts, and orthotic inserts.
Cushioned Inserts
Cushioned inserts
are the most basic type of boot inserts to choose. Basically, these inserts are exactly like the inserts that already come in more sophisticated boots, such as hiking boots, only they are thicker, and provide extra comfort and more support. Cushioned inserts are the best option for those looking to fix a problem with the depth fit of their boots, as they come in a variety of materials offering different levels of support and padding. This includes
gel inserts
, which are among the most popular on the market. Cushioned inserts are also the most affordable insert option.
Corrective Inserts
Corrective inserts are used to change the way in which your feet sit inside the boots. These inserts are great for boots that lack any sort of insole support, such as the aforementioned Uggs and similarly designed
fashion boots
. They are not customised to your feet, but corrective inserts are designed to solve specific problems such as ankles that roll in (pronate) or flat feet. Corrective inserts also provide an extra layer of padding, like cushioned inserts that help solve fit problems. Corrective inserts are middle range in price and are typically made of several layers of different materials.
Orthotic Inserts
The final option is orthotic inserts. These inserts, like corrective inserts, are designed to solve a particular problem with your feet or posture. However, orthotics are custom made for you by a podiatrist, chiropractor, or orthopedist. These inserts are much more expensive than the other options, but are the only way to really help people with major foot-related problems. In general, orthotic inserts are less 'comfortable' than corrective or cushioned inserts because of the role they play in posture correction. However, several different types of custom orthotics are made for different types of shoes, including boots.
Buying Boots and Inserts on eBay
The buying process for inserts is rather specific. Orthotic inserts are only purchased through a doctor, however, cushioned and corrective inserts are widely available in footwear stores and online.
eBay
, for example, has a large variety of inserts as well as the
boots
to go with them and are readily available for purchase.
Using eBay
New users can quickly
sign up
for an eBay account and get right to the shopping process. The website makes searching easy, offering a general search bar on every page as well as a site dedicated to special deals that save buyers time and money. Be specific in searches, offering terms like colour, size, and material, to avoid getting back a bunch of results that do not meet your needs.
Conclusion
Boots are a great type of footwear that offer women a variety of styles and functions. However, as is the nature with all fashion, not everyone fits into all items. Luckily, the fit of boots can be altered by using inserts. You simply need to know how boots are supposed to fit compared to how a particular pair actually does fit, and then use that knowledge to determine if boot inserts are right for you.
If they are, there are three distinct types of inserts to consider: cushioned inserts, corrective inserts, and orthotic inserts. The former two are both widely available for retail purchase, including through eBay which offers its users an easy route to finding the best boots and inserts.