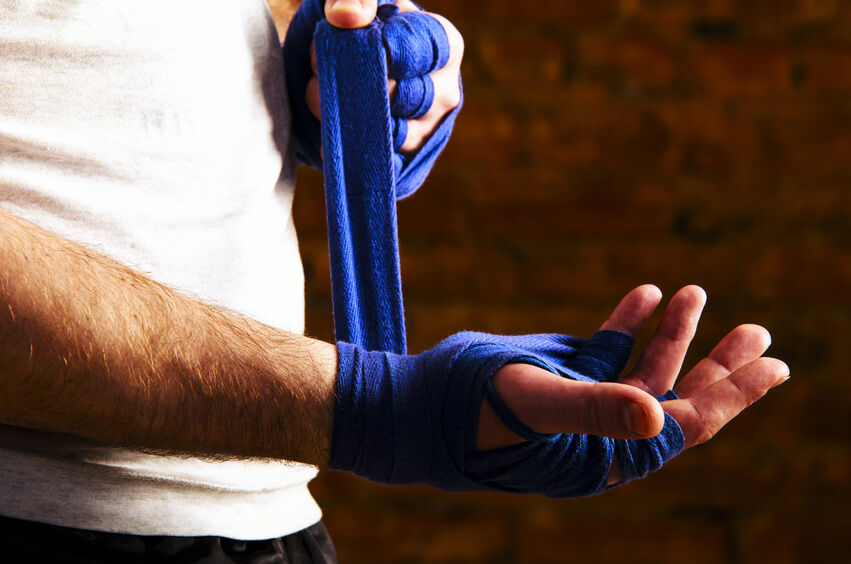 The Ultimate Fighting Championship league of Mixed Martial Arts (MMA) competitions requires each fighter to wear gloves to protect hands and knuckles during bouts. Consequently, aspiring fighters must choose from a huge variety of gloves by numerous manufacturers, which can be a daunting decision. However, the choice becomes easy when fighters recognise just a few key considerations when choosing a quality set of MMA gloves. These factors include materials, design and construction, and padding. It also helps to know the difference between competition gloves and sparring gloves.
Materials
As grappling gloves are not very large and are not extremely expensive, there is no reason to skimp on the quality of materials. Particularly fighters that intend to use their gloves in competition and not just in training should aim for gloves made only from the finest, strongest materials. Real leather is ideal for balance of comfort, strength, and durability; although, high-quality synthetic leather can also perform well.
Tough gloves for tough guys
Windy MMA Professional fight gloves are hand-made from 100 per cent full-grain cowhide leather. Fairtex is another brand of MMA gear that makes durable, competition-worthy gloves from high-quality leather that also feature a water-repellant nylon lining that holds up under sweaty conditions. Badbreed Competition MMA gloves are leather on the outside with an antimicrobial moisture-absorbing knuckle and wrist liner, along with neoprene inner-finger sections for enhanced flexibility.
Construction and design
Different glove manufacturers design gloves with different ideas about ventilation, flexibility, comfort, and protection. There are also differences in the quality and location of seams and stitching. A poorly sewn seam in a poorly lined glove can form a ridge of fabric or other material that digs into a fighter's skin, or otherwise irritates or interferes with performance.
The right fit for quick fists
Open thumb and open palm glove designs provide for a full range of movement, both offensive and defensive, while sparring and grappling. They allow for firm grips and for fists to form as quickly as possible. Wide hook-and-loop wrist straps also provide valuable wrist support. Revgear, Fairtex, Windy, and Kenka are all top-shelf MMA glove brands that feature these design elements.
Padding
While it may seem counterintuitive to wear padded gloves in a competition where maximum punishment of an opponent leads to victory, the key is to remember that the pads protect the wearer, not the opponent. Cut hands and broken knuckles not only lessen a fighter's chance of winning, but they could be grounds for interruption of a fight, per the rules of official competition.
Easy on hands, tough on opponents
The manufacturer injects Windy MMA gloves with latex for a firm, but foamy, layer of protection over the knuckles and backs of the hands. Fairtex Ultimate Combat MMA gloves feature three contoured layers of knuckle padding to absorb strike force.
Competition vs. sparring
The fundamental difference between sparring gloves and competition gloves is the thickness of the padding, which contributes to the categorical weight of the glove. The UFC requires that fighters' gloves be at least 113 g, but not much more than 170 g, depending on the size of a fighter's hands. Amateur competition gloves are typically around 170 g. The additional padding on sparring gloves tends to increase their weight to around 198 g.
Sparring safe and sound
If a fighter's fists absorbed the full force of every punch in every round of practice, they may not make it to the octagon or cage. To the extent that glove padding also protects a sparring partner, some consider it bad form to spar wearing competition gloves. It is particularly inconsiderate to sparring partners with less martial arts sparring or competition experience.
Perfect for practice
Venum "Elite" Sparring MMA gloves are an excellent example of what to look for in a sparring glove. Handmade in Thailand from premium Skintex leather, they feature sculpted anatomical finger notches with an absorbent lining for added comfort during tough training sessions. Multiple layers of sturdy padding make these 198 g gloves safe for both the fists and the target, while an ergonomic design further diffuses the shock of impact.
How to buy MMA gloves on eBay
For a great deal on gloves that both give and take a beating but do not break your budget, enter the terms "MMA gloves" into the search bar on any eBay page. Consider whether you require sparring or competition gloves and read the item description for details on the materials and construction of the gloves for sale. Examine any photos for a sense of their design and appearance. Also, be sure to check the feedback scores of the seller before committing to a purchase.