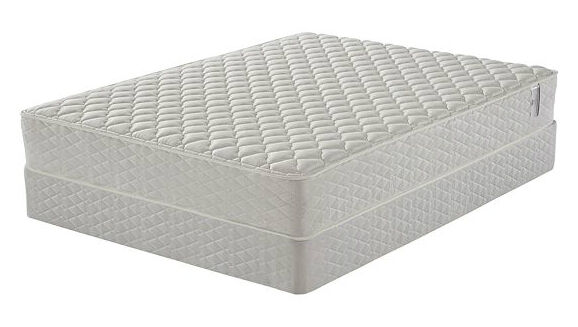 Achieving a good, solid night's sleep is essential in maintaining an active, healthy and happy lifestyle. Constant tiredness is linked to both mental and physical fatigue, resulting in the inability to complete basic tasks with enthusiasm and efficiency. Anxiety and even depression are symptoms of poor sleeping patterns.
One way to encourage an improved level of sleep is to ensure the bed's mattress is completely suitable for the user's requirements. Because of this, new developments in mattress design have been sought to cope with the various body weights, shapes and sizes of different people.
At the buying stage, more people are using the internet as a means of securing a purchase, mainly due to the increased choice and lower prices overall. Auction website eBay is one website that consumers visit to find the right mattress for their needs; this guide will look at buying from the eBay site.
What is a Mattress?
Used primarily for sleeping purposes, a mattress is a large pad usually placed on top of a bed base. They can be made from various materials, both natural and synthetic, along with metal springs that supply a soft, bouncy feel. Comfort and firmness are the main design considerations for bed mattresses.
Is a New Mattress Required?
If unsure about whether investing in a new mattress is the right decision, then consider the following points which can make the decision simpler:
- The mattress shows obvious signs of deterioration in its physical appearance, i.e. stains, rips, or tears.
- It has become uncomfortable to lie on. In terms of any apparent lumps, dips, or loose springs that have appeared in the mattresses shape.
- Aches, pains, strains, stiffness, or numbness occur after a night's sleep. If this is the case, the mattress is not performing at its best and will likely need replacing, even if no noticeable signs of wear and tear have been detected.
- The mattress is old and has been used on a regular basis for over 5-7 years. If this is the case, it is best to think about making the investment in a new model.
Types of Mattress
As the manufacture of beds has improved over the years, the mattress has become one of the most crucial aspects for designers to consider. Different types have emerged over the years; the table below looks at them further:
| | |
| --- | --- |
| Type of Mattress | Description |
| Open Coil | A common type of mattress, open coil versions include many springs which are joined together. There are different types of coil available, such as Bonnell and offset coils, which have different characteristics. They are usually a more affordable mattress type. |
| Pocket Spring | The springs in pocket sprung mattresses are wrapped individually, meaning that they move independently and in respect to the weight and body shape applied on top. Each spring reduces pressure points that open coil versions can create. |
| Airbed | Instead of springs, airbeds use air cushions as the means to provide support. They are less commonly used in bedrooms, but are a good travel or spare bed option to have. They provide a much softer exterior than spring beds. |
| Latex/Foam | Synthetic polyurethane foams or latex materials also form types of mattresses. They have natural elasticity, maintaining the original shape of the mattress and still sticking to the body's contours. Memory foam mattresses are also available on the market. |
Mattress Sizes
Before coming to make a purchase, knowing exactly what the size dimensions of mattresses will be extremely useful. For larger individuals or couples, look at buying at least a double size bed.
| | | |
| --- | --- | --- |
| Mattress Name | Metric Measurements | Imperial Measurements |
| Single Bed size | 92 cm x 187 cm | 3'0" x 6'2" (36" x 74") |
| Single Extra Long size | 92 cm x 203 cm | 3'0" x 6'8" (36" x 80") |
| King Single size | 106 cm x 203 cm | 3'6" x 6'8" (42" x 80") |
| Double Size | 137 cm x 187 cm | 4'6" x 6'2" (54"x 74") |
| Queen Size | 153 cm x 203 cm | 5'0" x 6'8" (60"x 80") |
| King Size | 183 cm x 203 cm | 6'0" x 6'8" (72" x 80") |
Also remember that different manufacturers around the world may categorise their beds in different ways; i.e. U.K and U.S mattresses may be classed differently to Australia models. A good tip in using eBay is to reveal mattresses located in Australia only to eradicate this potential misunderstanding.
How to Choose the Right Mattress
The points below will outline some tips to use when coming to buy a new mattress:
· Understand Tension. Although some chiropractors may recommend a very hard bed, most people will not require one unless they have a particular injury. For lighter people, a firm mattress will only prove to be uncomfortable. If it is too soft however, the body sinks into the hammock position, causing stress of joints and muscles throughout the night.
· Body Position. Most people will sleep on their side; in this sense all their weight will be applied into the mattress on one side. Look for foam models that stay in line with the contours of the body and allow the shoulders/hips to sink into the mattress.
· Amount of Springs. If buying a sprung mattress, the more springs inside will enhance its performance and prove to be more comfortable when sleeping. Look for models that have at least a 400 spring capacity for a single bed and 600 for a double, progressing further up for larger beds.
· Buy Brands. Buying a mattress that has developed from one of the leading bed mattresses can guarantee a sense of quality. Look out also for buying from specialist furniture outlets that use eBay as a platform to sell their goods – they will offer warrantees that assure buyers their purchase is safe.
· Think Big. One basic consideration that some people miss is that their bed may be too small for them anyway, thus promoting a bad night's sleep. Having more room will allow for extra movement and freedom whilst sleeping.
· Don't Underspend. The purchase of a mattress is a crucial one and can even have an effect on a person's quality of life. In this sense, trying to cut corners and buy a less expensive model can have detrimental effects in the long run and may need replacing soon anyway.
Buying a Mattress on eBay
Searching for items is relatively simple on the eBay website, although entering the 'Mattresses' category will provide the most suitable results. To do this, go via the Home & Garden section of the site, followed by Bedding.
When within the 'Mattresses' section, search by keyword or use the refinements menu to narrow down the results. Choose between the bed size, from singles up to super king, or the particular brand. Selecting a desired price range is also useful for buyers, where a suitable minimum and maximum amount can be settled upon.
Be careful to read the description of the mattress carefully, taking note the size dimensions in particular. Check the postage conditions also as mattresses can sometimes incur high courier costs.
Searching within the eBay Deals pages can sometimes present the chance to find further deals at reduced prices. Search the Home & Lifestyle category for the Bedroom section and look under the Beds & Mattresses tab in particular.
Conclusion
Mattresses can be the key to a good night's sleep. Take time when coming to buy one, researching the different types and how their characteristics suit different people. Using eBay presents the best chance to find a particular mattress as thousands are listed on a regular basis. Take time when using the site, reviewing the seller's history and contacting them if necessary.