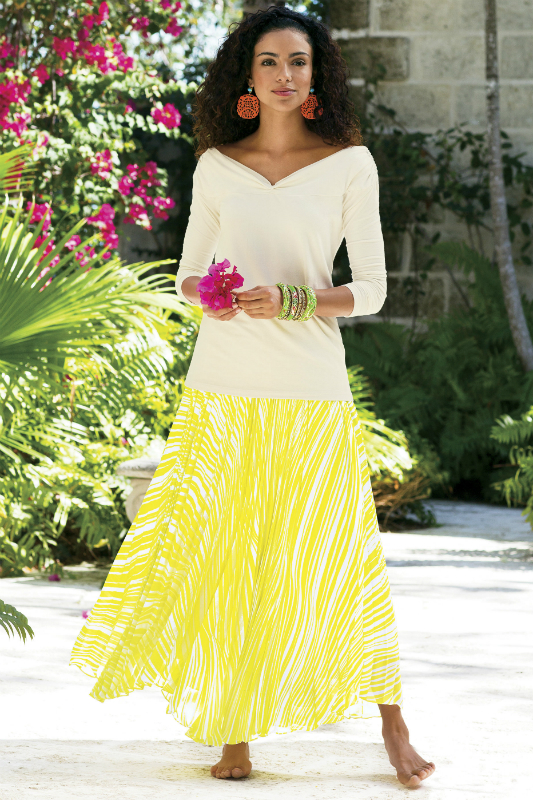 A skirt is defined as a tube- or cone-shaped garment that hangs from the waist and covers part or all of the legs. There are so many different styles of skirts that selecting the right skirt length for your body type is not always easy. The wrong skirt length can make the wearer's legs look shorter and stumpier. On the other hand, the right skirt length can make legs look longer, shapelier, and slimmer. Hemlines vary according to taste, social context, and fashion.
With just the right amount of research, a buyer can feel confident about purchasing a skirt that flatters her figure. Skirts can be purchased at women's fashion stores, boutiques, and via the online auction website, eBay. Before purchasing a skirt, there are a few factors that need to be evaluated. One should think about the right skirt based on height, understand different body types, know how to show off positive features, and appreciate the differences between skirt lengths. One should also be aware of current fashion trends.
Dress for Your Height
Whether the wearer is short, tall, or somewhere in between, there is a skirt length that looks just perfect for her height. It is recommended that women with petite frames wear shorter skirts, because this helps add the appearance of height. On the other hand, tall and leggy ladies have an easier time pulling off long, flowing, layered skirts. A long skirt should touch the ankle bones. If it is shorter, it may end up looking too small. A woman of average height can wear a long or short skirt. It is recommended for her to try on both styles with the shoes she plans on wearing, in order to get the full effect and decide which is most flattering.
Body Types
Understanding body types is the key to selecting the right skirt length. No matter what trends or fads are in, if the buyer sticks to the basic rules of dressing for her body type, then she always looks great. Different body types include: pear, apple, athletic, hourglass, slender, inverted triangle, tall, and petite.
| | |
| --- | --- |
| Body Type | Description |
| Pear | Small bust, narrow shoulders, and bigger hips, thighs, or bum |
| Apple | Ample bust, rounded stomach, and slimmer hips |
| Athletic | Sporty, strong body, and minimum curves |
| Hourglass | Ample bust, curvy hips, and a defined slimmer waist |
| Slender | Very slim with few curves |
| Inverted triangle | Shoulders are broader than hips |
| Tall | Long legs and torso |
| Petite | Small frame and shorter legs |
The chart above shows that, regardless of body type, there is a skirt for everyone. A safe choice when purchasing a skirt is one that falls right above the knees. This classic style looks good on individuals of all shapes and sizes. Selecting the right hemline helps to flatter a woman's figure. Understanding different body types makes it easier to disguise flaws. For example, a woman who wants to hide a full stomach should not wear high-rise skirts, belts, or waist-cinching tops. It is recommended for women with an hourglass shape to purchase skirts that work with their natural curves, rather than against them. An athletic body type tends to look best in a skirt that is snug in the middle and flares out at the bottom.
Accentuate Your Assets
The right skirt length shows the best features of a woman's body. Therefore, having a good understanding of the best features for different body types helps one to select a skirt length that can emphasize those assets. Short skirts are recommended to show off toned legs. A knee-length pencil skirt shows off a toned rear end. A flared skirt that just covers the knees is suggested for curvy girls. One rule to pay close attention to is never to let a skirt end at the widest part of the legs, typically at the calves or thighs. This chops features in half and makes them appear larger.
The color of the skirt also plays a role in accentuating assets. For example, a black skirt can be more slimming than, say, an orange or white skirt. Age also plays a role in deciding on the perfect skirt length for a body type. Generally speaking, for instance, it is unusual for an older woman to wear a thigh-high denim skirt. Another general recommendation is that a skirt should not be wider than it is long. For example, a size 14 skirt should not be shorter than it is wide. Following social norms, wearing an appropriate skirt length is recommended to select the perfect skirt for the wearer's body.
Skirt Lengths
Skirts come in a variety of lengths in order to accommodate a wide variety of body types. Skirts of different lengths, from short to long, include mini-skirts, short skirts, medium-length skirts, maxi-skirts, and long skirts. There are three danger zones when selecting a skirt length. First, a mini-skirt can be too short and appear unflattering on certain body types. Next, a mid-calf hemline, that sits right at the widest part of the calves, is not flattering for almost all body types. Finally, a hemline at the ankle danger zone, which is between the area right above the ankle and the ankle itself, can cause the ankle to appear huge. Luckily, most hems are easily modified, and can be changed to flatter a specific body type.
Dress Skirt Lengths
Typically, dress skirt lengths are much less confusing. There are three main skirt lengths when it comes to purchasing a dress, including short, cocktail, and full-length. Typically, a short skirt is classified as any skirt that falls above the knee. A cocktail-length skirt falls below the knee but not quite to the floor. When purchasing a cocktail-length skirt, the buyer has to be careful that it does not fall at one of the danger zones that can cause the woman to look larger than she actually is. Finally, a full-length skirt is a skirt that reaches almost to the ground and is definitely lower than the ankles.
Current Fashion Trends
While it is not recommended to follow all fashion trends, it is important to know what is in style. It is important to choose skirts that look great on the person wearing them, but if that type of skirt is no longer in style, it can make the wearer look old and out of touch.
How to Buy the Right Skirt for Your Body Type on eBay
Once the buyer knows the right skirt length for her body type, the shopping process can begin. eBay offers a wide variety of skirts of different lengths, in order to accommodate every need. There is a search bar located on every eBay page, making it very easy for buyers to find what they are looking for. Simply type in the search box, "skirts", and a wide variety of search results appear. In order to browse through a smaller product listing, the buyer can type in more specific keywords, such as, "chiffon skirt". Before purchasing a skirt, the buyer may want to check out the deals section to see if she can find the perfect skirt at the perfect price.
Before purchasing a skirt from a seller, it is recommended to evaluate the feedback. Feedback is beneficial to sellers and buyers. Sellers benefit from positive feedback because buyers read the positive feedback and are more likely to purchase from that particular seller. Buyers benefit by reviewing the feedback and, if it is negative, deciding to purchase from another seller who is likely to be more reliable.
Conclusion
There are many factors that need to be considered when selecting the perfect skirt length for a given body type. First and foremost, choosing the right skirt length for a body type has a lot to do with the wearer's height. Different skirts are recommended based on the height of the wearer. For example, maxi or long dresses are recommended for tall women with long legs. Next, the wearer must have a good understanding of her body type before she can decide on the right skirt length. The right skirt length can complement specific features and accentuate all of the assets of the wearer. With just the right amount of research and understanding of body types, the buyer can ensure that she has made the best choice when it comes to purchasing a skirt that flatters her body type.