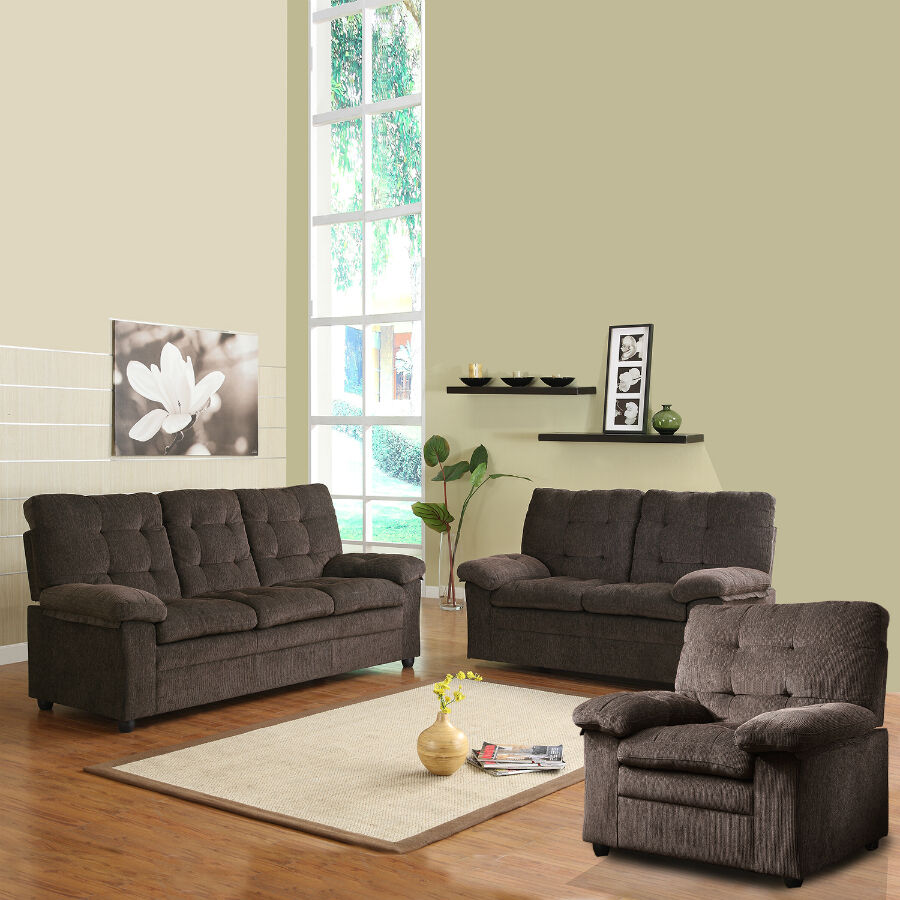 Choosing furniture is key to making sure that any house, flat or apartment reaches its full potential, and a quality set of sofas or couches is as much a part of the lounge makeup as a well-made bed is to the bedroom. Many considerations must be thought upon before buying a sofa set, with everything, from the amount of seats needed to the material used to construct it, being part of the process.
eBay has one of the largest collections of brand new and used sofa sets anywhere online. The following guide helps buyers to identify the best sofa for their abode and how to buy it safely and securely using eBay.
What Is a Sofa?
Generally speaking a sofa is characterised as a piece of furniture that has enough space to seat two or more people. Sofas are generally made up of the frame that is then covered with soft material, and has an additional covering that people sit on.
These are almost the only things that are standard with all sofas, but those aside, there are many things that differ from one set to the next.
There are a number of choices that have to be made when buying a sofa set for the first time, and these include:
- Seats Present
- Type of sofa
- Material Used
The next sections of the guide explain the different decisions to be made that make sure buyers find the perfect sofa set.
Sofa Types
When it comes to the type of sofa needed, eBay allows users to search using a variety of different parameters to make the choice a lot easier. The table below explains the main types in some more detail:
Sofa Type

Description

Single Seater

· A sofa that is designed to seat a single person, although can take more.

· Popular as part of a number of pieces or for single people.

· A single seater can be known as other names such as armchair, or even just a chair.

Sofa Bed

· A normal sofa that has the capacity to be converted into a spare bed.

· Useful for when friends stay over at one's house or apartment, as they can sleep on the sofa bed.

· Most have a mechanism that allows the mattress to lay flat.

· A number of different styles can be bought and this must be considered before making a purchase.

Sofa

· A sofa, as listed on eBay, will either be a loveseat (two seater) or more.

· Sofas are constructed from different materials and most people choose a sofa combined with a number of other seats.

· Most common type of sofa bought by customers.

Suite

· Sofas sold in a group are known as a suite.

· A three-piece suite usually consists of a three-seater, loveseat and a single-seater.

· Ideal for buyers that want more than one seat and households where a lot of seating is needed.
Sofa Material
When buyers know the type of sofa they want, the next thing to decide is the material the coverings are made from. Each offers various advantages and disadvantages, with the following headings going over each material in some more detail:
- Cotton: A popular choice for those looking to buy a sofa for a room that is used less frequently. This is due to the lifespan of cotton and the fact it's hard to clean. It looks good and is comfortable to sit on.
- Linen: Has similarities with cotton in that it's more suitable for use on a second sofa. Less stain resistant than other materials, like leather, and linen won't perform well when up against children or pets.
- Wool: An incredibly comfortable material that isn't used in many sofas due to price.
- Leather: Very popular type of material that stands the test of time and can become more comfortable as the years go by. Leather is among the most expensive types of sofa on the market and is very easy to clean thanks to the material's properties. Not ideal during the summer months, as the material becomes sticky and uncomfortable. Care must also be taken not to rip the leather and it means pets and sharp objects should be kept away.
- Faux Leather: Synthetic material that is designed to imitate leather in every way – apart from the smell. Faux leather Is a lot more affordable than full leather and its durability makes it extremely attractive to anyone wanting to buy a sofa set.
- Other Synthetics: Buyers are starting to come around to synthetic sofas due to the ease of cleaning that can be achieved. The affordability of such fabrics is also a motivating factor when buyers choose them over more expensive fabrics. Popular types of synthetic materials include Chenille, Acrylic, and Microfibre.
Other Considerations When Buying a Sofa Set
Buying a sofa set is a big step in anyone's life and a variety of things must be considered. The following list outlines some of the main considerations that should be in mind before making a purchase:
Seats needed: Before anything else is decided, the buyer should choose on the amount of seats the sofa will have. This makes it easier to decide between the different types mentioned earlier.
Colour: More down to personal preference than anything else, but the colour of the sofa is an important factor to take into account. Think about the décor of the room it's to be placed in, which will give an idea of the best colour to go for.
Space: It's crucial that before buying a sofa the dimensions are taken into account. Sellers will usually list these in the item description and it's then just the case of making sure the sofa set fits in the location.
Number of Pieces: This only really applies to people looking at buying a suite containing more than one piece. Decide on the amount of pieces needed and make measurements accordingly.
Buying Sofa Sets on eBay
Acquiring the perfect sofa set has never been easier as it is now, with the Internet providing the largest collection of sofa sets ever seen in one place. eBay is one of the largest retailers in the online space and gives buyers the chance to find items at very affordable prices.
Sellers that use the site are a knowledgeable and helpful bunch, meaning that any problems encountered are always solved quickly. Below is a list of pointers that will help buyers find sofa sets.
Category: One way to find sofa sets is to use the categories tab, which is on the site's main page. From the drop down list, simply choose Home & Garden. Next, scroll down to Furniture and hover over it until a list of options appears. From that list choose Sofas, Couches. There will now be a list of all sofas and couches available to buy on eBay. To narrow it down to just sofas, click on Sofas on the left hand side of the page.
Search: eBay has an extensive search feature that allows buyers to carry out detailed searches. To do this, type search terms into the box present at the head of any eBay page and use the drop down list to the right of the bar to narrow things down.
Colour: eBay makes it easy for buyers to narrow down the results according to a certain colour. Look to the left side of the page for a list that allows a shopper to look at items by individual colour, with popular shades such as Black, Blue, Brown, and Red present.
Condition: Buyers can also narrow the results down according to the condition they will find the item in. Items are sold in the following conditions: Brand New, New: Never Used, Manufacturer Refurbished, Seller Refurbished, Used, and For parts or not working.
Be Safe: Shopping on eBay is like any other Internet based service, where buyers are urged to be cautious. The auction site makes this easy by providing an extensive transaction history for every buyer in the form of detailed feedback.
eBay Deals: There are a number of deals on home furniture available on the eBay deals section of the site. Items for sale here also benefit from free delivery prices. To find sofas, simply go to the 'Home Furniture' section and scroll down through the items.
Conclusion
A sofa set is an essential centrepiece to any lounge or living room and provides a comfortable place for the whole family to convene. They come in a number of different configurations with buyers able to decide on seats, size, colour, and a number of other things, so to make sure they have the best item possible.
Buying them from eBay is extremely safe and easy, with a selection larger than any other online retailer. When ready to complete a transaction remember to use PayPal to pay safely and securely.