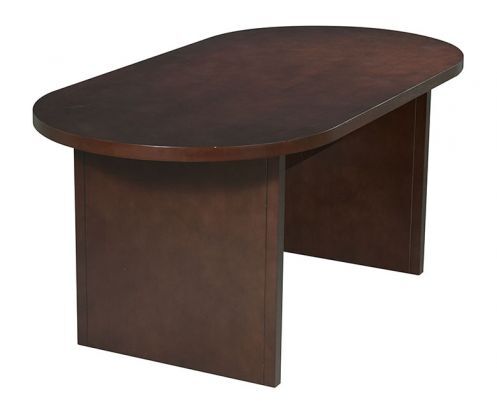 The office table (often labelled as a desk) is the most important piece of furniture in a workspace, and its significance is regularly undervalued. When the time comes to buy a new one, it's crucial to understand what style suits a room, and how the right table can aid productivity. The key features of a table include everything from storage to longevity. This guide looks at table features, and how to acquire one that is suitable for the office environment.
Those looking for the best prices on office furniture should log-on to eBay and check out their latest deals on desks and tables.
Purpose
There are a variety of different kinds of table that are suitable for placement within an office. Shoppers must look for something that corresponds with their job role, and think about where the table will be positioned. For example, some people may require something large and executive, whilst others may just need a basic workstation. The job role a person has will play a key part in dictating the type of table needed.
Type of Wood
The key element of any table is the wood used to create it. In reality any type of wood can be used to make an office table, but there some that are more suited to it. The type of wood used also has a connection to how much a table costs. Before picking a wood type it is important to understand their individual credentials.
| | |
| --- | --- |
| Type of Wood | Description |
| Particle Board (MDF) | Made from wood scrapes and sawdust, the two are stuck together with glue. It is covered with veneer in order to encapsulate its contents. This form of wood is popular as its highly affordable, but its low-end price is largely to do with its fragile nature. |
| Oak | Hard and heavy, oak is a wood that will last for years after initial purchase. Lighter in colour, the grain gives its appearance a touch of elegance. It's not a smart choice for those wanting a large table, as its weight makes it near impossible to move. |
| Walnut | Walnut is a soft grain wood that is light in colour. Similar to pine in terms of weight and density. They are a little bit lighter than oak tables, but still aren't particularly easy to move. Walnut also tends to give off more of an informal image. |
| Maple | Unique in colour as it has a reddish tint, maple is considered a popular choice for office tables. Versatile as it can be smartened up or dressed down depending on the work environment it is used in. It is hardwood by nature so expect such a table to be around for the long haul. |
| Birch | Its wavy grain makes it distinguishable from other wood forms. It can take the form of various tables and is the chameleon of wood types. Not overtly formal, which doesn't make it wholly appropriate for use in a work environment. |
| Cherry | Another popular choice due to its vibrant colour. Cherry wood is hard, but has a softer touch than walnut and oak. Its straight grain makes it easy to sand down and manipulate. Cherry wood has a formal appearance that makes it a big seller for office furniture suppliers. |
Style
Interior designers and furniture makers have changed the way that people approach office tables. What was once a basic and common product has now become an item that is not only creative, but is an expression of personal style. The selection process is now much more than just selecting a colour of square shaped table, experimenting is now commonplace.
Shoppers should look at L and U shaped tables if they want something different, or are looking to add distinct touch to an office environment. In fact, it is possible to get a table custom designed, if it is something within a seller's capabilities and fits into a shopper's budget.
Price
Budget is what dictates what is in reach to a shopper, and it is no secret that every good item comes at a price. For those looking for something economical, expect it to not be as sturdy because longevity comes at a cost. When someone is ready to invest a little more money, they should look towards luxury office tables.
Pre-Assembled or Flat Pack
There are two ways to acquire a high quality table. One way is to buy a table preassembled, but those who do this should be prepared to pay additional costs and delivery charges. The other way is a real money saver, but will consume more time in order to get ready for use. Flat pack office tables require building in the home or office, which makes them more cost effective than ones that are ready built. When choosing to build a table, shoppers should take the following into consideration:
· Assemble the table in the room that it will be permanently situated in.
· Buy an adequate screwdriver that can handle all the screws inside of a flat pack.
· Don't force parts or over tighten screws, as this can actually damage the wood of a table.
· Heavy tables are hard to move, so make sure it's positioned correctly, which will ensure that it doesn't become a hassle in the future.
· The manufacturer includes instructions for a reason; use them in order to get a correctly working table.
How to Buy an Office Table on eBay
There is absolutely no doubt that the most important element of an office is a table. It is where everything from laptops to paperwork are based, so it's important that a sturdy and reliable one is purchased. It used to be that shoppers would have to buy a table from specialist office equipment retailers, but not anymore, thanks to the advent of online shopping. eBay has made buying one an effortless process, and also highly affordable.
Start on eBay's homepage and select the business option from the categories on the left. Then select office furniture and desks from the sub-portals to get more refined search results. Another way to find the perfect office table is to take advantage of eBay's keyword search options. For example, typing in 'maple office table' will bring up a tailored list of search results. To get more hints on how to search eBay effectively, head over to the search tips page.
After winning an auction, one should then make a payment with PayPal, which is eBay's preferred payment system. The reason eBay endorse PayPal is due to how they protect sellers when something untoward occurs with an order. Thebuyer protection programme makes sure that shoppers don't lose out in these rare instances.
Conclusion
The era of the boring standard office table is long gone, as they can now be as stylish as the person sitting at it. Different woods, designs, and shapes are all readily available. When looking for a table there is no shortage of retailers to choose from, each of which claiming to offer a better deal than the next. But in the world of office furniture there is only one retailer who can make claim to having the biggest selection of office tables. That retailer is eBay, the market leader in office furniture and desks.