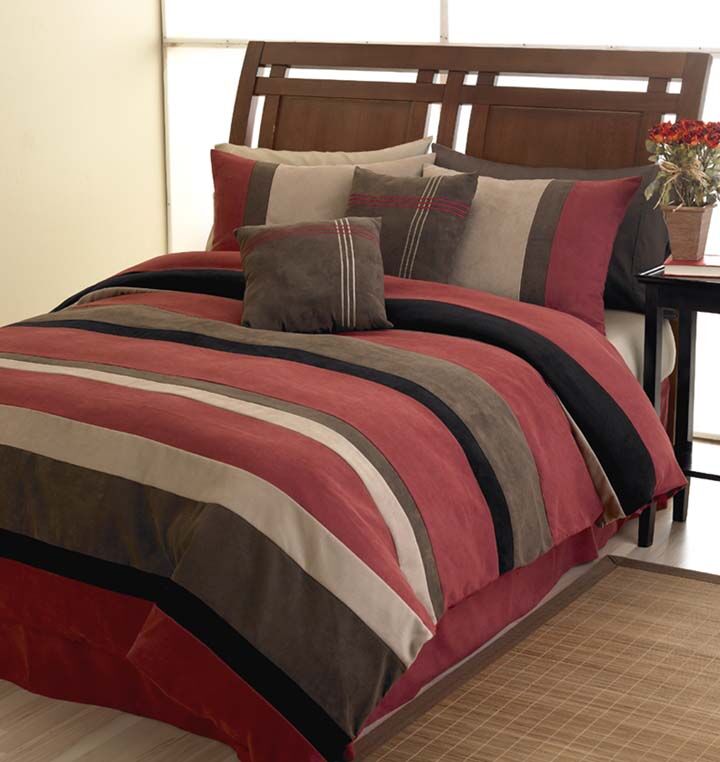 When shopping for sheets, consumers have many decisions. One of the biggest factors to consider is the thread count, which is found on both the outer packaging and the sheets' attached labels. This number refers to weave of the sheets, specifically the amount of threads per square inch. For example, sheets with a thread count of 200 have 100 horizontal threads, known as the warp, and 100 vertical threads, called weft. The thread count affects the softness and durability of the sheets.
In addition to the thread count, it is also beneficial to understand how the fibre, weave, and finish also affect the comfort and longevity of a set of sheets to ensure a smart purchase is made whether on eBay or elsewhere.
A Closer Look at the Numbers
Sheet shopping is often overwhelming because there are so many numbers out there. When looking at the thread count, it is important to keep in mind a general rule of thumb: the higher the number, the softer the material. Most commonly found are sheets with thread counts of 150 to 800. However, some low-end sheets are available with 80 thread counts, whereas more luxurious sheets have thread counts as high as 1200. When looking at the numbers, keep a few factors in mind, such as the feel of the fabric, price, and purpose. No one thread count is perfect for everyone, so choose based on what characteristics are most personally important.
| | | |
| --- | --- | --- |
| Type of Sheets | Thread Count | Description |
| Standard | | Some scratchy spots, inexpensive, and somewhat durable |
| Good Quality | | Somewhat soft, inexpensive, and durable |
| Percale | | Soft, affordable, and durable |
| High Quality | | Very soft, fairly affordable, and durable |
| Luxury | | Extremely soft and smooth, expensive, but not as durable |
The most popular sheets fall within the 200 to 500 thread count range, and these withstand wear and tear very well while also providing adequate comfort. Although luxury sheets with high thread counts are really soft, they are not as durable because the individual threads are extremely thin; thus, they do not wear well over time as the threads begin to shred.
Personal Preferences
When looking at sheets, thinking about what is most important is a matter of personal preference. For those who prefer classically crisp sheets with an elegant drape, a percale weave, which is a 200 to 300 thread count, is perfect. For those who like soft, silky sheets that give a light sheen on the bed, a sateen weave is a good choice. Sateen sheets are most often available in 500 to 600 thread counts.
Price
Price is also important when looking at the thread counts for sheets. Very cheap sheets are susceptible to shrinkage and are not very soft. A good choice for those who want the best value for the price are percale sheets. These are very soft and affordable. Additionally, they hold and maintain their shape well over time and after repeated washings. For consumers who have a bit more money to spend and desire the utmost in comfort, luxury sheets are an ideal treat.
Purpose
Thinking about the purpose of the sheets is also important when choosing which thread count to get. For example, are the sheets for a child's bed and therefore need frequent changing? If so, those with thread counts of 180 to 300 are good choices. On the other hand, if the sheets are meant for a guest room bed for infrequent company and do not require frequent laundering, consumers might prefer an extremely soft option, such as luxury sheets with an 800 or higher thread count.
Other Considerations When Buying Sheets
Rather than basing buying decisions solely on the sheet's thread count, consumers should also consider other factors, such as the fibre, weave, and finish. All of these characteristics contribute to the overall impact of the sheets.
Fibre Quality
Sheets come in a variety of fabrics, such as flannel, jersey, or silk. However, the most widely used material is cotton. Sheets that are 100 per cent cotton have many advantages. They are moisture wicking, unlikely to stain, and cool and soft to the touch. The highest quality of cotton sheets is long staple or long fibre cotton. The longer the fibre is, the stronger and finer the yarns. With finer yarns, more can be woven into each square inch of fabric, which results in a softer, more flexible material. Examples of long staple cotton fibres include Egyptian cotton, pima, and supima. Cotton polyester blend sheets are another option to 100 per cent cotton sheets; they are wrinkle-resistant, durable, and cheaper than pure cotton sheets.
Weave
The weave is another factor to consider. It affects the feel of the sheet, its appearance, lifespan, and price. The most basic plain weaves are inexpensive and woven from an equal number of warp and weft threads. Percale, known for its long lifespan and crisp texture, is an example of a plain weave with a thread count of 200 or higher. Sateen weaves with thread counts of 500 or higher contain more vertical than horizontal threads. Because of the high number of vertical threads, the fabric is exceptionally soft; however, it is more prone to pilling and tearing.
Finish
Once the cotton threads are woven into a fabric, the sheets are finished with chemicals, such as chlorine, formaldehyde, and silicon, to prevent shrinkage and wrinkles. Moreover, the chemicals also produce a sought-after sheen. The fabric also undergoes a process called singeing, which burns off the small fuzz that leads to pilling on the sheets. Some sheets undergo a treatment called mercerizing to increase the strength and shine of the fabric.
For consumers with severe allergies or chemical sensitivities, there are a few manufacturers who offer pure-finish sheets. These sheets are produced without the use of chemicals. Another more widely available option is organic sheets, which are untreated and woven from cotton grown without the use of pesticides. .
Buying Sheets on eBay
eBay offers a convenient way to locate sheets of all sizes, colours, and brands. It boasts a large inventory of low-end, mid-range, and luxury sheets from sellers all over the world. Furthermore, sellers offer competitive pricing and other incentives, such as free shipping. Once you have a free eBay account, you have many shopping opportunities, including eBay deals.
The easiest way to find a set of sheets is by entering specific keywords into the search box on any eBay page. For example, a general search would entail simply typing in "sheets" into the search box. You can also be more specific with your keywords. For instance, if you want a high thread count, try searching for "1000 thread count sheets" or "1000 TC sheets" as thread count is often abbreviated to "TC". You can browse through the relevant listings and add additional filters to narrow down the listings.
Conclusion
Knowing which thread counts are best suited for the intended purposes, such as for a child's crib, king size bed, or guest room bed, is helpful when sheet shopping. Those who want soft sheets that can last a long time should choose 100 per cent cotton sets that have thread counts of 300 to 500. Those preferring the finest, silkiest sheets should look for 100 per cent cotton sets with 800 or higher thread counts. Moreover, understanding the different weaves and finishes available is also advantageous to consumers.
When ready to purchase sheets, consumers have several options, such as checking out local department stores or online linen retailers. But, for the best deals, interested consumers should look no further than eBay for a convenient and enjoyable shopping experience.
sheets|bedding|bed sheets|sheet sets|cotton sheets