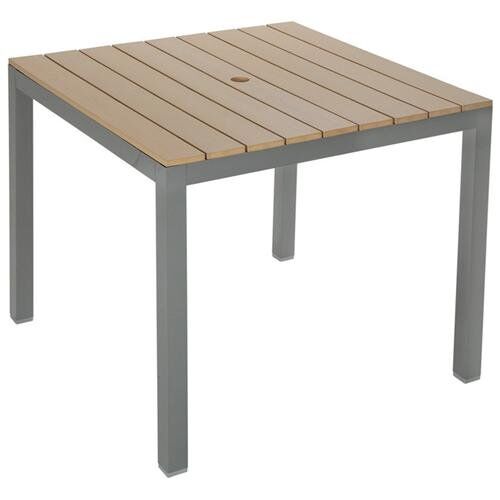 It may seem that cleaning outdoor furniture is just a matter of hosing it down but the job often turns out to be a little harder than expected. Moisture and rain cause mildew and mould, pets and constant use cause scratches and scuff marks, and birds and insects can leave stains that do not easily come out. Apart from these dangers, there is always the risk of rust, chipping, rips, and fading. However, with the correct cleaners on hand, all kinds of materials can be cleaned fairly simply. The key is knowing how to clean the different materials one encounters on outdoor furniture. Knowing how to clean and protect each of these materials takes the stress out of keeping outdoor furniture clean so that family and friends can focus on enjoying the great outdoors.
Outdoor Chair and Table Materials
Outdoor furniture can be made of many different materials. The materials chosen have many things in common. They are generally durable, waterproof, and can withstand strong amounts of exposure to sunlight. Despite these characteristics, no material can completely withstand the effects of strong sunlight, dirt, and water forever. Also, they require different cleaners because some materials are more fragile than others. The main materials used include plastic like vinyl and polywood, metals like iron and aluminium, and woods like teak and cedar.
Cleaning Plastic Patio Furniture
Plastic is so affordable and useful that everyone has it in their yards. The only problem is that white plastic chairs and tables are prone to dirt, grime, scratches, scuff marks, and generally looking dingy. If this is the case, it requires a cleaner with some kind of whitener. Automatic dishwasher detergent (unlike hand washing dish detergent) has brighteners that make plates come out looking whiter.
Using the Proper Cleaning Agents
These detergents can do the same for white plastic. Water and bleach can also do the trick. To use either of these methods, spray the solution onto the chair and leave the chair in full sun for 15 minutes. Then, spray it down again and scrub with a brush or sponge. Hose off the cleaner. The chair should be as good as new. To keep it from getting dirty again quickly, use car wax. Apply and buff with a clean cloth. In a pinch, WD-40 can also bring a shine and even colour back to old plastic yard furniture.
Caring for Polywood Resin Chairs and Tables
Polywood is a hard material made entirely from recycled plastic. One benefit of resin or polywood is that it can easily be cleaned with just soap and water. A solution with bleach can be used if necessary without affecting the colour of the furniture. Polywood furniture often has Xylan-protected stainless steel hardware. If the Xylan coating has worn off, clean the hardware with a mild abrasive like baking soda and and a bristle brush. Paint can be used to seal and protect the hardware.
Wrought Iron Furniture
Wrought iron can be kept clean with just some dish detergent and warm water. If there is a major problem with rust, however, do not apply water. First sand down the rusted parts and clean the area of all rust. Then prime the bare metal with an oil-based primer and paint again. Apply wax to keep water out.
Aluminium Furniture
Aluminium does not rust but it does corrode if it comes into contact with pollutants in the atmosphere. In general, washing aluminium furniture with a mild detergent and warm water should be enough. If there is pitting or corrosion, use a mild acid like vinegar to the detergent solution. Apply wax when the chair is clean to protect it further.
Tending to Teak Outdoor Furniture
Teak is a dense wood prized for its durability and resistance to rotting. Contrary to popular belief, teak does not need to be rubbed with teak oil periodically. This practice began with ships made of teak which were exposed to salt water, which in turn would strip the wood of its natural oils. Applying teak oil to teak outdoor furniture is likely to saturate the wood with oil and may trap moisture, leading to mould and mildew.
Special Care
Instead, use a mild dishwashing detergent (not one made for dishwashing machines, as these are more caustic) and scrub with a brush. Of course, as with any wood, it can be sanded if absolutely necessary. Paint and stains can also protect the wood more, but many people enjoy the look of weathered teak, and more protection is usually not necessary. Do not use pressure washers with wood, as high pressure can split and damage any kind of wood.
Other Wooden Furniture
Cedar and pine are other common woods used for patio furniture. Since these are softer than teak, they need more care. When scrubbing with a stiff brush, for example, be sure to follow the pattern of the grain. While cedar's red hue is beautiful when it is new, it soon weathers into a grey colour. The only way to keep the red colour is to seal the furniture with a coloured sealant that has UV-protection.
Wood Protection
Clear sealant can protect the wood from rotting but does not prevent the wood from changing colour. Use bleach with caution on wood, as it breaks down the wood fibres. Vinegar and baking soda are better cleaners, and sanding lightly can take care of any major stains. However, sanding removes any protective coatings on the wood so be sure to replace them with a sealant. There are sealants made specially for wooden patio furniture.
Cleaning Outdoor Cushions and Fabrics
The hardest part about cleaning cushions is drying them quickly and thoroughly to prevent mould. If the cover can be removed, this is ideal. Read the instructions carefully and wash the covers with non-chlorine bleach. The stuffing should be made of polyester batting which does not hold moisture. This can be washed with a bleach solution as well, and hung up to dry afterwards. The stuffing can also be easily replaced by buying polyester batting or pillow filler.
Canvas Fabrics
Canvas is an extremely tough fabric that can also stubbornly hold stains. Direct sunlight, along with hydrogen peroxide and a strong detergent, can do wonders. Be careful using bleach if the canvas has its natural cream colour, as even a little bleach can leave the fabric speckled with bright white. Scrub the canvas with a stiff brush after it has been in the sun soaking for 10 minutes or so and then rinse and hang it up to dry. Note that canvas cushion covers should be placed on the pillow while damp so that the canvas can regain its correct shape. Otherwise, it may not stretch properly when fitted on the cushion again. Canvas can be protected with outdoor fabric finish.
How to Buy and Clean Outdoor Furniture on eBay
Finding great deals on outdoor furniture, as well as everything you need to keep the furniture in good condition, is easy with websites like eBay. By learning to shop on eBay, you can order everything you need from the comfort of your home. To find patio furniture on eBay, just enter a search term like 'outdoor table' in the search box on any eBay web page.
You can then refine the search by navigating to the correct subcategory and using the search criteria provided, including price, material, condition, and even colour. You can even look for sellers in your area so that a local pickup may be possible to avoid shipping costs. Once you find a listing you are interested in, check the seller's feedback score. This innovative eBay feature makes it easy to find sellers with a history of excellent customer service.
Conclusion
Outdoor furniture is tough and weather-resistant, but it still has to be cleaned and protected from the elements periodically. Fortunately, this is fairly easy to do. Basic household cleaners like dishwashing liquid, vinegar, baking soda, and water are the basis for cleaning most materials. Both chlorine and non-chlorine bleach can be useful, as well as hydrogen peroxide for whitening and removing difficult stains. The only tools necessary are sponges, scrub brushes, and cloths.
Plastic, wood, and metal furniture can all be cleaned with these supplies, as well as fabric seats and cushions. Outdoor furniture can be protected with car wax, stains, sealants, and fabric finishing sprays. These products help maintain the clean surface so that a deep cleaning is needed less frequently. Both outdoor tables and chairs, as well as the products needed to clean them, are available on eBay at great affordable prices.