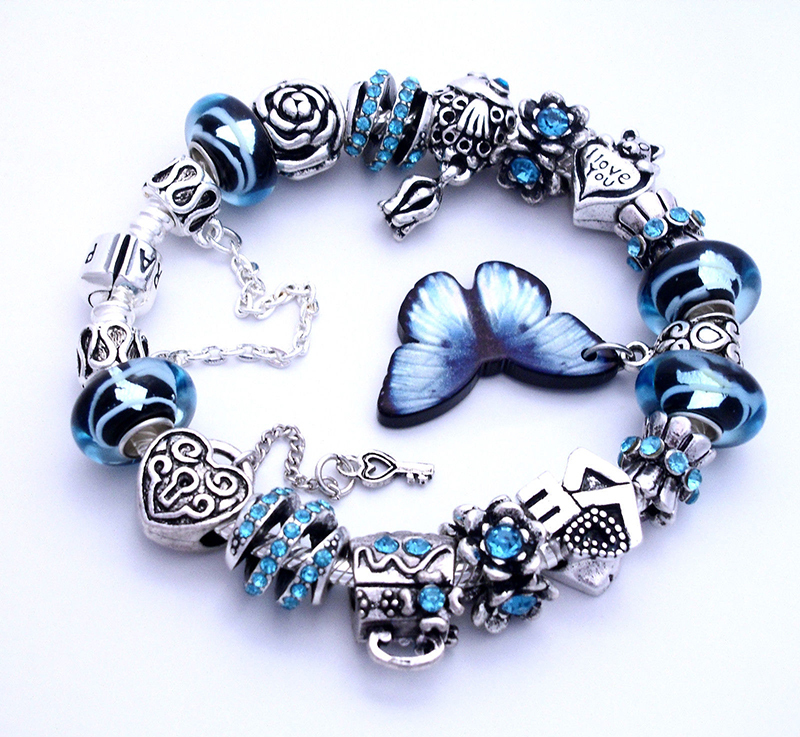 The beautiful lustre and detailed designs of silver Pandora charms contribute to their popularity. Regular cleaning keeps these charms looking their best. Sellers on eBay offer a selection of silver Pandora charms and jewellery cleaning products. Use the type of silver charm as a guide when deciding on a cleaning method. By following the manufacturer's care instructions, and storing charms correctly, it is possible to slow the development of tarnish.
Types of Silver Pandora Charms
Silver Pandora charms include a variety of designs, some with engraving, coatings, oxidised detailing, stones, or crystals. Use the finish and composition of charms as a guide when cleaning them. For example, it is important to avoid using abrasive cleaners or hard rubbing on oxidised details and silver plate charms.
Cleaning Silver Charms
Pandora recommends avoiding the use of silver dip or paste because these products contain harsh chemicals. These chemicals may remove details from oxidised silver charms and soften the glue that holds stones and crystals in place. However, a silver cloth is ideal for removing tarnish as it contains a mild chemical polish and allows quick, effortless cleaning without water or additional products.
Pandora also suggests cleaning jewellery with a soft toothbrush and diluted soapy water. Having jewellery professionally cleaned twice a year ensures that dirt and grit does not build up between the links of bracelets.
Washing Silver Pandora Charms
Remove the charms from the bracelet before cleaning. If charms stick, do not force them, and instead take the bracelet to a jeweller or Pandora store to have the charm removed professionally.
Spread a towel or cloth over a flat surface and wash the charms in a plastic basin. A towel provides a soft, non-slip surface that cannot damage charms. Create a cleaning solution by adding one or two drops of mild dish soap to lukewarm water. Soak heavily tarnished pieces for a few minutes before gently scrubbing them. After washing, thoroughly rinse each charm. Use a soft cloth to buff the charms and return their lustre.
Preventing Tarnish on Silver Pandora Charms
All sterling silver jewellery and charms tarnish over time. However, exposure to substances such as perfume, hair products, skin creams, salty air, seawater, and chlorine hastens the process. Tarnish dulls the surface of silver and may turn charms yellow and eventually black. Regular cleaning prevents the build-up of tarnish and makes cleaning easier. Furthermore, proper storage inhibits the development of tarnish.
Storing Silver Pandora Charms
Although Pandora charm bracelets come in presentation boxes, these boxes are unsuitable for storage because they do not have anti-tarnish properties and they do not seal. Instead, store them away from heat and sunlight in a tarnish-resistant pouch or a lined jewellery box. Alternatively, store the charms in a polyethylene or Mylar zip lock bag. Avoid polyvinyl bags that contain sulphur compounds because these hasten tarnishing.
Always clean Pandora charms before storing them. Never store jewellery in the bathroom because the moisture speeds the development of tarnish. Adding a desiccant sachet or an anti-tarnish sachet to the storage box helps to absorb moisture.
How to Buy Silver Pandora Charms and Cleaning Supplies on eBay
Sellers on sterling silver Pandora charms', to ensure that the listings returned are relevant. Narrow results by choosing the most appropriate category and item specifications. When cleaning silver Pandora charms, a simple solution of mild dish soap and lukewarm water, and a soft brush, are all you need to keep charms looking their best.