So, you have decided that you want to commission a Portrait of your much loved pet.

This is no small thing - our pets are more than just animals - they are members of our family. We love them - they are our babies!

There is more to be taken into consideration than first meets the eye...

Who will you choose to commission this important Portrait?
How to take or choose the best photograph to use.
How do you know which medium to choose and the difference between them?
How will you frame it (if it comes to you unframed, which most do) and how will you care for it once it is in your possession?
Who will you choose?
There are MANY very good Artists on eBay who will accept commissions for Portraits. If you do a search for
Pet Portrait
you will see current listings for Pet Portraits, both as auctions and as fixed price listings in eBay Stores.
Take your time and have a good look at as many of them as you can. Price is not the only consideration when choosing an Artist to portray a member of your family (be it a pet, child or spouse). You should look at as many listings as you can to compare the various styles employed, consider the emotions and feelings that you have when viewing their work, the mediums that they use and the different sizes available. Also, if possible, check out the Artist's Webpages, testimonials from satisfied clients, feedback and if you are unsure about anything, ASK. Most Artists are more than happy to answer your queries and help in any way they can.
How to take or choose the best photograph to use.
When taking a photograph for a Portrait, the main thing to remember is to crouch down so that you are at the same eye level as the pet. So often I receive photos which have been taken looking down at the pet! (Naturally enough, as our eye level is much higher than theirs as we are so much taller!)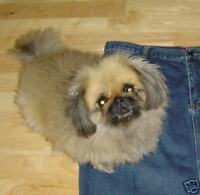 This may be a cute photo, but it would not make a good Portrait - when you consider that paintings are usually hung on the wall at our eye level or a little higher, and to look 'up' at a picture which is 'looking down' at the pet can be disconcerting to say the least!
You should be reasonably close (3-6 feet) and preferably outside in the daylight - especially if the pet has a dark or black coat, as the Artist needs to be able to see the direction of hair and the bone structure. Generally the pet should be looking at you, either straight on or with their head slightly to one side, rather than a side view and their eyes must be open. The photo size should be large and of a good quality.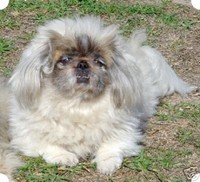 This photo would work well for a portrait. You must choose too, a photo which accurately shows your pet in a natural and comfortable manner.
It sounds involved, but its not too hard really - we just sit and go click click click click and then choose the best of the bunch. Digital cameras have made this process a lot easier than it used to be.
Which medium to choose?
Ah! Now this is a very important decision to make.
Graphite and Charcoal.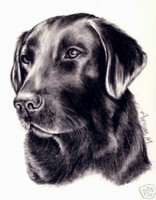 This is a beautiful medium for Portraiture. It is timeless and has a classical appeal. Along with equisitely fine detail and superbly soft and blended tonal gradations, a good Artist can portray various textures, contrasts, sheen and life!
Try searching eBay for
Charcoal Portrait
Pastel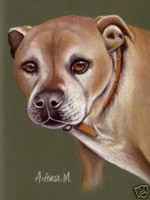 These are a wonderful medium,again particularly suited to animals. They have a lovely 'soft' look, they blend beautifully and the result is an expressive tribute to our beloved pets! Their velvety finish and extraordinary facility for producing subtle tones and gradations make them ideal for portraits.
Try searching eBay for
Pastel Portrait
Oil Paintings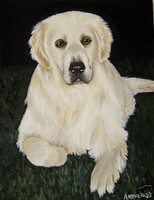 The inherent richness and lustre of an oil painting is what has always attracted both the Artist and the viewer/collector to this wonderful and prestigious medium. Oil is the 'Old Masters' medium, considered to have the luminosity of colour and longevity (we are talking 100's of years here!), plus the blending of colours in oils will give absolute realism and a 'lifelikeness' to the subject.
Try searching eBay for
Oil Portrait
Acrylic Paintings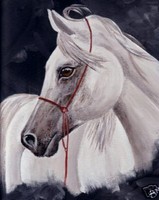 A Portrait done in Acrylic is usually (although not always) a bolder coloured subject, often slightly stylized or illustrative and can also look very impressive.
Try searching eBay for
Acrylic Portrait
Coloured Pencil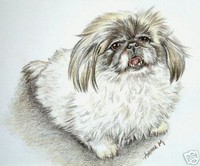 These are particularly suited to Portraiture of animals as precise and accurate definition can be achieved. It is virtually painted hair by hair (and looks just beautiful)!
Try searching eBay for
Colour Portrait
or
Colour Pencil Portrait
Ink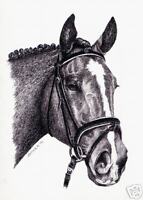 A beautiful medium - one of my favourites. It is not common to see Portraits offered in this medium, as it is certainly not an easy one to do and is very time consuming - also - an error is almost impossible to rectify, and so if any little thing goes wrong, you have to start all over again! (Very challenging!) They do not come cheap, but are stunning and worth paying extra for if you are into the black and white look.
Try searching eBay for
Ink Portrait
The Artist will also offer suggestions, especially if you are unsure about which medium would be best - is your pet long or short haired - is the hair soft and fluffy or short and sleek - all of these factors and more should be taken into consideration.
How to frame your new Portrait.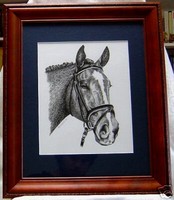 An Ink Portrait framed beneath a navy blue matt and under glass in a wooden frame.
An Oil Portrait (titled 'King Monty') in a beautiful broad gold frame.
Charcoal, Graphite, Ink, Colour Pencil and Pastel must all be framed under glass and beneath a matt or mount so that the image does not actually touch the glass. Non reflective glass looks great, although it is a lot dearer than ordinary glass.
If your artwork comes to you unframed, always be very careful when handling it. Never touch the surface of the art with your bare fingers as the natural oils, acids and salts on your skin can transfer to the artwork and cause permanent damage. If you must touch the art, wear cotton gloves.
Both Charcoal and Pastel by their very nature will smudge very easily (this is what gives their beautifully soft and lifelike appeal). For this reason it is best to immediately frame your artwork. Always ensure that acid free tape has been used to seal the back seams of the frame.
You can have your Portrait professionally framed, or if you are on a budget, you will find all the supplies you need to 'Do It Yourself' on eBay by searching for
framing
.
Oil and Acrylic Paintings can be framed, although not too tightly. A little space is necessary so that the painting can expand and contract along with the climatic conditions (especially humidity) that it is exposed to. Personally, I always like to see an insert between the painting and the frame (linen always looks good) as this sets the painting back a little and draws attention to it, leading the eye of the viewer directly into the painting and the Portrait itself. Framing should always done using the best materials you can afford, and always using all acid free materials.
When choosing the position to hang your newly framed Artwork, the best spot would be indoors, in a position where there is no strong or direct sunlight.
Care and Cleaning - the painting will, over time, accumulate dust and airborne pollutants. A feather duster or soft lint free cloth is all that should be used to keep your painting clean. If there is any accidental damage or spillage requiring more in depth cleaning, the advice of a professional should be sought.