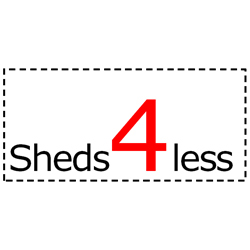 How to Compare Garden Sheds.
We are often asked how you compare shed prices and quality. Here is a simple guide.
Size
Sheds are generally measured as follows. Width x Depth x Wall height. So a 3.0m x 2.3m x 1.8m shed is 3 metres wide x 2.3 metres deep and has a wall height of 1.8 metre. Although some companies are now using the ridge height as the third dimension. Check to make sure what the wall height is just to be sure. It is best when doing a comparison to compare the exact sizes across brands, this way you are comparing apples with apples. Small changes in each dimension can result in a significant reduction in useable space. E.g. A 2.75m x 2.25m x 1.7m shed looks close to a 3.0m x 2.3m x 1.8m shed, but when you do the calculation you have 15% less storage space. Try and compare like for like sizes.
Ridge Height
On a gable roof the ridge height is important. Most sheds have a wall height of 1.8m but the ridge heights can differ. Ridge heights can vary between 1.9m – 2.2m. The higher the ridge height the more headroom you have in your shed. This means you can store more and if you are a tall person the shed is more comfortable. Higher ridge heights on gable roofs are better.
Weight
The total weight of a shed is one of the most underrated but most important comparison metrics. All sheds are made of steel. When you are comparing a like for like sizes total weights should be similar. If they are not, one shed has less steel. Makers achieve this by using lighter duty fittings and thinner steel. The normal thickness of steel used in sheds is 0.3mm but some makers use 0.25mm or even 0.20mm for their budget product. Sheds4less uses 0.3mm which is 20% thicker than some other shed makers. The heavier the total weight of the shed is the more steel you are buying. More steel means a heavier duty shed that will last you longer. This is the main reason warranties differ. A longer warranty is always better. Sheds4Less offer a 30 year warranty on every shed we sell.
Doors
Sometimes it is easy to make a mistake and compare a double door to a single door shed. This is really not a proper comparison. A double door shed will be more expensive than a single door shed. Building the doors of a shed is one of the hardest things to get right, they need to be really square to fit properly. If your shed comes with pre-assembled doors your construction job will be much easier.
Finish
It is also easy to make a mistake and compare a galvanized shed with a polymer coated color shed.
(Colorbond is a trademarked polymer coating) Polymer coated sheds are always more expensive than the equivalent galvanized finish. Finish is more of an aesthetic choice than a performance choice as both will perform equally well in Australian weather conditions.
Design & Construction
Front gable sheds tend to be more expensive than side gable sheds, and some people think they look better. Sheds4less construction design allows our square sheds to be constructed either as a front or side gable configuration. It's your choice. Also some makers will cut costs by not powder coating the trim materials. Colored trims make you shed look better.
8 Point Garden Shed Buying Checklist
Before you buy and start to build a garden shed take some time to review this checklist as it will save you time and money and make buying and building a garden shed cheaper and easier.
Size
- think about what you want to store in your shed and where in your yard you want to position your shed. If you keep your shed to under 10 square metres you are not likely to be required to obtain a permit or approval in most state of Australia. This is why the most popular size shed is 3 mt x 3 mt. This gives you maximum storage but being only 9 square metres is under the permit threshold. There are exceptions though, check with your local council to be sure.
Clearances
- Most state and council building regulations call for a minimum 900mm set back from any boundary, but you will also need to consider clearances for opening doors and also make sure that your new shed does not impede access to buildings on your site. With the advent of larger house sizes in Australia narrow sheds have been designed with doors in the short side to take advantage available space.
Roof Type
- Skillion (sloping) or flat roofs are designed for sheds that butt up against other buildings while gable roofs are better for freestanding sheds and give you more head room.
Doors
- If you want to use your garden shed to store large items like lawnmowers or bicycles you should consider double doors. Double doors will cost a little more but in the long run will be more convenient and lead to less damage caused by reduced clearance. When comparing your shed prices online make sure you are comparing like for like, it is often easy to make the mistake of comparing a double door shed to a single door shed.
Delivery
- A lot of shed companies in Australia quote free delivery. It is not until you read the fine print that you realize that the "free delivery" is to a depot only and not to your home. Often these depots are not located in convenient locations and you will still have to arrange the time and equipment to get the shed to your site.
Floors
- A garden shed can be put onto paving, concrete slabs, wooden flooring or directly onto the ground. By far the most popular choice in Australia is to put a shed on an already paved area and secure with masonry bolts or lay a small concrete slab.
Color
- Many people ask if there is a performance difference between galvanized garden sheds and colored garden sheds. The simple answer to this is no. It is really an aesthetic choice or one imposed because of heritage provisions that may apply to your site.
Rust
- Advances in modern day coatings and galvanizing processes make rust a much smaller issue than it was 10 years ago. However storing certain chemicals, particularly pool chemicals, in any garden shed will make it more susceptible to rust. As will positioning your shed within splashing distance of the pool or in a coastal area. Ensuring that metal items like nails, screws or washers don't fall into the bottom channels or get thrown onto the roof of your shed by the kids will help. Metal to metal contact like this in certain climates promotes a process called electrolysis which will erode any metal. Also washing your shed down with a mild detergent and a soft broom once every six months will reduce salt build up from the atmosphere.

Sheds4Less