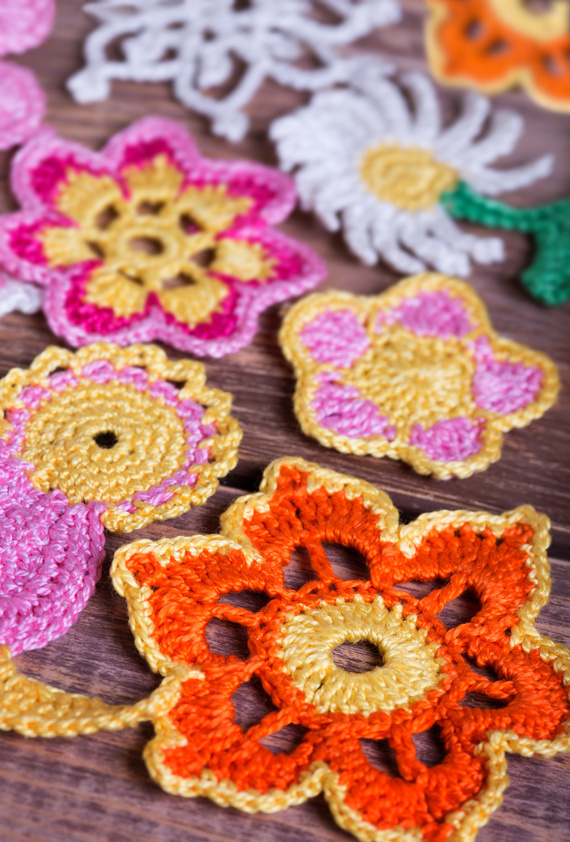 If you're a beginner who has done more than your fair share of foundation chain stitches, then it may be time to learn how to crochet your first flower. In this three-step tutorial you will learn how to make a modest five-petal flower using readily available supplies that you likely already have on hand. If not, all the necessary supplies for this easy DIY can be found in stores and on sites such as eBay.
Getting Started
For a medium-sized flower, worsted weight cotton yarn works well, but any yarn or crochet thread will do. Craft making scissors will be needed, as well as a crochet needle that matches your yarn size. For this tutorial, worsted weight yarn and a 3.5mm crochet hook are the intended supplies.The basic needlework used in this flower project includes: the foundation chain (ch), the slip stitch (sl st), and treble stitch (tr).
Step One: Slip Knot
Begin with a slip knot. Unwind your yarn and create a tail end for your slip knot, about 15 centimetres from the free end of the yarn.
To achieve the standard slip knot, begin by wrapping the yarn twice over and around two fingers (index and middle fingers) as your ring finger bends toward your palm, holding the yarn firmly in place. Use your hook to create a knot with the wrapped yarn.
Step Two: Flower Base
To create the middle of your flower, start with seven loose chains (or ch7), counting each one as you go along. Next, create a slip stitch by creating a circle with foundation chain 7 and chain 1. Make a slip stitch by putting your hook through chain 1. As you go through the hole in chain 1, catch the main part of the yarn, bringing it through the first chain and into the existing loop on the hook. This will become your round petal base with a free tail end hanging from it.
Step Three: First Petal
Create four chains (or ch4) as the framework for your handcrafted petal. Next, create a treble crochet stitch to begin fleshing out the petal. As a reminder, the treble crochet stitch is formed by wrapping your yarn around your needle twice to produce three loops. Hook through the small hole at the centre of your flower, grabbing the main yarn before returning through the centre. This process creates four loops. Hooking your yarn again and pulling it through the loop creates an adhesion or union with the three loops left on the needle. Continue working in this way until one loop is left. This completes one treble crochet stitch.
Repeat the treble crochet stitch for a total of three treble stitches (or 3tr into centre of loop).
To complete your first petal, do chain 4 followed by a slip stitch (or ch4, sl st into loop). Again, go straight through the centre of your flower grabbing the yarn as you bring it in and through the main loop, and finally through the loop on your hook. This technique generates one petal. For five petals, continue in this way four more times. Knot and trim your flower to finish your project.
Finished Flower
As you grow confident in designing your floral motifs, you'll soon find many crafty ways to use them. Flowers can beautify both craft projects and store-bought items. Use them to embellish hats, bags, clothes, and home décor projects for one-of a-kind pieces.
Conclusion
As a skill, crocheting can be a colourful way to express your creative side. When you learn to crochet a flower, it marks the beginning of limitless crafting possibilities.