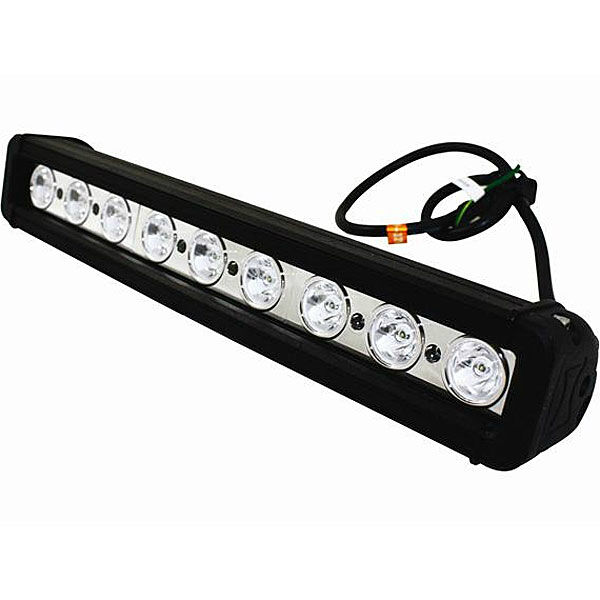 Although customising a motorcycle can be costly and time-consuming, savvy buyers on a budget can personalise their bikes quickly and economically with LED lighting . LED lights connect to a motorcycle's existing power system and, in some cases, replace traditional lights, making installation easy. To increase customer choice, manufacturers develop single LED lights or kits in a rainbow of colour options. Buyers searching for motorcycle LED lights can find them locally at bike specialty shops and online at marketplaces, like eBay. Before shopping, however, buyers should review which types of LED lights are available so that they can develop an economical lighting scheme that transforms the look of a bike without investing a large amount of money.
Motorcycle Replacement Lighting
Motorcycle manufacturers add distinctive lighting fixtures to their bike models to distinguish their vehicles from others. Owners customising their bikes can replace these brand-specific lights cheaply with unique LED lights to stand out from the crowd.
Before purchasing any replacement lights, buyers should check potential purchases for compatibility with their bikes. Replacement lights generally need to fit within an original bike manufacturer's light housing and connect precisely with the bike's power connectors. Because of this, aftermarket LED lighting manufacturers develop replacement lights for popular brands of motorcycles.
Turn Indicators
LED turn indicators are substitutes for the lights that riders use to signal left or right turns. To warn other drivers of a turn, original manufacturers place traditional turn signals on the front and back of a bike's body. Buyers on a budget can purchase competitively priced aftermarket turn indicators in a variety of shapes and colours to change the look of their bike's turn signals as well as the pulse pattern for an activated turn indicator. Additionally, aftermarket manufacturers also design LED turn signals for other parts of a bike, such as its handlebars .
Brake Lights
To change the lighting scheme on the back of a motorcycle, aftermarket manufacturers produce LED brake lights. These help other drivers see the braking action of motorcycle riders and need to remain fully lit when a motorcycle stops in traffic. To increase the usefulness of LED brake lights, some models contain an additional light to illuminate a bike's licence plate at night or in poor weather conditions. These dual-purpose lights help stretch funds for buyers on a budget.
Headlights
Motorcycle LED headlights serve a variety of functions depending on the time of day and the weather conditions occurring during a bike drive. Before purchasing replacement LED headlights, cost-conscious buyers should check the laws that exist in their local area for any regulations pertaining to headlight requirements. In some cases, motorcycle headlights must have the ability to provide high and low beams as well as daytime lighting features. Furthermore, the placement of combination-style headlights, which include separate lights for high and low beams, must follow a specific positioning pattern. By consulting local laws before shopping, buyers can avoid wasting money and ensure that the headlights they purchase match regulatory codes.
Cost Comparison
Each light, and even installation has a cost associated with it. If you are not mechanically or electronically savvy, the cost can escalate quickly.
| | | |
| --- | --- | --- |
| Light Type | Purpose | Relative Cost |
| | Typically required by government since it is a safety issue in seeing and knowing when the motorbike turns | $$ |
| Brake Lights | Typically required by law so those behind you know when you are turning | $$ to $$$ |
| Headlights | Typically required by law headlights help you see in bad weather and at night | $$$$ |
You should keep in mind, too, that sometimes you just need to replace a bulb rather than the whole light set. Bulbs cost far less than a whole lighting kit.
Motorcycle Body Lighting
Affordable LED lighting applicable to a motorcycle's body is available in many forms. Placement of the lighting can be on top of, or underneath, motorcycle components, depending on the effect an owner wants to create.
Lighting Strips
One cost-effective way to attach lighting to a motorcycle's body is applying LED lighting strips. These strips include a series of small LED lights encased in a durable, yet flexible, plastic sleeve. The flexibility of the strips permit bike owners to attach the strips to their motorcycles, following the distinct design lines of the bike's body components. An adhesive backing on the strips offers quick installation and a long-lasting, secure bond to the motorcycle's body. Additionally, buyers can connect lighting strips in a series to increase their length.
Lighting Pods
LED lighting pods increase bike owners' abilities to add key lighting elements to their motorcycles, dramatically changing a bike's appearance with little monetary investment. Unlike lighting strips, pods are groups of a few LED lights within a shaped case. Attachments for lighting pods vary by manufacturer, so buyers should review the type of mounting system a pod contains before purchasing. With screw mountings, bike owners need to drill into their bike's components to attach the pods, which may require bodywork experience and specialised tools. Adhesive-back pods, on the other hand, simply need a clean surface to mount.
Motorcycle Wheel Lighting
To increase a rider's visibility to other drivers and personalise the look of a motorcycle, bike owners can install inexpensive spoke lighting that fits around the rim of a bike's tyres. Wheel lights feature many options that buyers should consider before purchasing. Sensor wheel lights automatically turn on when a motorcycle is in motion while continuous wheel lights operate by a switch that a rider uses to manually turn the lights off or on during a drive. The colour scheme of wheel lights includes either single colours or an array of colours depending on a product's specifications. Additionally, some LED wheel lights pulsate or shake in set patterns while a bike moves or remains stationary.
How to Buy Motorcycle LED Lights on eBay
Buyers on a budget can customise their motorcycles by using LED lighting strategically. To access a wide range of LED lighting options at different price points, buyers should visit eBay, which features both brand-specific and universal LED lights and kits to make installation easy. For discounted LED light models, buyers can also check out which models are available in eBay Deals' Automotive and Boat products. Since compatibility and installation are critical issues, it is best for buyers to review product specifications before purchasing any LED lights as well as product details related to mountings and electrical connections. By reviewing product listings carefully, buyers can compare models for features, compatibility, and installation requirements.