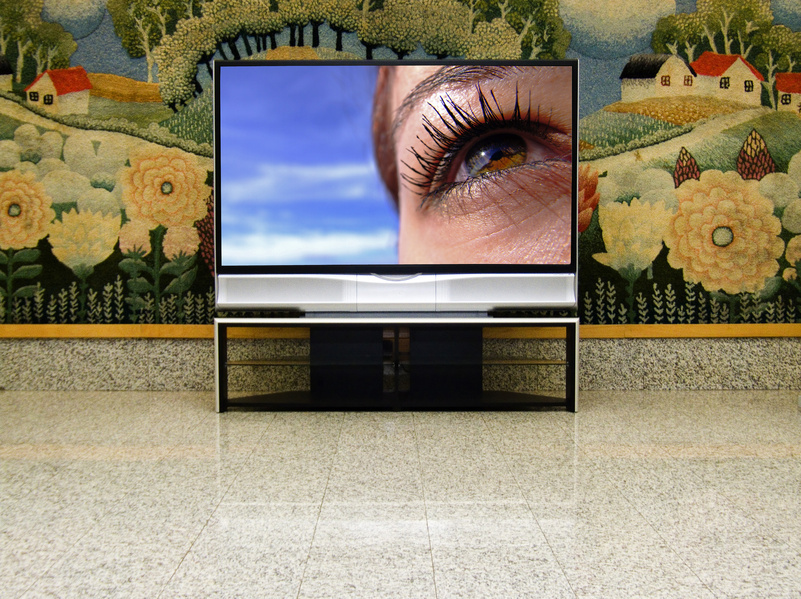 The purchase a flat screen television often necessitates buying a TV stand or TV mount. Determining which option to go for depends on several variables that include space limitations, room design, personal preferences and the quality of the walls in a home or apartment. To come up with a final purchase decision it's important to weigh all the pros and cons involved in purchasing a TV stand or TV mount while taking all other factors into consideration. This should help buyers determine exactly what is needed and aid in making a final decision when checking out the vast inventory of options available via eBay.

TV Stands
Many buyers choose to purchase TV stands in order to accommodate additional entertainment devices that are designed to work with their LCD or plasma television. Sometimes a television stand is purchased to match or coordinate with the rest of the furniture in the house. A TV stand can offer flexibility when it comes to the placement of a television in a particular room. Additionally, a TV stand may be desirable for apartments when inserting screws into a wall is not an option or the buyer intends to move sometime in the near future.
There are as many options when it comes to television stands as there are with televisions. Some stands are designed to swivel allowing the television to be positioned and repositioned in different directions. Some stands have wheels so that the unit can be moved throughout the house. Other stands are created like cabinets that allow the entire unit to be hidden while not in use.
Of course, if functionality is a major factor, a TV stand offers more storage options than a TV mount. This additional storage can allow for other devices to be placed on the stand such as a gaming console, modem and a DVD player. Sound equipment like speakers, a subwoofer and a receiver can also be stored in a cabinet TV stand, or a stand with drawers or shelves. Buyers who opt for wall mounts will have to look for other types of storage options for their entertainment accessories.

TV Mounts
One of the biggest benefits to purchasing a TV mount is the space-saving functionality that this type of display option offers. Installing a flat screen TV on a wall frees up valuable floors space. Instead of crowding the area in a room with a bulky TV stand, the room can be filled with other types of things such as additional seating, a side table, or a fireplace. Additionally, a mount with a swivel can allow the television screen to be pulled away from the wall in order to align the unit with the viewer's line of sight.
Safety is also one of the major reasons a buyer may choose a TV mount over a TV stand. TV stands are prone to dangerous bumps and nudges from pets and children. Mounting the TV can ensure that the television set doesn't topple and cause injury. Additionally, a wall mount can protect the unit from damage, which is great because flat screen televisions can be quite expensive. Professional installation of a mount may be necessary to ensure the mount is properly installed. If this is the case, the buyer should factor in the cost of a professional installation when considering purchasing a TV mount instead of a TV stand.

TV Stands vs. TV Mounts
There are definite pros and cons to these television display options. Both have identifiable strengths and weaknesses. In order to evaluate the pros and cons efficiently, a side-by-side comparison may be necessary.
| Feature | TV Mount | TV Stand |
| --- | --- | --- |
| Space requirement | Frees up floor space | Occupies more space |
| Aesthetics | Sleek and streamlined look | Coordination enhances decor |
| Permanence | Relocation difficult | Easily repositioned and moved |
| Sturdiness | Sturdy if installed properly | Sturdy if size/weight distribution is correct |
| Safety | Safer if installed properly | Children and pets may topple unit |

Most buyers will be able to determine which product is best depending on the intended location of the television in their home. However, it may be necessary to review associated pros and cons to ensure a satisfying and safe placement within the home.

How to Buy a TV Stand or TV Mount on eBay
For one-stop shopping for TV stands and TV mounts, eBay is the ultimate source. There is a vast selection of stands and mounts for buyers to choose from. Buyers can easily look through products, pictures and descriptions. The search for a stand or mount can also be narrowed according to manufacturer. Once buyers select a product, a listing page can be pulled up with information on the seller's rating, expanded descriptions, full price and shipping charges.