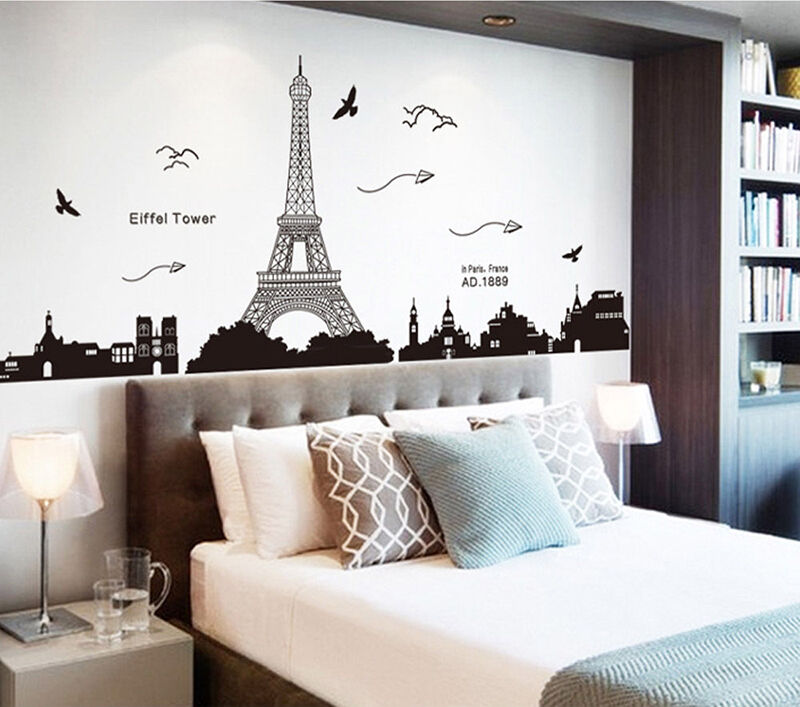 The bedroom may be one of the least-used rooms in the home during the waking hours, but it is also where each day starts and ends. Waking up to a chaotic, busy space can start the day off on the wrong foot, and a crowded room can make for a less than restful sleep. Decorating the bedroom does not have to be time consuming or expensive. A little online shopping on eBay can turn a lackluster space into an inviting and restful area.
Make a Statement
In the majority of bedrooms, the bed is going to be the focal point of the room, no matter what else is in there. This is because it is the main functional piece in the room and is also normally the biggest. When decorating a bedroom, it is better to embrace this instead of trying to take the focus off the bed and ending up with a confusing space that does not flow well.
The easiest way to make the bed stand out is by installing a decent sized headboard. If the existing sleigh bed, consider upping the drama by putting up a colourful mural, wall decal, or other artwork above the bed. This works with the existing headboard, gives an elongating effect, and makes the headboard appear larger. If there is no headboard, the DIY options are almost limitless. Some fabric, batting, a piece of particle board, and a staple gun are all that is needed for an affordable headboard option. Those with advanced carpentry skills can jump on the reclaimed wood trend and disassemble a wood palette to create a headboard that adds instant warmth to the room.
Create Calm
Bright colours are great as accent pieces or as a whole-room theme, but they are best left out of the bedroom. Vivid hues naturally create energy in a room, and the bedroom calls for softer, muted hues. Consider using warm neutrals in the brown and taupe family. If colour is a must, try pale greens and blues, which are more calming.
Make sure that there is nothing with negative associations in the room. If grandma's quilt brings back sad memories instead of fond ones, let it go. Take an honest look at the items in the room – it's helpful to have an objective helper for this task – and get rid of anything that does not bring feelings of peace and happiness.
Block the Light
The human body's internal clock helps regulate sleep and wake times, and it is extremely light sensitive. The most restful sleep happens in a dark room, and even the small amount of light emitted by an alarm clock or a charging phone can disrupt sleep patterns. Blackout curtains do an excellent job of blocking out natural light, and the variety of colours and patterns available increases every day. Sewing a light-blocking lining onto the back of existing window treatments is an affordable DIY option.
Don't forget about ambient light, either. Cover alarm clocks, turn the cell phone upside down, and consider removing the TV entirely. For those who need a little extra light for midnight bathroom runs, try motion activated lights that only turn on when needed.
Do Double Duty
When choosing furniture pieces and decorative items, think function whenever possible. If the bed needs some extra grounding, try a chest or trunk at the foot of the bed that can double as storage for extra blankets or less frequently used items. Tall lamps with shelves built in to the design add visual interest and height when placed on either side of the bed, and they also double as convenient nightstands. An antique sewing stand is also an excellent choice and can be refinished to match the room's decor.