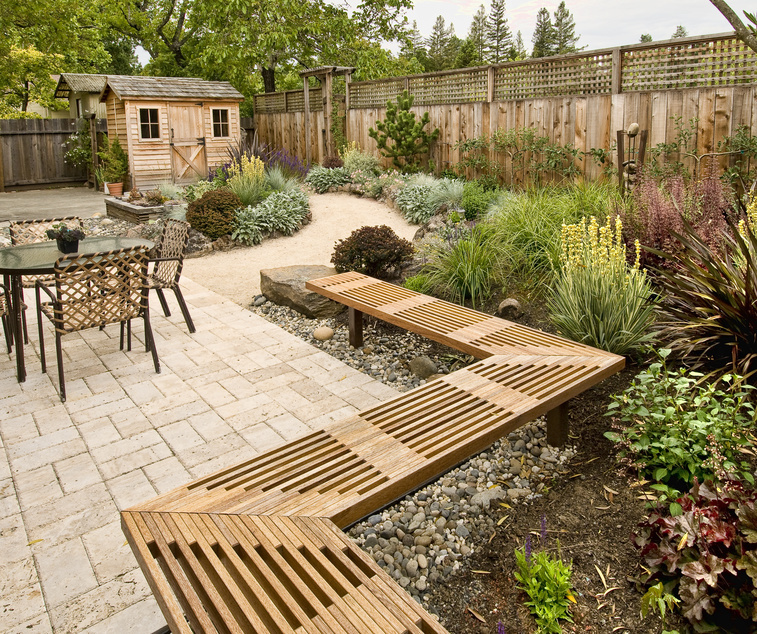 Some of the best materials for decorating a garden are those found in nature. Rocks and pebbles are affordable and play up the natural beauty of outdoor spaces. With a few additional supplies, such as exterior paint, waterproof glue, and mortar mix, gardeners can create one-of-a-kind pathways, stepping stones, borders, gravel, and garden art. A little imagination also goes a long way toward transforming plain pebbles into eye-catching features. Gardeners can collect their own pebbles or purchase decorative gravel for their projects.
Get creative with paint
Adding a coat of paint to a collection of pebbles is an easy way to add a pop of colour to an outdoor space. Gardeners can play with different colours and shades and arrange the pebbles strategically throughout the garden. They should use waterproof paint or spray paint designed for outdoor use to ensure that it does not wash away in the rain or harm plants and animals in the area.
Bold colours
Gardeners can experiment with bold colours to draw the eye to different parts of the garden. Neon paint, for example, adds a modern feel to an outdoor space, whereas deep jewel tones create a more dramatic effect. Bright primary colours work well for kids' play areas.
Glow in the dark
Pebbles painted with glow-in-the-dark paint can be a lot of fun when the sun sets. Glow-in-the-dark paints look natural in the daylight, but they illuminate a backyard or garden at night. The paint contains ingredients such as phosphor, which absorbs light and emits that light when it gets dark.
Metallic shades
Metallic paint can bring a little bling to a fancy garden. Colours such as gold, silver, and copper add a touch of luxury to planters, walkways, and fire pits. Gardeners can also get creative by combining metallic colours with glitter paints.
Designs
Crafty gardeners can use stones to create miniature art projects. They can paint designs such as flowers or sunsets onto stones or transform stones into tiny ladybugs or butterflies. These kinds of projects are lots of fun for kids as well. Pebbles also make excellent plant markers; gardeners can paint the names of different plants onto the stones and place them in front of the plants.
Make custom stepping stones or paths
Gardeners can arrange natural or painted pebbles to create stepping stones or pathways. They can fashion cobblestone pathways by setting larger pebbles and stones into the ground by pounding them with a hammer until they are fixed in the earth. Gardeners can create paved cobblestone walkways by setting up timber forms, pouring mortar mix into the forms, and applying the pebbles on top. They can make simple stepping stones by using moulds, mortar mix, and pebbles.
Use pebbles as gravel
Gardeners who have large pebble collections or who have purchased lots of decorative pebbles can use them as gravel to line garden beds or create borders around planters, beds, lawns, or patios. They can also use gravel in place of grass, which is less demanding on water resources in dry regions, and it requires less yard maintenance overall. Homeowners can create a statement by covering the yard with pebbles of certain colours. For example, natural-looking tan pebbles give off a warm vibe, while white or black pebbles emit a more formal tone.
Create garden art
Pebbles are a handy material to use in garden art pieces. Some waterproof adhesive and paint can transform basic pebbles into conversation starters.
Sculptures
Gardeners can stack pebbles and stones on top of one another to create interesting garden sculptures. They should use waterproof adhesive to fix the pebbles in place. Ideas include caterpillars, flowers, and animals.
Stakes and hangings
Homeowners can also use waterproof glue to affix pebbles to garden stakes, fence posts, gates, or walls. Arranged in creative designs, pebbles can mark house numbers or make signs.
Border a water feature
Pebbles are naturally found in streambeds and other bodies of water; therefore, pebbles covering the bottom of manmade garden streams, fountains, or ponds can help them look natural. Homeowners can also place a few pebbles around the borders of water features to add a touch of harmony and keep the moisture contained.
How to buy pebbles on eBay
Pebbles can help brighten up garden beds and add a touch of texture and even colour to outdoor spaces. Sellers on eBay offer plenty of choices, from smooth riverbed pebbles to rough, rocky stones. Start shopping by typing "garden pebble" or "landscaping pebble" into the main search box on any site page. Narrow the results by colour, brand, price, and other criteria. Include special features in your search terms, such as "glow in the dark", "polished", or "ivory" to locate exactly what you want quickly.