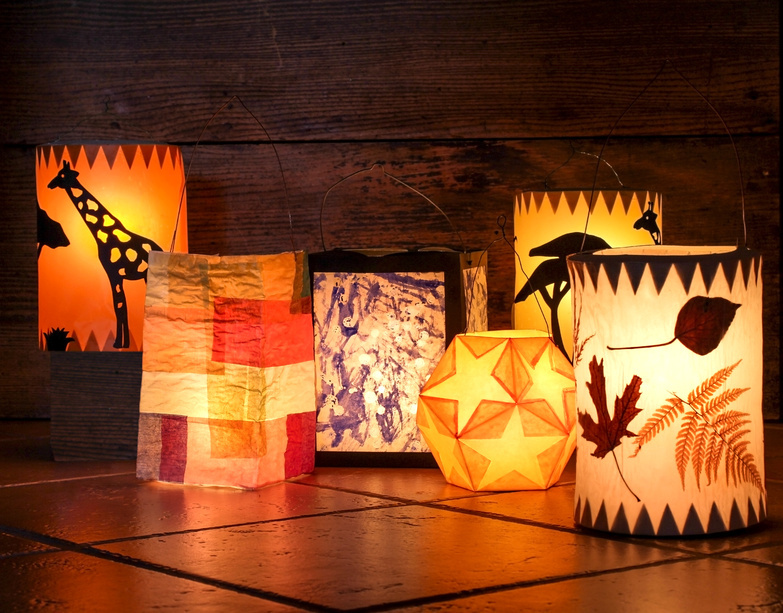 For an affordable and unique approach to home decor, add a few carefully placed lanterns to various rooms and hallways. Lanterns are incredibly versatile and can be used in a variety of contexts -- they make great chandeliers, dining table centerpieces, and floor lamps. The key to successful decorating with lanterns involves integrating them with the rest of the room. This means paying careful attention to flooring, wallpaper, furniture, and other decor accents. It can be difficult to keep all of these considerations in mind, but the following lantern decoration tips help simplify the process.
Go Vintage
There are plenty of new and exciting lantern designs available, but often, unique finds can be obtained at antique stores or through online vintage sellers. Vintage lanterns come in a variety of styles, including wooden, metal, or stone. Style can vary greatly depending on the period in which the lantern was built, so it is advisable to explore lanterns from several eras before making the final decision.
Add Interest to a Living Room with a Stained Glass Lantern
The right lantern can be both a form of lighting and a valuable piece of art. This is especially true of stained glass lanterns, which add a unique brand of beauty to otherwise ordinary living rooms. Vintage Moroccan stained glass lanterns are especially ornate and offer the perfect solution for any living room in need of a burst of colour. Do-it-yourself types can easily craft their own stained glass lanterns. Simply invest in ordinary lanterns with clear glass, and spice them up with craft paint and gemstones.
Amp up the Romance with Bedroom Lanterns
Candles are often thought of as the key to a romantic evening; take this concept to the next level with the help of a romantic bedroom lantern. Place a scented candle in the centre of an ornate lantern, and set this feature on top of a nightstand, end table, dresser, or vanity.
Light the Way with Lanterns Attached to Hallway Walls
Even the most talented decor aficionados find themselves struggling with dull and drab hallways. Paintings and photos are often used to add interest to these spaces, but for an alternative take on hallway decor, consider using wall lanterns as lighting anddecoration.
Chinese Lanterns for Homeowners and Apartment Dwellers on a Budget
Lanterns come in all shapes, sizes, and colours, but their price is even more versatile. Those hoping to take advantage of the unique decorating opportunities attributed to lanterns are in luck; Chinese lanterns are incredibly affordable. As such, these decorations are especially popular among students living in dorms and young professionals decorating their first apartments or homes. Those who prefer sturdier lanterns can score excellent deals on metal or wood alternatives.
Use Lanterns to Line the Perimeter of a Three-season Porch
Lanterns are commonly used for the illumination of outdoor walkways and patios, but the same effect can be also be created in three-season porches. If carefully placed along the perimeter of the porch, a matching collection of lanterns can add a very intriguing sense of ambiance during carefree summer evenings. Choose similar designs for the three-season lanterns and any existing outdoor lanterns, as this will ensure seamless integration between a home's indoor and outdoor decor.
Hang Lantern Chandeliers in the Dining Room
For a more unique take on dining room design, replace the standard ceiling chandelier with a collection of lanterns. Hung above an expansive dining room table, these lanterns create a more eclectic look. For a simplified take on this concept, opt for one large lantern in place of the usual chandelier. Those unwilling or unable to hang lantern chandeliers can pursue a number of other alternatives to dining room style. A smaller metal lantern makes for an excellent dining room table centerpiece, especially when adorned with floral accents. Likewise, a floor lantern can be placed alongside any end table or dish display in the dining room.
From tropical to nautical and everything in between, lanterns can be incorporated into just about any indoor decor style imaginable. Versatile and very useful, indoor lanterns serve multiple purposes. They provide an alternative source of lighting, punch up a boring room, and reflect an individual's unique personality and style.