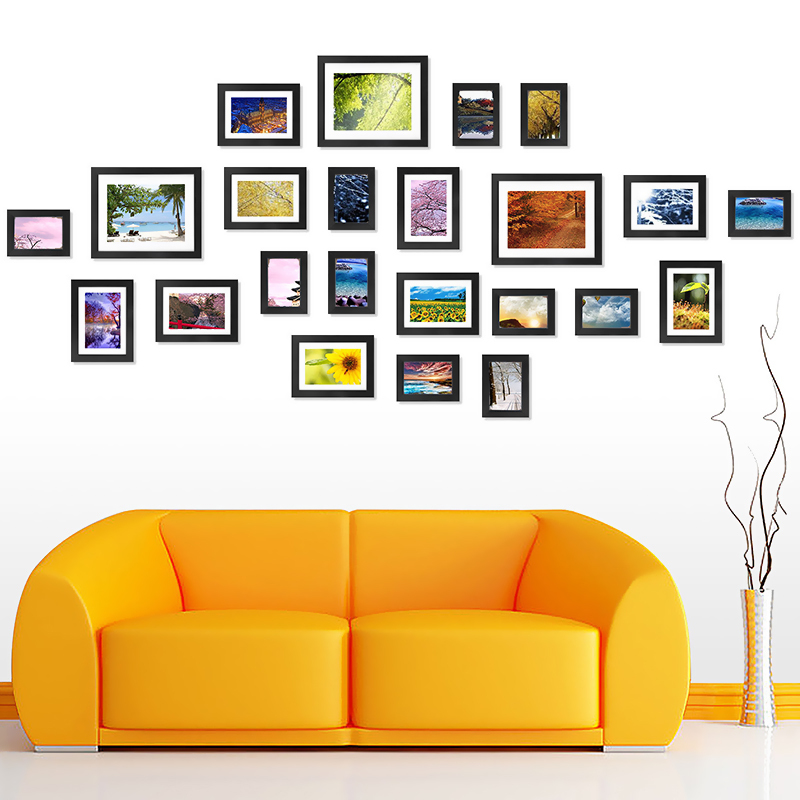 When it comes to decorating walls in living rooms, bedrooms, bathrooms and kitchens, photo frames make nice accessories. Most families collect photographs of children, grandchildren, and special places, which often end up collecting dust in albums or lying haphazardly on desks and old bookshelves. Framing photos and pictures on walls, however, recycles old frames and makes good use of empty wall space. Whether budget or personal tastes guide the decorator, there are many ways to accent home interiors with pictures and frames.
Creating a Scene
As with other home improvement tasks, decorating and designing wall spaces is a personal experience. Some people like to arrange two or three stunning pictures and photographs in large wooden photo frames, perhaps made in eye-catching mahogany or amber hues, while others prefer to arrange pictures in small clusters, using contemporary white photo frames, to create mini galleries in a modern style.
Photos may cluster according to scene, theme, or match with the surrounding décor and atmosphere. In the kitchen, for instance, photographs of culinary objects or foods make suitable decorative pieces on walls and even hanging besides cabinets. In living rooms, photos displaying vacation destinations and landscapes pair nicely next to bookshelves filled with travel diaries, vacation guides, and travel-themed books.
Selecting Photo Frames
Photo frames, like the pictures and artwork they highlight, come in a variety of sizes and dimensions. Frames run the gamut from small, palm-sized items to large picture frames and poster-size frame units. As with other aspects of interior decorating and design, photo frames must match the surrounding space in size and dimension. Mounting an oversized frame in a small room, such as a bathroom or bedroom, makes it appear even smaller. A small frame on the large, empty wall of a living room or dining room, in contrast, gets lost in the surrounding scenery.
Generally, photo frames come in the following standard sizes: small, medium, large, extra large, and poster size. Some prefer customised photo frames to meet certain sizes, although this is typically more expensive.
Photo frames come in several different materials in addition to sizes. Materials used to make frames include metal, acrylic or plastic, and wood. Metal frames are some of the most durable, and come in many styles. They match many types of décor, and have bronze, silver, chrome, pewter, and brass finishes. Acrylic or plastic frames are lightweight and work best as small displays. Wood frames are quite versatile; they contain many types of woods, such as oak, maple, cherry, and mahogany. Stained, painted, and engraved wood frames add rustic or antiquated appeal.
Photograph frames come in several styles too. Common designs include digital frames, clip frames, shadowbox units, and float frames. Digital frames display one or more photos on a large central screen, while clip frames display images using thin sheets of glass, which small clips fasten together. Shadowbox frames are deep units with glass covers that typically display collections of photographs and collages. Float frames have spaces between picture edges and frame openings, giving a 3-D effect.
Creating Special Effects
Some people, in addition to simply hanging old photographs on the wall, choose to add special effects to make them stand out. These effects, called matte and cropping, give refreshed looks to old photographs.
Matting places a thin, durable layer of material between the photo and surrounding glass frame, while adding an aesthetic dimension to photos. Cropping alters photographs by cutting, reshaping, and resising, creates balance, and removes unwanted portions to create a clean and focused image.
In addition to adding aesthetic improvements, matting photographs helps to preserve pictures by keeping them from hitting the surrounding glass. It might cost extra to have a professional make these adjustments to your picture, but it can provide dramatic results.
How to Buy Photo Frames on eBay
With so many styles, colours, and themes to choose from, starting the process of preparing to hang photo frames on the wall may seem daunting. Fortunately, the sellers on eBay make it easy to begin the task right from home. Start by visiting the landing page, and then type a keyword into the search box at the top of the screen. For instance, enter the words 'white photo frame'. Then, you can narrow your choices based on certain parameters such as colour, price, and condition. Repeat the process as needed to make your photo frame design project complete.